I take no pleasure in writing that the highest-profile of shows I caught on a recent Broadway review trip, "Spider-Man: Turn Off the Dark," is a sad, stilted event that crashes consistently and rarely flies.
Starting off promisingly with a beautiful but pointless weaving of a stage-filling tapestry, "Spider-Man" soon gives way to cliché-ridden high school scenes that make "Happy Days: The Musical" seem like the height of sophistication (low point: the beat-up-the-geek number "Bullying by Numbers").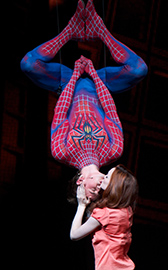 Due to technical problems (surprise!) I didn't see this moment from "Spider-Man: Turn Off the Dark." The problematic musical has been packing the house in NYC. (Photo/ 8 Legged Productions LLC)
It's no better once the action begins. The deliberately unstable set pieces drain the kick out of Parker's bouncing-off-the-walls bit. Embarrassingly ineffectual sub-villains (including an inflatable dino-man who couldn't scare kids at a backyard party) clutter the stage. Poor direction often makes set designs that might have been effective lose their impact (Why are J. Jonah Jameson and company standing on the side of the Chrysler Building?) And the score by pop stars Bono and the Edge only made me better appreciate the earlier theatrical effort of Paul Simon, whose musical "The Capeman" was an on-stage mess, but at least sounded great.
As to the overhead flying—yes, there's a kick to having a human being land in front of you. But thanks to the undisguised harnesses, wires and hyper-cautious ushers, only in those directly overhead moments is there any brief sense that someone is flying (and isn't our hero supposed to be swinging, not flying?).
Who could have made this musical work? I left the theater wishing that Queen was still around, but even then, musicalizing "Spider-Man" would be an up-building climb.
__________
For something completely different, and infinitely better, I highly recommend "Catch Me If You Can."
Where to start? The A-plus-list creative team includes Marc Shaiman ("Hairspray") and Scott Wittman, who have crafted a toe-tapping score that made me want to rush out afterward and grab the disc. (Of course, I resisted paying the jacked-up price of lobby-sold CDs.) The songs are neatly blended with a character-driven book by Terrence McNally ("Ragtime"). John McDaniel, former music director for "The Rosie O'Donnell Show"—and a past guest with the Indianapolis Symphony Orchestra for Symphony on the Prairie—leads a swinging on-stage orchestra, and choreographer Jerry Mitchell ("Hairspray," "Legally Blonde") effectively gives every number its own, unique life while keeping all integrated into the whole.
And then there's the cast, led by Aaron Tveit. As real-life con-artist Frank Abagnale Jr. (played on screen by Leonardo DiCaprio), Tveit finds an ideal balance of cockiness and neediness, making clear both the kick and the loneliness that come from his scam-filled life. A lesser actor could have gotten lost in the smugness—when you're dancing with a kick-line of leggy stewardesses, that's a real trap. But Tveit, a solid actor as well as an outstanding singer and dancer, gives the piece the through-line it needs.
His performance impresses even more when you consider the talent he's sharing the stage with. First, there's Tony-winner Norbert Leo Butz, late of "Wicked," "The Last Five Years" and "Dirty Rotten Scoundrels." In short, Butz is one of the most entertaining guys I've ever seen on stage, a beyond-triple-threat who can stay in character as a dumpy, dull FBI agent and still turn his big song-and-dance number, "Don't Break the Rules," into a show stopper.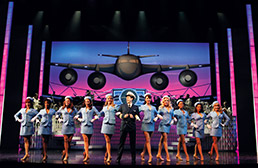 A surprise pleasure of the Broadway season, the smart, fun, toe-tapping musical "Catch Me If You Can" transcends the usual film-to-theater production. (Photo/Joan Marcus)
And then there's Kerry Butler ("Xanadu") giving her vocal-all in the supporting role of Brenda Strong, a nurse who helps lead Abagnale to both his downfall and his salvation—and finds her own happiness in the process.
In addition to the enormous pleasure of the show itself, "Catch Me If You Can" left me sympathetic to those of you who
might read a review I've written and find yourself questioning my sanity. After writing this, I dug out commentary from The New York Times and elsewhere and found myself baffled as to why so much scorn has been heaped on a show that should be hailed as one of the best new Broadway musicals in years.
__________
While I'm concerned about what seems like an increasing number of shows that rely on old material, I'll grant that the choice makes perfect sense for "Priscilla: Queen of the Desert"—which concerns a trio of drag performers on a cross-Australia trek. Cheesy disco songs are touchstones for these characters. And a show without such tunes would be even sillier than it already, unashamedly, is. (That is, if a show with costumes composed of flip-flops and cupcakes—"Queen of the Dessert," perhaps?— could be any sillier.)
Would it have been too much to ask for a story that actually had some legitimate obstacles for the characters to overcome? That it didn't feel randomly episodic (one town is won over, another turns violent)? That it didn't open with an annoyingly unfunny emcee (Nathan Lee Graham), or that the locals, except for one, weren't all cartoon hicks?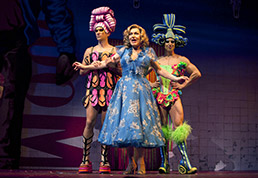 Boys will be, sort of, girls in the Broadway version of "Priscilla: Queen of the Desert." (Photo/Joan Marcus)
Perhaps. But the Broadway production is helped considerably by its trio—actually, quartet—of stars: Will Swenson, Nick Adams and Tony Sheldon. The fourth star? Priscilla, the RV that spins, lights, opens and rolls in ways that put to shame the lame chandelier in "Phantom of the Opera" and the helicopter in "Miss Saigon." If a recreational vehicle is a key element in a show, let it be pulled off as well as Brian Thomson (credited for "Bus concept and production design") does.
__________
A more ambitious new musical, "Death Takes a Holiday," opening this month off-Broadway, largely succeeds thanks to a strong story, lush music (from Maury Yeston, of "Nine" fame) and top-notch performances from London theater sensation Julian Ovenden and Broadway vets Simon Jones, Rebecca Luker and more.
It's tipped pretty early (perhaps too early), that the mysterious guy who shows up at an Italian villa in 1921 is Death himself, opting out of the afterlife-escorting business for a weekend to see how the other half lives—and why they fear him so much. If you know the original, or the film redo "Meet Joe Black," you might have an inkling how this plays out. Still, there's much supernatural and very human pleasure in seeing if and how love can flourish when one partner may or may not be the be-all but is certainly the end-all.
__________
There is not a hint in the first act of the New York Public Theater's production of William Shakespeare's "Measure for Measure" that the show is one of the Bard's "problem plays."
In it, tormented Duke Vincentio, realizing he's let things get a bit slack in Vienna, opts to head out of town and turns over his powers to a self-righteous deputy, Angelo. His hope? That Angelo will take the heat for straightening things out. But Angelo takes his job seriously, coming down hard on the town's citizens. Isabella, a novice nun, tries to intercede on behalf of her brother, Claudio, sentenced to death for impregnating his fiancée. But her actions only spark the latent lust of Angelo. His offer: Isabella's virginity for Claudio's life.
All good so far. In fact, all great for audience members who nabbed free tickets to Shakespeare in the Park.
In the second act, though, the duke's behavior becomes more and more perplexing as he crafts a convoluted scheme to set things right. This involves both bed-partner-switching and decapitated-head-switching. But Director David Esbjornson and his cast strap themselves to the mast during the play's rough waters, safely and reasonably coherently arriving at an oddly moving and powerful shore of its conclusion. No surprise that order is restored and that couples are paired up. This is Shakespeare, after all. But the marital alliances all seem on unstable ground, leaving the characters facing something besides the happiness and order of "A Midsummer Night's Dream," et al.
The Delacorte Theater, by the way, has no curtain to signal the end of the play. And that's appropriate for a production whose characters seem like they'll be living and breathing—and facing moral challenges—long after the show is over.
__________
I also revisited the Broadway revival of "Hair." Reopening for a summer (of love) run, the 2009 production remains in strong shape. Seeing it two years ago, I commented: "…the musical groundbreaker's latest incarnation isn't a plotless nostalgia piece for aging hippies (which it could have been). Nor is it an over-romanticized vision of a complex, turbulent period (which it also could have been). Instead, it's a hugely satisfying piece of theater. The terrific score (including hits "Aquarius" and "Let the Sun Shine") is intact, but time—and the talented production team—have rendered it more powerful with an added layer of truly moving melancholy. When the tribe demands "Peace now/Freedom now," their optimism, anger, disappointment, confusion and sadness are palpable."
I stand by all of that in the latest incarnation. Again, I found myself moved in surprising moments, aching as these raggedy individuals struggle with the limitations of their flesh, try to change the world with their voices, and stumble toward making peace with a world where death may be just a draft card away.•
__________
For more detailed reviews of these—plus thoughts on other A&E adventures in New York—visit www.ibj.com/arts and check out Lou Harry's A&E blog.
Please enable JavaScript to view this content.