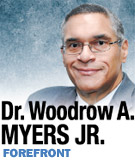 When most of us walk into a clothing store and buy a suit off the rack, we can usually find something that fits. But when you are taller, shorter, bigger or smaller than the "average" man or woman, finding something that works for you in the average clothing store is often impossible.
When most of us walk into the hospital to seek treatment for breast cancer, or colon cancer or prostate cancer, we are usually offered a treatment that is "off the rack." And in many cases, it will prove beneficial. But beneficial is not optimal. Optimal is better.
Because of our successes in the last few decades with the human genome project, a brand new world of individualized, patient-specific screening, diagnosis and treatment options is rapidly emerging. We call it "personalized medicine."
Human genes create complex proteins that manage the many processes within our cells and organs. Put simply, through "genomics" (the study of complex sets of genes and their interactions), "proteomics" (the study of the structure and functions of proteins), and "metabolomics" (the study of chemical "fingerprints" from cellular processes), we now know a great deal more about the many diseases we lump together in big categories we call "cancer" and "heart failure" and many others.
Cancer is not one disease, it is many diseases; each cancer patient may have a different version, or different expression of the same type of cancer. The different versions or expressions are because we have different genes, and when you add in environmental factors (like tobacco smoking or high-fat diets), the cancer can appear sooner or be more aggressive.
In the past, we treated your cancer as if you wore the same size suit as everyone else. Now we can look for genetic markers and patterns that allow us to predict who is at risk for a given type of cancer, predict the severity of that cancer if it appears, and guide physicians toward the most effective treatments. A tailored suit will always fit better than one bought off the rack.
How did this all happen? It wasn't luck. It was through our collective investments in biomedical research, and it was our investment in medical schools (like the Indiana University School of Medicine), and it is our continued investment in outstanding clinical facilities (like the new Wishard Hospital), that have made (and will make) these advances possible. These investments have created "personalized medicine." They are paying off—big time.
"Collective investments" are also known as taxes. It was tax dollars that sponsored much of the scientific research, supported the new hospitals, and will help make health care available through the new health care reform legislation to those who today do not have access.
Personalized medicine will allow us to do a much better job of screening, diagnosing and treating patients than ever before—and it's not just cancer patients. Advances in common diseases like heart attacks and uncommon diseases are announced on an almost daily basis.
And we are only at the beginning. Personalized medicine will get much better over the coming years, and many of the advances will be made here in Indiana, through the efforts of organizations like BioCrossroads, where new companies will be sponsored to exploit the science that created the breakthroughs.
That's not to say that only new companies will contribute. Eli Lilly and Co., Roche Diagnostics and others have emerged as major players in molecular diagnostics and therapeutics, as well.
We often forget that as a society there are real advantages to working (and investing) together for a common purpose. We can argue about the size of the investment and its efficacy.
But we can't deny that, in biomedical research and in the delivery of health care services, it has worked. Without these investments there would be no tailored suits, and no off-the-rack suits, either. Just buffalo hides and loincloths.•
__________
Myers is a former chief medical officer for WellPoint Inc. and served as health commissioner for Indiana and New York City. Send comments on this column to ibjedit@ibj.com.

Please enable JavaScript to view this content.