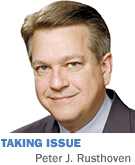 Those who fear Indiana is behind the times, take heart. Spurred by Democratic state Sen. Karen Tallian, a legislative commission is studying if Indiana should join Washington, D.C., and the 16 states with "medical marijuana" laws.
Good to know some lawmakers have their priorities straight—and with surprising support, too. The Indianapolis Star just editorialized on "the significant, if still controversial, medicinal value of the cannabis weed," opining that "strictly monitored medical use would not compromise public health."
Unless one's into the smoking paraphernalia at Broad Ripple's Magic Bus (for "tobacco use only," mind you), it's hard to get all that worked up about pot. But the medical marijuana push is a revealing window on our enlightened age, and how it debates and (often) adopts such "reforms."
Here, as elsewhere, reform advocates—particularly those aflame with government's power to "do good"—are blind to unintended consequences and the realities of human motivation and behavior.
Consider "monitored medical use" in action. The New York Times says marijuana use "has surged" in D.C. and the states that authorize medicinal marijuana. In California, as The Washington Post reports, pot is available "to almost anyone who tells a willing physician he would feel better if he smoked." Los Angeles alone boasts over 400 "dispensaries."
On boardwalks, barkers promote nearby clinics, urging, "Get legal, right now." The Post paints the picture: "New customers are directed first to the physician's waiting room, presided over by two young women in low-cut tops. After proving state residence and minimum age (21), customers see a doctor in a white lab coat who for $150 produces a 'physician's recommendation.'"
Doctors in Michigan have set up hotel room "clinics," where marijuana use certificates cost about $200. Evidently, no "women in low-cut tops"—but hey, it's Michigan, not California.
Cancer and glaucoma, standard features of legislative hearings and media coverage, are not at the forefront of patient maladies. The Post quotes a more typical sufferer, who "tried to remember" his complaint—"Um, my back"—then listed "symptoms suggested in newspaper ads: 'Chronic back pain and the rest, like everyone else. Non-sleeping. Can't eat very much.'"
Poor lad. "Chronic pain" is also rampant in Montana, where 65 percent cite this to prove their need for weed. Sadly, too, this disproportionately afflicts youth, whom one might have thought our most vigorous population. In Montana, 25 percent of those requiring marijuana's balm are between the ages of 21 and 30. Who knew?
The problem is especially acute among college students, on whom the future of the globe depends (or so commencement speakers tell them). Montana counties with highest percentages of marijuana "patients" host the state's largest universities. One suspects "chronic pain" will sweep Bloomington and West Lafayette once Indiana awakes to reefer's medicinal power.
True, there are cynics. A Helena paper says several Montana lawmakers "have suggested medical marijuana for some is just a scam to get stoned legally." Gee—you think?
Another reality is that it's hard to turn back from the reforming road. Repeal of Montana's law was vetoed this year by the Democratic governor. The Legislature then passed a bill to cut back on abuse, which became law without gubernatorial signature. But a judge struck down major provisions because they would "deny people the right to seek health care." But of course.
Perhaps most revealing, however, is that the "reform" itself is one we deem worthy of attention and (to a growing number of us) worthy of support.
In "The Screwtape Letters," C.S. Lewis' senior devil gives the key to tempting humans: "The game is to have them all running about with fire extinguishers when there is a flood, and all crowding to that side of the boat which is already nearly gunwale under." Somehow, one doubts future historians will list "insufficient access to marijuana" among our flaws, anymore than they will fault us as "too Puritanical"—another "problem" commonly decried in many avenues of current public discourse.
I think Lewis might have been onto something, don't you?•
__________
Rusthoven, an Indianapolis attorney and graduate of Harvard College and Harvard Law School, was associate counsel to President Reagan.
Please enable JavaScript to view this content.