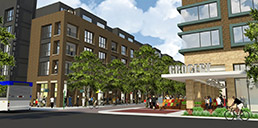 The Whitsett Group's mixed-use project is less ambitious than earlier proposals from other developers that fizzled. (Rendering Courtesy The Whitsett Group)
A local developer has a new plan for a prime Lockerbie parcel where ambitious development proposals have fizzled in the past.
The Whitsett Group wants to build a mix of 190 affordable and market-rate apartments, 44,000 square feet of retail and office space, and more than 300 mostly underground parking spaces at the northwest corner of College Avenue and Michigan Street.
The $27 million project calls for three buildings, ranging from three to five stories, on three-quarters of a city block. The project, which would take at least two years to build, would require approval from the Indianapolis Historic Preservation Commission.
"It's something that will be good for the neighborhood and the city," said principal Joseph E. Whitsett, who has met with city officials and neighborhood groups about the project but not yet filed formal plans. "It's not a grand, $100 million plan, but ours is achievable."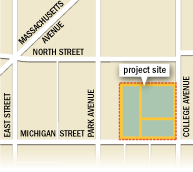 Each of the buildings would have apartments and retail space and would be oriented toward a newly reopened, tree-lined and pedestrian-focused Cincinnati Street. (The city previously agreed to vacate the street at the request of another developer.)
The first building, which would roughly follow the footprint of existing foundations from the unfinished Lockerbie Park project, would be five stories with first-floor retail and office spaces and below-grade parking, Whitsett said. The second building would be four or five stories and include underground and street-level parking and first-floor commercial space.
A third building—at the corner of College Avenue and Michigan Street—would be added later based on market demand. Whitsett has hired locally based Acorn Group to recruit a small grocery tenant for the site. More apartments could be added upstairs.
"We would love a Whole Foods or Trader Joe's," Whitsett said. "I think it would really fit into that market."
The land Whitsett plans to develop has been vacant since another developer acquired the properties for a massive project that fell apart in the early 2000s.
That project, dubbed North Lockerbie, called for a 12-story condo tower, 35,000 square feet of retail along Michigan Street, and 100,000 square feet of office space including a new headquarters for the advertising firm Young & Laramore along College Avenue.
"We were 90 days from sticking a shovel in the ground," said Brian F. Knapp, now an executive in the local office of Colliers International. "But the combination of the NASDAQ crashing and the [World Trade Center] towers coming down in New York put an end to the enthusiasm of our private equity investment group."
A few years after North Lockerbie unraveled, Knapp's Dinmont Development and locally based Hearthview Residential began work on a $20 million town home and condo project called Lockerbie Park.
The developers built 22 units along Park Avenue, but few units sold and construction came to a halt as the project ran into the residential downturn in 2008.
At the time, Knapp said, the developers valued the land at about $1.1 million per acre.
Whitsett paid about $500,000 total for the 2.4 acres he plans to develop. He bought it from Greenwich, Conn.-based Starwood Capital Group, which had acquired it as part of a block of foreclosed properties from Cincinnati-based Fifth Third Bank.
A chunk of the financing would come from federal affordable housing tax credits; about 55 percent of the apartment units would be set aside for tenants who fall within a specified income range. The one- and two-bedroom units would rent for $500 to $1,350 per month.
The architect is locally based A3 Design.
The project would be The Whitsett Group's first ground-up development, but the firm has been busy buying up existing buildings, including the stalled 707 East North condo project nearby. The firm specializes in low-income and senior apartments.
Other recent projects for Whitsett include the Stetson Senior Apartments at 30th Street and Fall Creek Boulevard and the 1010 Central Apartments in the former headquarters of Central Products Inc. at Central and East 10th streets.
The Lockerbie project should cater well to the two strongest downtown apartment niches: affordable units and housing for students, said George Tikijian, principal at locally based apartment brokerage Tikijian Associates.
New apartment projects, even those aimed at professionals, are easier to finance now than any other property type, Tikijian said. But developers ultimately will "build too many"—putting pressure on the market sometime in the future, whether in six months or three years, he said.
Whitsett has discussed the plans with the Lockerbie Square People's Club, a neighborhood association. Members of the group expressed support for the project at a board meeting, but the group has not yet adopted an official position.
The plans to reopen Cincinnati Street, primarily as a pedestrian mall but with limited vehicular traffic, were particularly popular.
Whitsett also plans to approach the city about converting College Avenue into a two-way street between Massachusetts Avenue and Market Street, which would improve the prospects for landing a retail tenant at the corner of College and Michigan.
If anyone can pull off such a project, Whitsett is the guy, said Knapp, who also partnered on the development of the Mill No. 9 lofts.
"There's a lot of my sweat and blood in that site," he said. "I sure would like to look at it someday and see what somebody did with it."
The Whitsett project isn't the only big movement for Lockerbie-area real estate.
North Lockerbie LLC, which had attempted to pull off the ambitious North Lockerbie condo, retail and office project, has started to sell about a dozen parcels in the vicinity of North and Park streets. The first to sell was a historic cottage and a three-story building that dates to 1892, at the intersection's southeast corner.
And a former church at the southwest corner of North Street and College Avenue will serve as the new headquarters for locally based architecture firm A2SO4, which currently has offices at Union Station.
The former church is across College Avenue from Whitsett's 707 East North building.•
Please enable JavaScript to view this content.