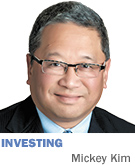 Wouldn't it be nice to be smart enough to sell at the top and nimble enough to buy back in at the bottom? Unfortunately, trying to time the market can be deleterious to your investment returns.
Crandall Pierce & Co. (www.crandallpierce.com) publishes hundreds of terrific investment illustrations. The chart accompanying this column, derived from its research, shows the high cost of this futile strategy. 
For example, if you had invested $100 in the S&P 500 at the start of 1996 and left it alone for 15 years, you would have had $204 at the end of 2010. However, if you missed only the single best day in each of those 15 years, you would have had $107, almost 50 percent less. To reap the benefit from the big up days, you have to endure the pain of the down days.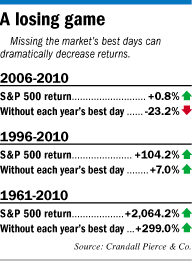 In my debut column in late July, I noted the scars from the financial crisis were still fresh and investor confidence remained fragile. The economic recovery would be choppy, with setbacks and disappointments along the way. The European debt crisis could quickly come to a boil again. Downdrafts in the market would be a fact of life. Further, once one started, there would be no way to tell if it was going to stop at mild or go to harrowing (or points beyond).
Nobody could have predicted how quickly all those chickens would come home to roost and combine to shake investor confidence to the core. The U.S. debt ceiling/default circus left doubts as to the ability of our political "leadership" to craft a serious and comprehensive plan to deal with our spending/borrowing. Not to be outdone, European leaders responded in a haphazard manner as credit issues spread from Greece to Italy and Spain.
Economic readings turned softer, bringing the double-dip-recession prognosticators out in droves. But we talk with the management of companies we own on a regular basis and, for the most part, business remains solid.
Standard and Poor's delivered the coup de grace to investors' collective psyche when it downgraded its U.S. credit rating. As long as Uncle Sam owns a printing press, there is simply no way he can default, unless he chooses to.
Not everyone is experiencing the same emotional strain long-term investors feel from down-500-point days. High-frequency traders use supercomputers to generate buy/sell orders based on algorithms. These traders now account for well over half the volume and often hold positions for less than a second. They feed on anxiety and volatility and are making money hand over fist.
The stock market is a vehicle for expanding access to and allocating capital.  Unfortunately, this vehicle is sometimes hijacked by emotion and/or technology. 
Corporate insiders responded to this downdraft by aggressively buying their own stock. Investors, meanwhile, withdrew $23.5 billion from U.S. stock funds in the week ending Aug. 10, more than any month since October 2008. We're taking our cue from the insiders, who know the prospects for their businesses better than anyone.•
__________
Kim is the chief operating officer and chief compliance officer for Kirr Marbach & Co. LLC, an investment adviser based in Columbus, Ind. He can be reached at (812) 376-9444  or mickey@kirrmarr.com.
Please enable JavaScript to view this content.