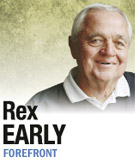 In the Aug. 22 IBJ Forefront, Paul Krugman of The New York Times wrote an article demeaning Texas Gov. Rick Perry and insinuated that Perry was a liar.
Now I can understand why Krugman, The New York Times and the rest of the East Coast elitists and fancy boys might not like him. Here is why I and others like him.
• He is a John Wayne conservative Republican who tells it like it is.
• Perry will be the first president of the United States since Ronald Reagan who is not a graduate of Harvard or Yale.
• Perry is a veteran. He served his country from 1972 to 1977 in the U.S. Air Force where he, as a captain, flew C-130s. Now, believe it or not, I would rather have a military veteran as my commander in chief than a community organizer who for a year and a half called the U.S. Marine Corps the U.S. Marine Corpse.
• Perry grew up on a farm. He is a graduate of Texas A&M.
• Perry has both legislative and executive experience. He served in the Texas Legislature; he served as the elected commissioner of agriculture; he served as lieutenant governor; and, since 2000, he has served as governor of Texas.
• Perry does not believe there is scientific proof of global warming.
• Perry is a social conservative.
• He is pro-life. He signed a bill that requires women to receive a sonogram before electing to have an abortion, and he signed a bill that prohibited taxpayer funding for Planned Parenthood.
• He opposes same-sex marriages.
• Perry is pro-Israel (unlike Obama).
Look at Perry's record:
• He has strengthened the Texas legal climate and implemented a "loser pays" system to cut down on frivolous lawsuits. He also supported tort reform to limit malpractice lawsuits against doctors. Since then, there has been an increase in doctors coming to practice in Texas.
• He has an A+ rating with the National Rifle Association and he is licensed to carry (just like me).
• He has taken a tough stance on crime. Since he has been governor, 234 of the most violent criminals in Texas are no longer housed and fed by the Texas taxpayers (they are history).
• Perry is a fiscal conservative and he has continually signed budgets that reduced general revenue spending.
• He has line-item veto power and has vetoed more than $3 billon in spending.
• Perry has advocated a "common sense" approach to regulatory policies.
Krugman failed to mention that, because of tort reform, because of low taxes, because of a fair regulatory climate, that in the last two years there has been an influx of companies moving to Texas. In fact, in the last two years, approximately half of America's new jobs are in Texas.
Perry was recently criticized by Obama supporters and some "let's be nice" Republicans because he said it was "treasonous" for the Federal Reserve to print money to play politics. Well, duh. He's right.
I would be remiss if I didn't mention that George W. Bush and Perry are not the best of friends. They don't have Thanksgiving dinner together.
Former U.S. Sen. Kay Bailey Hutchison, with Bush's backing, ran against Perry for governor in the 2010 primary, and Perry won. Supposedly, the Bush people tried to get Paul Ryan to run for president as someone who could stop Perry. Ryan said, "No thanks."
(Party politics ain't bean bag.)
In any event, Perry is the candidate who can beat Obama. Perry will carry the South and West (except for California).
Some Texans are all hat and no cattle. Perry is not one of them. He is the real thing.
He will be a stand-up leader.
Rave on Mr. Krugman.•
__________
Early served in the Indiana House and as a Republican state chairman, as well as on the Republican National Committee. Send comments on this column to ibjedit@ibj.com.

Please enable JavaScript to view this content.