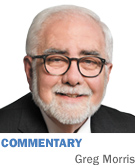 Have you kept up with all the media coverage of the 10th anniversary of 9/11? Everybody has a story related to that fateful day.
It's been important to me over the last 10 years that we all remember what happened. When almost 3,000 unsuspecting fellow citizens are murdered in a single day, we must never forget. And yet at times over the last decade, I've seen evidence that some Americans have gone soft on fighting terrorism. They seem to have a short memory. I've heard, all too often, criticism and demands for apologies for actions that were crafted to keep us safe.
There have been close to 50 documented planned terrorist attacks on Americans that have been thwarted in the past 10 years. The terrorists don't play by traditional rules, so we can't either. This isn't a friendly competition. It's a fight for our very existence. These people want to see all Americans dead. I don't believe we need to make apologies.
So, I've been consumed the past few weeks reading, watching and listening to just about every offering regarding 9/11. The national and local media coverage has been riveting.
I remember Sept. 11 like it was yesterday. Gary Havens, longtime program director at MyStar Communications radio company, and I talked this week about the events of that day and the aftermath.
In 2001, I was splitting my time between IBJ and our radio company at the time, and on that particular morning, I had my radio hat on. After the first plane hit the north tower, I was in the control studio for our AM station, 1430 (WMyS back then). We watched various network television feeds on our monitors in the studio. Gary quickly switched from local programming to our CBS network news feed. A short time later, he switched 107.9 (WTPI at the time) to the CBS news feed also. Gary remembers that we didn't play any music on either 1430-AM or 107.9-FM for at least 36 hours. We added a lot more than just network news feeds as time went on. Many folks just wanted to call in and talk about how they were feeling.
I remember calling my wife right away and telling her what was happening. It was a short conversation, but I called back around 10:45 a.m. to express my concern about her being downtown. At that moment, nobody knew what was going to happen next. The tallest buildings in Indiana were right on top of her. I couldn't understand why she was still at work, and she couldn't understand why I was so worked up—she wasn't tuned into all the news coverage. But as the events unfolded, I knew our country was at war on our own soil.
Of course, we now know how events unfolded that day. Four planes were hijacked. The first plane hit the north tower. The second plane hit the south tower. A third plane hit the Pentagon. The south tower collapsed. Thanks to many brave passengers, the fourth plane—Flight 93—never made it to its intended target and crashed near Shanksville, Pa. Then, the north tower collapsed. All this by 10:30 a.m.
At the radio company, before 9/11, we had discussed changing our format on 1430-AM, and news/talk was the leading contender to replace the adult standards music format currently being played. After 9/11, we quickly made the decision to go that direction. We felt the world had changed and that more news and information options were a greater benefit to the community than providing another music format.
A little more than a month later, on Oct. 22, we changed the radio station to News/Talk 1430 WXNT. One of our new stars, WABC New York personality Sean Hannity, coincidentally had started his nationally syndicated radio program the day before 9/11. We were definitely influenced by the events of 9/11 as we reshaped the radio station.
Yes, the world changed forever on Sept. 11, 2001, and we can never forget. We must remain vigilant. At press time, Project 911 Indianapolis still needed funds to complete our city's memorial near Ohio Street and the Central Canal. I just got online and contributed. If you can also, I know the project's backers would appreciate it.•
__________
Morris is publisher of IBJ. His column appears every other week. To comment on this column, send e-mail to gmorris@ibj.com.
Please enable JavaScript to view this content.