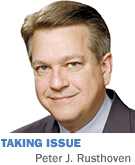 U.S. Rep. AndréCarson recently grab-bed headlines by telling the Congressional Black Caucus (to quote news reports), "the Tea Party is working through its allies in Congress to block the economic advancement of blacks and other minorities."
In Carson's words, "Some of these folks in Congress right now would love to see us as second-class citizens. Some of them in Congress right now with this Tea Party movement would love to see you and me hanging on a tree."
Calling her reasons more "emotional" than "logical," Indianapolis Star columnist Erika Smith defended Carson's statements "as vindication that finally, finally, someone who is black and is in power had the guts to stand up and say what we've all seen over the last three years and virtually no one with a microphone has cared to address. There is racism in Washington."
Smith concluded: "Sometimes, to move forward, we have to acknowledge the truth, no matter how ugly and politically incorrect."
Smith's last sentence is correct. Let's acknowledge a few truths, starting with what Carson said.
He didn't say, "There is racism in Washington." He said Tea Party-aligned lawmakers would "love to see" African-Americans "hanging on a tree."
Lynching rhetoric aside, it is untrue to attribute Tea Party fiscal views to racism.
Many of us believe federal spending is out of control and unsustainable. We believe euphemistic labels ("stimulus," "investments," "jobs act") don't alter that America cannot spend its way out of debt and into prosperity.
We believe the path to greater prosperity remains private-sector economic growth, the lone activity that creates wealth; that current tax, spending and regulatory policies stand in the way; and that a rising tide lifts all boats.
One may disagree. But these positions are not rooted in "racism." To suggest otherwise is false and insulting.
Nor do congressional Tea Party allies seek "to block the economic advancement of blacks and other minorities." Carson may believe federal programs he supports advance minority economic progress. No one questions his sincerity. Many Americans, whether or not they identify with the Tea Party, dispute his conclusion. They long for greater economic progress by minorities, but disagree with the traditional liberal Democratic approach.
In the past 50 years, we have spent trillions on Great Society programs. Many of us see the results as less than a model for minority economic advancement. Speaking bluntly—and risking "political incorrectness"—those results include trapping many intended beneficiaries in a soul-sapping cycle of dependency. That's another reason we support the private-sector economic growth approach.
Perhaps we're wrong. But it is slanderous to claim we want to block minority economic progress.
Attorney General Eric Holder infamously said we are "essentially a nation of cowards" when it comes to race, adding: "If we're going to ever make progress, we're going to have to have the guts, we have to have the determination, to be honest with each other" and "have frank conversations about the racial matters that continue to divide us."
Americans aren't cowards. But there is understandable reluctance to engage in the "frank conversations" Holder references. This is due in large part to the readiness of some to label their opponents "racist" and the devastating consequences should that label stick.
Comments like Carson's exacerbate the problem. They weren't true. They weren't "gutsy." They were indefensible.•
__________
Rusthoven, an Indianapolis attorney and graduate of Harvard College and Harvard Law School, was associate counsel to President Reagan.
Please enable JavaScript to view this content.