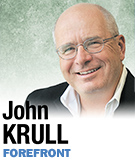 Midway through a discussion of homelessness on "No Limits," the radio show I host for WFYI-FM 90.1, a caller said, "In the 1960s, there was a war on poverty."
He paused.
"Now, it's almost as if we have declared war on the poor," he said.
As he spoke, I looked across the studio at Dayspring Executive Director Lori Casson and Trusted Mentors Executive Director Jeri Warner, people who work with poor people. Both pursed their lips and nodded in frustrated agreement.
When they responded, their responses were diplomatic in tone but clear in meaning. It's hard to get people to care about the problems of the poor these days, they said.
This happened just after a Republican presidential debate in which moderator Wolf Blitzer asked Rep. Ron Paul if Americans should let a 30-year-old man with a life-threatening disease die if he didn't have life insurance. Members of the crowd screamed, "Yeah!"
The audience members cheered not so much because they were gloating over the demise of a fictitious human being, but because they had heard a firm belief of theirs articulated. That belief is that human beings should take more responsibility for themselves.
It is a fair argument, but one that leaves us with hard choices to make.
Even if we agree that people should be held responsible for the decisions they make, what do we do about the human beings who are affected by the actions of others but could exert no control over those actions?
For example, Casson reported during "No Limits" that, every night, 3,000 children in central Indiana are homeless.
Even if we want to send a pick-yourself-up message to adults, does that extend to their children? Is it right to allow kids to suffer because of their parents' choices? If so, how much should we let them suffer?
Or let's take the case of Blitzer's hypothetical 30-year-old with a life-threatening disease. In some ways, Blitzer weighted the argument by saying the man chose not to get health insurance because of the cost. What if he tried to get it and was denied?
For a half-century, conservatives, culminating in the emergence of the Tea Party, have offered a powerful indictment of the New Deal and Great Society. They have argued that having a social safety net and system of regulation inhibits initiative and serves as a drag on business's ability to adapt and compete. They have said the liberal approach to governing undermines principles of self-reliance and curtails human freedom.
There is some truth to those arguments. Every human decision carries costs.
Conservatives, though, have been reluctant to discuss the costs of their own approach to governance.
If we adopt their more laissez-faire model, businesses will be able to throw off a few restraints, but the cost is that many people in this country will not have good health care. Some will die because of it. Some will be children.
Similarly, if we say it should be the responsibility of those who fall off the ladder of success to restore their own handhold on the rungs, we will have to say that their children suffer with them or that poverty is a valid reason for us to break up families.
Conservatives have cloaked the costs of these choices with appealing phrases—"Morning in America," "A Thousand Points of Light" and "Compassionate Conservatism"—to keep the focus on the costs of liberals' model of governance and avoid discussion of the costs of their own approach.
Thanks to the emergence of the Tea Party, a full-throated debate about the costs and benefits of these two approaches to governing seems to be coming.
And, again thanks to the Tea Party, we know which voices will speak for the dogs doing the eating in a dog-eat-dog world.
As my caller pointed out, what we don't know yet is who will speak for the dogs that are being eaten.•
__________
Krull directs Franklin College's Pulliam School of Journalism and hosts the weekly news program "No Limits" on WFYI-FM 90.1. Send comments on this column to ibjedit@ibj.com.
Please enable JavaScript to view this content.