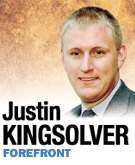 As I begin my penultimate semester at Indiana University, I have come to agree that college has been, as I was told it would be, the greatest time of my life. As I entered my senior year, however, I did not anticipate my final year in college turning into one of the most worrisome I have experienced.

It is no secret that the job market is poor for nearly every American. The stagnant economy puts undue pressure on nearly everyone—parents having to choose between taking a second job or not sending their child to college; workers nearing retirement recalculating their IRAs and realizing that retirement at this point is not an option; and unemployed job-seekers desperately filling out application after application to no avail.

One of the most consequential, yet invisible, burdens of this economic environment falls on the backs of college students—burdens that will take a generation to grasp and appreciate.

Because of the massive influx of job seekers, America's great companies can (and fiscally, must) be highly selective with their applicants. Workers laid off when corporations downsized or went bankrupt—workers with years of experience in their fields—have been relegated to applying for entry-level positions.

The number of those vacancies, which only a few short years ago were filled by graduating college seniors, has remained unchanging, meaning that graduates must look elsewhere for employment or other options.

Thus, we, the class of 2012, are seeking opportunities to continue our education or give back to our communities. Countless seniors intend to enter Teach for America or the Peace Corps or attend law or medical school.

While those participating in philanthropic efforts obviously contribute to society, the dramatic inflow of students completing law, medical, business and other graduate school applications increases the demand for those schools, driving graduate tuition above its already-astronomical price point. (For example, Indiana University's Maurer School of Law in Bloomington where, after a 25-percent tuition increase for incoming Indiana students in 2009, will increase in price 4 percent this year and 6 percent next year.)

This phenomenon also provides a massive injection of overqualified labor into the job market, further rendering the holders of mere bachelor's degrees less competitive in the application process.

Those entering the job market increasingly fill temporary, unpaid job openings. While real-world experience is necessary to succeed in any career, this effect trickles down. The majority of undergraduate students confront tremendous difficulties when attempting to secure internships to bolster our preparedness post-college. This contributes to a vicious cycle. Unless our economy improves drastically and quickly, it is likely that our nation's work force will soon encounter a completely underqualified graduating class.

In an unfortunate irony, many of my peers are forced to answer interview questions about their lack of professional experience while our younger peers are being told by those same businesses that the spigot of undergraduate employment opportunities at their company has stopped flowing.

Unintended human consequences result from unwise policies. Thank goodness Indiana has a governor and Legislature that comprehend this reality.

Bold, decisive leadership is necessary if we hope to rescue ourselves from this mess. A jobs plan should be the unquestionable chief priority of Obama's top advisers.

We're all in this together; we all want the economy to improve and for America's creative engine to receive the jump-start it needs. I hope our leaders in Indianapolis and Washington, D.C. take these ideas into account when making the monumental economic policy decisions facing them. These politicians campaigned waving the banner of promoting policies beneficial to their "children and grandchildren." We hope they, indeed, do so.

I assure you, America's next generation is watching.•

__________

Kingsolver, a Fishers native, is a senior at Indiana University majoring in political science, international studies and business management. He also is student body president and the former state chairman of the Indiana Federation of College Republicans. Send comments on this column to ibjedit@ibj.com.