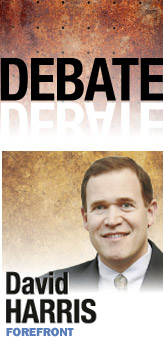 Question: In training future teachers, should the focus be on traditional university schools of education or on such alternatives as The New Teacher Project and the Woodrow Wilson Teaching Fellowship?

Answer: If you're a parent or principal or district leader, it probably doesn't matter much to you where teachers get their training. What matters to you is whether your teachers are effective and help all students achieve to high levels. That's why schools of education and alternative training programs should be evaluated based on the effectiveness of their graduates.

Simply put, the type of program, number of credit hours, or path to certification aren't as important as teachers' impact on their students. That's the standard we should use when thinking about the future of teacher training.

Some states are already taking this approach. Louisiana focuses on results that teachers produce for kids in the classroom, regardless of whether a teacher came to teaching through a traditional route or alternative certification program.

Every year, the state reports publicly on student achievement results of teachers trained through its 19 preparation programs, allowing districts to make smarter decisions about where they look for teachers and helping preparation providers identify areas of strength and weakness in their training.

The New Teacher Project's (TNTP) program in Louisiana (which trains both its Teaching Fellows and Teach For America teachers) has ranked as one of the top-performing programs in the state the past four years.
Here in Indianapolis, we already have some top-notch programs like Teach For America, the Woodrow Wilson Fellows, and The New Teacher Project's Indianapolis Teaching Fellows. Individual teachers trained by these programs have demonstrated high levels of effectiveness.

For example, in 2009, Teach For America corps members in Indianapolis Public Schools posted the district's first- and second-highest gains in reading and English/language arts, and a number of corps members have been nominated for teacher of the year at their schools and in their districts or charter networks.

Similarly, in 2009, Indianapolis Teaching Fellow Jeff Steinbronn led Howe High School's Science Bowl team to their second straight state championship; it was the first time any Indiana team had won the bowl two years in a row. In 2010, Mike Anderson, a 2007 Indianapolis Teaching Fellow, was named Teacher of The Year in IPS. Anderson's algebra students at T.C. Howe Community High School outscored other classes on the school's end-of-course math test by 189 points and averaged at least 10 percentile points higher than their IPS peers on each benchmark assessment.
We should be evaluating teacher preparation programs based on their ability to produce outstanding teachers like these. That's why we're pleased that some programs in Indianapolis have become more focused on requiring evidence of effectiveness before they allow teachers to graduate.

For example, TNTP's Indianapolis Teaching Fellows will ensure that only those fellows who demonstrate measurable gains for students become certified. When teachers graduate from the Indianapolis Teaching Fellows, parents and school leaders will know they have demonstrated what it takes to be successful in the classroom.

Imagine if one day we had data showing the relative impact of teachers who came through the University of Indianapolis, Marian University, IUPUI, Teach For America, Woodrow Wilson Fellows and Indianapolis Teaching Fellows. With rich data like that, district leaders could make more informed decisions about hiring, and teacher preparation programs could look more critically at what's working and what needs to change.

Teacher colleges, universities and alternative certification programs all have an important role to play in preparing the next generation of teachers. But Hoosiers deserve to know that when teachers enter a classroom, they have developed a track record of improving student achievement. We should demand nothing less.•

__________

Harris is CEO of The Mind Trust, a not-for-profit supporting entrepreneurial education initiatives. Send comments on this column to ibjedit@ibj.com.