Standing in the Indiana Memorial Union in Bloomington last month, Indiana University President Michael McRobbie made a startling forecast: A decade from now, IU will derive less than 10 percent of its revenue from state funds.

That's assuming state support of universities continues to grow at the less-than-inflationary pace it has the past 20 years, during which state funding fell from half of IU's budget to just below 20 percent now. But given the low tax revenue flowing from Indiana's struggling economy, that's a fair assumption.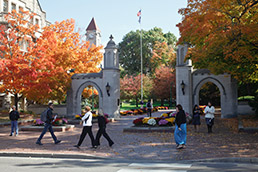 IU President Michael McRobbie suggested in a speech last month that less state funding should mean less state control. (IBJ Photo/ Perry Reichanadter)
Which begs a question: If IU, as well as its rival Purdue University, gets to a point where nine out of 10 of its dollars come from somewhere other than the public coffers, will it still be a public university? Or will it become a de facto private university, with the high tuition, high out-of-state enrollment and selective admissions that come with it?

McRobbie didn't answer that question directly. And he declined to be interviewed for this story. But he clearly wants to see lessening state support come with lessening state control.

"At the same time our state support has declined, the desire and demand for increasingly detailed administrative and legislative oversight of all aspects of our operations has increased," McRobbie said, according to prepared remarks, in his Sept. 27 State of the University speech.

He added, "The challenge will be to ensure that regulation is commensurate with the support provided and that the university has the necessary freedom to adjust to a rapidly changing economic and educational environment."

The issue is far broader than IU and Purdue. The "gradual privatization of public universities" has been a topic among university leaders for a generation. But the economic downturn of the past four years has prompted more frank discussions of privatization in Michigan, Colorado, California, Oregon and even Indiana.

"That is a trend that we have seen and will continue to see," said Diane Viacava, a public finance analyst at Moody's Investors Service in New York, who follows both IU and Purdue. "The states are reducing their support for their public universities, and that's going to continue, especially as they're wrestling with their budgets."

Sen. Luke Kenley, R-Noblesville, said he has been approached with informal proposals to privatize Purdue, whose engineering and aeronautics programs could probably draw far more out-of-state students, who pay triple the tuition of Indiana residents. He declined to identify who approached him.

Kenley, who chairs the Senate's appropriations committee, shot down the idea immediately, saying Purdue would first have to write the state a multibillion-dollar check for all its investments in the university since its founding in 1869.

"It's been suggested to me, 'Shoot, West Lafayette is so successful, why don't you just let them be independent and run them as a private school?'" Kenley said, adding, "They want to be their own emperors."

Purdue officials—who expect state support to make up just 11 percent of the budget for the West Lafayette campus by 2020—have had their finance executives run the numbers of what a privatization of the university would look like.

Their calculations followed a model developed by the University of Oregon that calls for a university to borrow money to create an endowment that would, over time, build up to such a level that it could generate enough cash to replace the state appropriation.

"It's conceivable, but it would take a pretty desperate situation [at the state level]," said Tim Sands, Purdue's provost. "When I think of Purdue, in particular, I don't see that in the near-term horizon at all. But it could happen in another state."

Reduced state influence?

Right now, talk of privatization is nothing more than that. Neither IU nor Purdue could sustain a sudden loss of 20 percent of revenue, which equals about $550 million per year for IU's seven campuses and about $380 million for Purdue's four campuses.

In addition to state funds, IU and Purdue each derive about one-third of their revenue from student tuition and fees, and the rest from a mix of fundraising, investment returns, research grants and contracts, and auxiliary services for food, parking, bookstores and sports.

Other state-funded universities get larger portions of their budget from the state. At Ball State University in Muncie, for example, 33 percent of revenue comes from the state.

But the possibility of taxpayer appropriations' dropping below 10 percent at IU and Purdue is prompting state leaders to ask some vexing questions about how much control or influence the state will have over the universities. At that point, annual fundraising from donors would likely exceed state appropriations.

"If the universities are getting more money from private donors than they are from the state, then who are they answering to?" Sands mused. "When we hit that, then I think that will be an interesting point of reflection."

For instance, the Legislature, acting on the recommendations of the Indiana Commission for Higher Education, has over the past few years tied modest but growing portions of university appropriations to how they perform on key metrics, such as graduation rates and cost per degree.

But with state support declining as a percentage of university budgets, the commission officials asked Purdue President France Cordova at a meeting this past year, "Does this even matter to you?"

Cordova insists the performance-based funding does matter, because the metrics the commission has selected are the right ones, lining up with Purdue's own goals.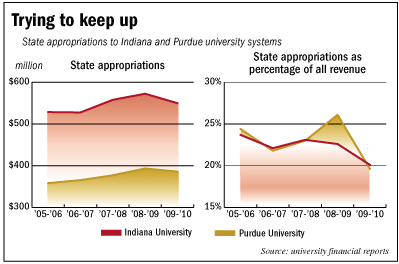 "They're worthy incentives," Cordova said. "It just turns out that the performance metrics that they have are the same ones that we want for ourselves."

Still, her answer suggests the state's influence on such matters is more one of persuasion, not coercion. Higher Education Commissioner Teresa Lubbers did not respond to a request for an interview.

On another commission initiative—its annual recommended caps on tuition hikes—the universities have been less cooperative.

IU, for instance, exceeded the commission's recommended cap this year of a 3.5-percent tuition increase, raising its tuition and fees 5.5 percent instead to cover a lack of state funding for building repairs.
The sticker-price tuition at IU and Purdue has skyrocketed in the past two decades—even though the schools have moderated those costs for many students by ramping up privately funded scholarships.

The same has been true nationally. From 1980 to 2010, college tuition and fees soared tenfold, according to an analysis of U.S. Department of Labor data by the American Enterprise Institute. When graphed along with the run-up in housing prices over the same period, increases in college tuition prices dwarf the housing bubble that burst in 2007.

McRobbie acknowledged these issues, but chafed at the commission's and Legislature's increasing oversight of the issue.

"It is the sad but inevitable fact that reductions in state funding mean that the financial burden of higher education has been passed, in part, from the state as a whole to individual students and their families," McRobbie said in his Sept. 27 speech.

Seeking new revenue

Kenley, however, thinks IU and Purdue—in their admirable quest to increase their national and global standings—have forgotten that they're also supposed to be affordable for Indiana citizens. And he thinks they're missing opportunities—created by new technologies—to dramatically lower their costs.

"They are all creations of state statutes and their governance is at the whim of state statute," Kenley said. "So that means that they just intend to keep raising tuition at such an incredible rate? I think they're going to do it on the backs of the citizens. If that's their plan, then we have a fundamental disagreement about what their mission is."

Both McRobbie and Cordova affirm their commitment to be affordable for Indiana students. They also both realize they can't keep raising tuition and fees forever.

That leaves them both searching for new sources of revenue. Fundraising is one of those, and both schools have greatly ramped up their efforts in the past decade.

IU ranked No. 10 in the nation for private fundraising in 2010, according to figures compiled by the New York-based Council for Aid to Education. IU raised more than $340 million last year.

Purdue, which has been raising about $200 million per year, wants to double that figure over the next decade.

But philanthropy has its limits, too. So Purdue recently approved a decade-long funding plan that will try to save money by offering more summer coursework and to drum up more revenue from businesses and students around the world.

The plan, which was approved by Purdue's trustees in August, calls in part for creating an applied research corporation that private companies could hire—without risk of losing their intellectual property—to work on research and development projects. It also envisions offering Purdue faculty to help companies retool their processes or retrain their work forces.

A recent example of such collaboration was the five-year, $10 million agreement announced Sept. 26 between Purdue and China-based aluminum company Nanshan Group Co. Ltd., which will open a plant in Lafayette next year.

"If we did nothing, but just relied on the continuing trend in state appropriations, and just the cost of living index for tuition and fees, it's not a good picture," Cordova said. "So that's made us look carefully at having a different plan for how to generate revenue."•