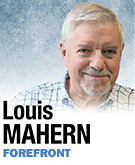 Some use it to explain good fortune, others to express gratitude, but the fact remains that the expression "I'm blessed" implies the user's specialness. The unstated corollary to "I'm blessed" is that others are not. If we were all blessed, there would be no point in commenting on it.
To bless is a transitive verb. There has to be a blesser as well as the one blessed. The clear implication is that the blesser is some higher being who has the power to alter events, an entity who can and does intervene in the affairs of man and events of nature to affect outcomes.
The winner of a show business award, a made-for-TV contest or a sporting event often will declare himself "blessed." Not "I practiced harder" or "My opponent had an off night." Rather, the triumph is credited to being blessed. A variation of this is when the victor gives all credit to a celestial intervener by pointing skyward following a touchdown. Left unremarked is, "Thanks for tangling the feet of that cornerback of whom You so clearly disapprove."
The implication is that the winner has found favor in the sight of this higher being. What does this make the loser? Unblessed? Certainly, the loser has somehow not measured up. Through some personal flaw other than not practicing, the loser has come up short in the contest.
So what about, "Have a blessed day"? Recently, an Indianapolis woman was fired from her job for insisting on using this phone greeting while at work. The employer, a court found, was within his rights to forbid the injection of religion into the workplace.
Actually, the greater transgression was directing the command to the wrong entity. This telephonist clearly meant that she hoped the caller would be blessed that day by some higher power with the ability to grant such blessings. Yet, "Have a blessed day" suggests that the caller had it within his power to cause a blessing to be bestowed on himself. An auto-bestowal, if you will.
"Have a blessed day" is a variation on a larger theme that holds that this higher power uses nature to reward and punish humans. In the early 1990s, the Mississippi River flooded over 30,000 square miles of Iowa farmland. Televangelists declared this deluge to be divine retribution for the rampant homosexuality afoot in the land. If the Lord were really upset about sodomite activity, wouldn't He have visited an earthquake on San Francisco? Why punish the God-fearing farmers of Iowa?
Which brings us to the folks who go on TV after a Kansas tornado and attribute their survival to divine intervention.
"We are alive today because of God's grace," they declare. Now what does this say about the unfortunate ones who did not survive? Did they somehow not quite measure up in the saintliness department?
Doesn't He control the weather? Does He cause the tornado and then spare people just to remind them who is boss? Or is this just some messin'-with-folks'-minds kind of thing? A Don Rickles side of The Almighty?
Finally, what is up with making the sign of the cross before free throw attempts? Do we have any stats on the efficacy of this motion? After seeing the movie "Moneyball," which is all about arcane baseball statistics, I wonder if free throw percentages with and without signs of the cross are kept?
If it is shown to bestow an advantage, would a coach be within the bounds of propriety to have non-Catholic players use it at the free throw line? Would it work for non-Catholic players? How about if they're playing for a Catholic university? Is there a difference between results for Catholic players at Catholic universities and Catholic players at non-Catholic universities?
How does the Almighty receive these requests for assistance? Does She set aside for the moment attempts to settle the Israel-Palestine conflict in order to help Notre Dame defeat SMU?•
__________
Mahern has been an assistant to U.S. Rep. Andy Jacobs and U.S. Sen. Birch Bayh and served in the Indiana Senate. Send comments on this column to ibjedit@ibj.com.
Please enable JavaScript to view this content.