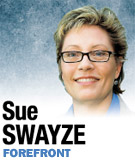 New research is showing that the breakdown of the traditional family is increasing poverty maybe as much as today's joblessness and economic woes. But in this case—no marriage—the economic woes fall to the state as men, women and especially children are in need of government services to fill the gap that the family used to.
Gov. Mitch Daniels has often said that if he had a magic wand and could use it to do one thing as governor, he would make it possible for every Hoosier child to grow up in an intact family. He supports marriage and responsible parenting and sends this bold message often.
In "Keeping the Republic: Saving America by Trusting Americans," Daniels notes research from the Brookings Institution that the breakdown of family structure from 1970-1998 increased the poverty rate almost 5 percentage points, representing millions of lives affected by poverty and children not reaching their potential.
Daniels also recounts stunning new research:
The increasing marriage gap between well-educated, well-to-do Americans and their less-educated, working-class counterparts is now the biggest driver of income inequality in our country. Sadly, most of those who profess to be offended by this inequality continue to turn a blind eye to its principal cause, apparently because to do so would run counter to their outlook on social mores. They pretend family structure is not the huge problem it is.
While the state has taken the leadership to secure federal funds for healthy-relationship skills training for some cohorts, Daniels laments that he hasn't seen policy ideas on how to encourage people to marry before pregnancy or to stay together for the sake of the children.
This will be the new policy battle extraordinaire: how to look objectively at the growing stack of research that marriage does, in fact, matter to the well-being of people, and whether or how to promote it.
Single-mother arguments have backfired on women in large part. We've tried fatherhood programs to get Dad back into the picture. Today's new policy questions are born out of the pain and lost opportunities of single parenthood and children living in poverty, as well as skyrocketing costs as state welfare or state prison spending steps into the gap.
Research in 2007 from the Institute of American Values in "The Taxpayer Costs of Divorce and Unwed Childbearing" showed $839 million per year in Indiana from additional social welfare costs and forgone tax revenue resulting from broken families.
Another new mountain of evidence takes aim at cohabitation. The U.S. Census Bureau calls these couples OSSLQs, or Opposite Sex Sharing Living Quarters. In "The Ring Makes All the Difference," Glenn Stanton sifts through recent research to dispel today's idea that living together before marriage helps us test-drive a relationship.
On the contrary, those who live together before marriage are 50 percent to 80 percent more likely to divorce if they do marry. The drama factor is also exceedingly higher in the shack than the married home in terms of violence, substance abuse, infidelity and more.
Charles Osgood of CBS' "Sunday Morning" notes in a clever poem that, "You'll share my life, up to a point." Like Stanton, I posit that marriage involves things the cohabitating couple—or at least one of them—would rather not deal with.
Further, while intimate emotional, physical and even spiritual bonds are being formed when living together, they aren't backed up by the commitment they require.
I can wield moral and religious arguments in that we were designed by God and the institution of marriage was created by Him as a cornerstone of society. That doesn't mean we "do" marriage well, but it was designed for us to be good and holy.
For those not inclined to spiritual things, the evidence of the impact of out-of-wedlock births on women and children that our social services see every day and under which the state and federal budgets buckle is no longer a question. The answer is a return to commitment.•
__________
Swayze leads the Indiana Family Institute's Hoosier Congressional Policy Leadership Series and has held numerous lobbying positions with not-for-profit organizations. Send comments on this column to ibjedit@ibj.com.
Please enable JavaScript to view this content.