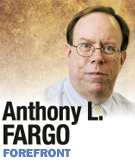 Anonymity has long been a part of our political communication. "The Federalist Papers," the series of newspaper essays that Alexander Hamilton, John Jay and James Madison wrote to defend the Constitution as it was being ratified, were all signed "Publius."
Likewise, responses from opponents who came to be known as the Anti-Federalists were signed by "A Federal Farmer," "Cato" and other pseudonyms. Both sets of writers were following in a long line of authors who disguised their names for various reasons, including safety.
More recently, the Supreme Court has elevated anonymity to a First Amendment right. Cases have dealt with government efforts to force NAACP chapters in the Jim Crow South to release their membership rolls; the right of a woman to distribute an anonymous flier opposing a school bond issue; and the right of Jehovah's Witnesses to pass out literature door-to-door without registering with the city first.
The court, citing the long history of anonymous publishing, has said that forcing speakers to identify themselves can often amount to silencing them. Justice Clarence Thomas even argued in McIntyre v. Ohio Elections Commission that protecting the right to speak anonymously on political matters was a central purpose behind the First Amendment's adoption.
But the court has never said anonymity is an unlimited right. Lately, anonymity has been coming into increasing conflict with the right to protect reputation.
Congress passed the Communications Decency Act as part of the massive Telecommunications Act of 1996. Section 230 of the act gave limited immunity to Internet service providers to protect them from libel suits and other legal actions over material that users posted. The fear was that if ISPs were liable for everything their users wrote, the weight of all that liability would crush the Web in its infancy.
The problem is, if someone has posted something anonymous that damages your reputation, how do you seek recompense if you can't sue the ISP and you don't know the author's true identity? You can petition a court to force the ISP to give you whatever identifying information it has about the user. But in order to prevent frivolous libel suits from being used to silence critics of politicians and corporations, many courts have erected tall barriers of proof that libel plaintiffs must traverse before the ISP is ordered to identify the user.
Meanwhile, the high-minded debate that many hoped would flourish on newspaper websites and political blogs has not materialized. What passes for civil discourse is often reduced to a more scatological version of the playground debate of "Am not!" "Are too!"
As professor Stanley Fish noted in a nytimes.com column earlier this year, some scholars who strongly support free speech, such as Cass Sunstein, have suggested that Congress should amend or repeal Section 230 or find some other way to better balance anonymity and protection of reputation.
To be honest, I was leaning in the same direction as Sunstein and company because my recent research into legal protections for anonymous online comments forced me to confront how much garbage people spew into forums.
But upon further review, I think the Supreme Court was wise to include the right to be anonymous among the rights protected by the First Amendment.
As a commentary by Jillian York and Trevor Timm on the Electronic Frontier Foundation website recently noted, without speakers' ability to be anonymous on the Internet, the Arab Spring might never have happened. Lonely and confused gay teenagers would be afraid to ask questions or seek support on websites. Teachers would be afraid that stating an opinion on a local political issue would get them fired.
Anonymity creates challenges, but it also creates opportunities for the marginalized, the rebellious and the tremulous to speak their minds. Forcing them to unmask themselves or remain silent would be a high price for making others of us more comfortable online.
In short, anonymity helps protect the disenfranchised from well-intentioned eggheads like me.•
__________
Fargo is an Indiana University journalism professor and member of the Indiana Coalition for Open Government. Send comments on this column to ibjedit@ibj.com.
Please enable JavaScript to view this content.