In the era of protests on Wall Street, an Indianapolis doctor hopes to end poverty for thousands of Hoosiers by orchestrating an economic-class Kumbaya.
James Lemons, the past head of neonatology at Riley Hospital for Children, is launching a training center for a national anti-poverty program called Circles. The center will work with churches, not-for-profits and, Lemons hopes, businesses, to match poor people with middle-class "allies."
Dr. James Lemons is starting a national anti-poverty training center.
The idea behind Circles is that people find their own way out of poverty by expanding their personal networks to include the middle class. At the same time, these relationships inspire the comfortable set to become advocates on big-picture issues, such as access to transportation.
Circles was created by New Mexico-based Move the Mountain, where Lemons is on the board. Lemons' goal is to reach 4,000 low-income people in Indiana and recruit 10,000 to 12,000 volunteers over five years.
"I hope to spend the next 20, 30 years, if I have it, working on this," said Lemons, 67. "This is the most important thing I've been involved with."
Lemons lined up $800,000 in startup money, which includes a $500,000 grant from the Indiana State Department of Health and a $100,000 grant from the Indiana University School of Medicine.
Lemons hired Nick Reich from Goodwill Industries as the training center's first director. Reich coached the championship basketball team at Goodwill's charter school, Indianapolis Metropolitan High School.
Lemons is recruiting an advisory board and talking up Circles to not-for-profit, government and business leaders. He hopes to raise $10 million or more for long-term support of Circles.
"I see this as the glue that can bridge together all the social service agencies and make better use of them," Lemons said.
Circles, or something like it, can already be found among local not-for-profits. Local experts don't doubt the effectiveness of building personal relationships, but say that's difficult to do on a large scale.
Bryan Orander, a consultant to not-for-profits, noted that a small organization called Trusted Mentors struggled to stay in business its first few years. Trusted Mentors finds mentors for ex-offenders and other adults who are in danger of becoming homeless.
"It's a really complex issue, poverty is," said Tim Streett, assistant director of the Shepherd Community Center on the near-east side. Streett, who teaches a class called Poverty 101 to suburban churches, thinks Circles is most likely to gain traction in the religious community.
"That really has to be a calling," he said. "You can't simply look at something like that as a volunteer service."
Making poverty 'intolerable'
Lemons learned about Circles through involvement in his church, Second Presbyterian, where he coordinates a class called Faith in Action. The class features regular speakers from the local not-for-profit world.
One of those presenters, Betsy Whaley of The Julian Center for domestic violence victims, was in the process last year of launching Circles for the shelter's clients. She invited Lemons to sit in on an organizational meeting. He's enthralled with the concept of forming friendships across class lines.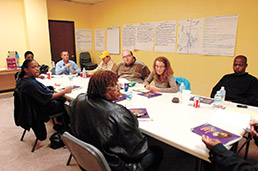 The Getting Ahead class at Community Action of Greater Indianapolis is a prerequisite for Circles, which matches low-income "circle leaders" with middle-class "allies." (IBJ Photo/ Perry Reichanadter)
"People know of poverty, but they don't know poverty," he said. "It'll become intolerable."
Lemons has a lifelong interest in global humanitarian work. He and his family spent three months living in Kenya in the 1990s, and he raised $2.5 million for a maternity hospital there. He hopes that if Circles proves to be successful in the United States, the model can be exported to the Third World.
Move the Mountain is trying to scale up Circles by establishing 12 regional training centers. Because of the grants Lemons landed, Indiana will be the first to start operating, CEO Scott Miller said.
Part of Miller's pitch for the training centers is that Circles is a work-force-development solution.
"The mission… is to say, 'Wake up America. You've got to deal with these 15 million kids in poverty and prepare them for the work world, or we're going to lose ground," Miller said.
So far, that resonates most with the health care industry, which has a large minimum-wage work force, and where people understand the link between poverty and health.
Lemons has met with administrators at local hospitals, which might use Circles to address the high rate of turnover among their low-wage workers.
Touchy-feely
In practice, Circles is decidedly touchy-feely.
The Julian Center's group meets each week for dinner and sharing personal news before getting down to business. The "circle leaders" and their allies talk about progress toward goals.
The goals can be concrete—better-paying jobs and better housing, for example—or less tangible, such as dreaming more about the future and regaining a sense of empowerment.
Before the circles are formed, all parties take classes based on the work of educator Ruby Payne. Her theory, which has been criticized for perpetuating stereotypes, is that each economic class has its own culture and "hidden rules."
The hidden rules of poverty, for example, explain why a family will spend its precious little income on a new TV or Wii.
Circles builds on that theory. By spending time with their allies over 18 months, the circle leaders glean and adopt subtle aspects of the middle-class world that will make them more successful.
Joann Craig, an ally who worked with Circles in Syracuse, N.Y., before moving to Indianapolis, said she noticed that her circle leader began laying a napkin across his lap at meals and clipping coupons.
"It's the modeling," she said.
Move the Mountain fine-tuned Circles over more than a decade with backing from the Annie E. Casey Foundation. Now it's collecting data on 1,150 circle leaders across the country.
So far, Move the Mountain has survey results from 59 people who completed a "Getting Ahead" class and worked with allies for 18 months.
In that initial group, average income rose 48 percent, and use of welfare benefits declined 36 percent.
Miller acknowledges that not many of those circle leaders actually escaped poverty, which would require that their incomes reach 200 percent of the federal poverty level.
"They started with $46 in their pocket," he said. "The road is long. The road is intense. It's going to take a while."
The Julian Center started Circles in hopes of reducing the number of women who return to the shelter, which sees more than 1,200 people a year, said Whaley, director of housing and outreach.
About 85 percent of Julian Center clients have income of $15,000 or less, Whaley said. Driven by day-to-day survival, those women are more likely to jump into another abusive relationship, she said.
The Julian Center is offering Circles to its clients who are no longer in crisis and want to move up the economic ladder.
Five of the first 11 people who completed the required Getting Ahead class went on to become circle leaders.
Another group is coming up behind them. Anita Reyes, 30, a single mother of six, is eager to become a circle leader. She always hoped to avoid following her mother in depending on subsidies.
"I want to be in a position where I can help people," she said.•
Please enable JavaScript to view this content.