Federal transit data suggests passenger fares would generate about one-fourth of the money needed to operate a suburban rail and expanded bus system proposed for the region.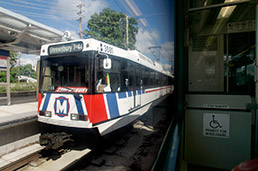 Electric-powered MetroLink trains pass in St. Louis. Indianapolis leaders envision diesel-powered trains for the former Nickel Plate line under a $2.5 billion rail and bus plan. (AP Photo)
Taxpayers—whether or not they climbed on board—would foot the remaining lion's share of the proposed $2.5 billion system.

In Denver, fare box revenue last year amounted to 23 percent of funds to operate that city's rapidly expanding rail and bus system, according to Federal Transit Administration data.

The percentage was similar in Baltimore. In St. Louis, fares collected on its train-bus system amounted to 20 percent of operating money in 2010, according to FTA.

Such numbers aren't much of a departure from what's envisioned here.

"We anticipate that we'll receive fare box revenue equal to about 25 percent of operating costs," said Ehren Bingaman, executive director of the Central Indiana Regional Transportation Authority.

That would be an improvement over what Indianapolis' bus line, IndyGo, received from fares last year—amounting to 17 percent of its $57.4 million pot of operating money. Most of that $57.4 million came from local, state and federal tax dollars. Capital projects are funded separately, mostly from federal grants.

In theory, the more money raised from the fare box, the less public subsidy is needed. With an estimated cost to build of $2.5 billion and annual operating budget estimated at $135 million, the issue is not insignificant.

As currently projected, local taxpayers could eventually pay an average of $15 a month per household, according to Indy Connect, the business-led group supporting the rail/bus plan.

That doesn't include what residents would otherwise pay in state and federal taxes allocated to subsidizing transit.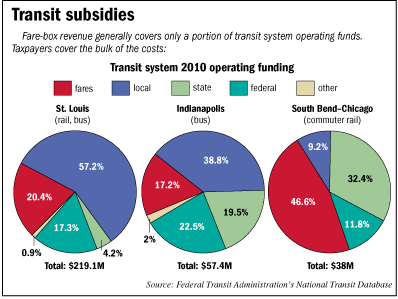 The $15-a-month average assumes full build-out of the system of rail and bus lines radiating from downtown within 25 years. The first rail line would be a 23-mile link to Noblesville, mostly over former Nickel Plate right-of-way.

After countless public meetings in recent years, at least 55 organizations in the metro area have approved resolutions recommending the Indiana General Assembly allow a transit funding ballot initiative. Residents in the metro area could be asked to OK a special sales tax or increase in the county option income tax, for example.

Reducing subsidies

The cost of building and operating the system could be reduced through public-private partnerships. Denver transit officials teamed with a private investor group that pledged to cover $450 million in financing toward a $2.1 billion, 23-mile rail line between downtown Denver and Denver International Airport.

Denver Transit Partners stands to receive a 28-year, $3.9 billion stream of service payments. It could earn additional money based on operating performance incentives.

In Indianapolis, IndyGo already works with private operators for its Open Door service, for example, Bingaman said. Beyond bringing operating efficiencies, a private partner could also reduce costs of a transit project to the extent it can expedite completion—minimizing inflationary costs of materials and labor.

Generating more fare income is another way to mitigate public subsidies.

One way is to introduce relatively high fares on some routes, although that has its limits. Local transit officials learned an early lesson after raising rates on the precursor to a future northeastern rail system—the Indy Express bus linking Carmel and Fishers to downtown Indianapolis.

The buses were packed a few years ago when fares were $2 and gas prices topped $4 a gallon. But when a federal grant supporting the route expired, fares were raised to $5—and ridership declined.

"I think we've learned that price and riders are elastic," Bingaman said.

Cities have also grappled with a public policy question that might limit fare income potential: the idea of providing affordable transportation to those of lower incomes. "Sometimes, it's not the goal to maximize fare box revenue," said Art Guzzetti, vice president of policy at the American Public Transit Association.

South Shore fares

Yet a commuter rail line in northern Indiana has managed to produce enviable revenue from the fare box.

The South Shore Line, stretching between South Bend and Chicago, generated 46 percent of its $38 million in operating income last year from fares alone.

The next-biggest source of funds was $12.3 million, or 32 percent, from Indiana taxpayers.

To be certain, Chicagoland has a denser population and more highway congestion than Indianapolis, factors beneficial to rail economics.

Wages are also higher in Chicago, 39 percent higher than for similar positions in northwestern Indiana, according to Northern Indiana Commuter Transportation District, so the train is more cost-effective for Hoosiers who live farther out from Chicago. Roughly 70 percent of South Shore Line's passengers are female, according to NICTD.

The South Shore also has a financial advantage to the extent it owns its tracks in Indiana rather than having to pay freight railroads to use their tracks. In fact, freight carriers pay NICTD to use its tracks.

"That's sort of a unique arrangement," said John Parsons, spokesman for NICTD.

Nationally, APTA has seen public support for such projects gain success, with 22 out of 26 recent proposals for transit systems winning enough votes to proceed.

Voters often support light-rail projects because, although the benefits are "highly concentrated," the costs are widely dispersed, researcher Molly Castelazo and economist Thomas Garrett of the Federal Reserve Bank of St. Louis noted in a report on the light-rail phenomenon of the last decade.

They said the direct benefits can be "quite large" for rather small groups: elected officials, environmental and labor groups, engineering and architectural firms, developers and regional businesses "which often campaign vigorously for the passage of light-rail funding."

But, they noted, "It is important to realize … light rail is kept afloat by taxpayer-funded subsidies that amount to hundreds of millions of dollars each year" nationwide.•