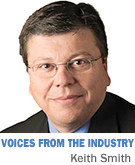 In a lot of businesses, distance can translate into either a large financial expense or a large financial gain. After all, distance translates into time and, as the saying goes, "Time equals money."
If your business happens to be a hospital, though, distance and time also equate to real human-life impact.
Think about it: In health care settings, where every step your customer takes could be a challenge, such seemingly arcane metrics as the number of steps someone must take to get from their car to the front door, from the emergency department to the surgery room, from the nurse station to the patient room, or even from the patient bed to the toilet room can carry real significance.
Many people find it difficult to apply metrics to vital human services such as health care. However, as health care becomes increasingly competitive and health care reform and reimbursement policies require hospitals to meet specific standards for the delivery of care, hospitals must identify metrics that can help them improve the quality of patient care and associated delivery methods.
When building facilities or renovating existing ones, hospitals facing this metric-based landscape need design firms to deliver facilities that do more than simply house their operations. They need them to provide spaces that support the pursuit of higher measurable results.
At first, it might seem that architects, engineers or interior designers can have limited impact on health care delivery. After all, we're just designing buildings; the doctors and nurses are the ones who affect the quality of care, right?
Certainly, the doctors and nurses are on the front lines of care delivery, but in recent years we have seen remarkable evidence of the role design can play in improving human health and, as a result, improving a hospital's financial situation.
How much impact can a designer have? A lot. Consider these numbers from the renovation of a single nursing unit:
• A 33-percent reduction in patient falls, resulting in an annual cost savings of more than $1.5 million.
• Fewer drug errors and adverse drug reactions, for an annual savings of $617,000.
• A decline in health-care-associated infections, resulting in an annual savings of more than $355,000.
What isn't immediately obvious is that these and other improvements can be tied directly to design decisions—in this case, such simple and detailed choices as the location of the bathroom in patient rooms, the layout of work areas provided for caregivers, and the location of hand-washing stations had a direct relation to the financial outcomes. If you stop and think about how spreading that kind of financial impact across all of the facilities in the country, you quickly could be overwhelmed.
Each measured improvement typically leads to other benefits. For example, a reduction in falls can contribute to decreases in internal patient transfers, health-care-related infections and average length-of-stay, as well as an increase in overall patient satisfaction.
From a financial standpoint, that last metric—patient satisfaction—ultimately might prove to be the most important for hospitals in the years ahead. Certainly, satisfaction has always played a role in patients' decisions about returning to a particular hospital for care or recommending it to others, but in a couple of years, it will become a key factor in funding.
Beginning in 2013, the Patient Protection and Affordable Care Act—better known as health care reform—will mean that hospitals' reimbursement will be based in part on scores hospitals receive on the Hospital Consumer Assessment of Health Care Providers and Systems.
A 27-question survey given to patients after a hospital stay, HCAHCPS addresses a range of topics, a number of which can be directly tied to facility design. These include questions related to nurse response time, noise levels, access to the bathroom, and overall satisfaction.
That's why we weren't surprised when a health care executive recently told us that the most important thing we can do for his facility is help to improve its HCAHCPS scores.
Now, this CEO isn't focused on higher scores for the sake of higher scores. On the contrary, his primary focus is on the real bottom line in health care: patient outcomes. However, he knows that, in order for his facility to deliver on that key metric, it must first work to improve other metrics, from patient falls and hospital-acquired infections to revenue and expenses.
That CEO—like his counterparts at facilities across the nation—also knows that achieving those metrics will result not from one major decision, but, instead, from a series of smaller design choices. That's why architects, engineers and interior designers who create hospitals must work with the belief that they don't simply create places where healing takes place; they create places that contribute to healing, in tangible and quantifiable ways.•
__________
Smith is president of BSA LifeStructures. Views expressed here are the writer's.
Please enable JavaScript to view this content.