Doug Keenan, a 49-year-old electrical engineer and entrepreneur, has something in common with Steve Jobs. Like Apple's late co-founder, he's trying to domesticate an exotic technology for home use. Jobs worked his magic on computers. But Keenan is tackling something so cutting-edge that most of humanity doesn't know it exists.
"Many people, unless they actually see it, just don't get it," Keenan said. "It's so new, we just don't think in terms of something like this."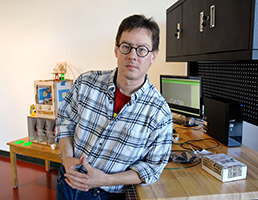 Engineer-turned-entrepreneur Doug Keenan is working to develop a user-friendly and affordable 3D printer.
Actually, it isn't that new. His technological darling is called 3D printing, or rapid prototyping. For more than two decades, industry has used it and similar techniques to make three-dimensional objects out of computer files using "printers" that build up the item layer-by-layer, out of anything from resin to metals to conventional plastics.
"3D printing is already changing the nature of manufacturing," said Nancy Spurling Johnson, editor-in-chief of Cadalyst, a publication for computer-aided-design users.
"With a 3D printer, anyone who can create a digital 3D model using CAD software can conceivably afford to produce an end product. The technology brings manufacturing within reach of those who in the past could not afford it."
In other words, a private citizen with a 3D printer essentially owns a tiny, desktop factory.
Keenan wants to develop a printer he can sell for $3,000 or less—far below the $5,000 to $40,000 price tag of commercial models. He already has sunk $30,000 of his own money into the effort, and figures that number will hit $50,000 to $70,000 before he creates and debugs his product—a feat he plans to accomplish by spring.
"The business model is going to be on sales of the machine," he said. "These are going to come in somewhere between $2,500 and $3,000 each. That's a delivered, assembled, tested, working unit."
It goes without saying that Keenan has a busy few months ahead.
His nerve center is a storefront in a strip mall at the intersection of East 62nd Street and Allisonville Road that formerly housed his other business, a garden store called Magic Bulb. That store recently moved to a larger location, leaving Keenan with five months left on the lease for the old space. He decided to turn it into IndyMake, a sort of walk-in laboratory where he can test his ideas about 3D printing—a field that's interested the former RCA electrical engineer since 2008.
The nearly empty, bare-floored space is littered with wiring, boxes and several much-hacked 3D printers—mostly mail-order kits to which Keenan added his own modifications, all designed to bridge the vast gulf between advanced-but-expensive industrial machines and cheap-but-Flintstones-primitive models sold (mostly in kit form) to the public.

"I have an electrical engineering degree from Rose-Hulman Institute of Technology, and it still took me five days to put one of these kits together," he said.
Housebreaking such a complex, unruly technology requires making it both user-friendly and safe. Not an easy proposition, given that Keenan's machines "print" objects using big spools of plastic—the same stuff Legos are made from. In order to make it pliable, the plastic must be piping hot. It took a lot of tweaking just to make that process safe—and to persuade Keenan's wife to allow him to run his machines overnight at home.
"It's got to get to the point where it looks a lot less like a kit and more like something that could take a good, solid kick and still keep functioning," he said.
In addition to being user-friendly and non-flammable, his notional machine also needs an Internet connection (absent on DIY models), and the ability to easily use more than one color of plastic on the same job. Keenan has solved that last problem by developing and patenting a four-color multiplexor, allowing his device to switch from one shade to another automatically.
'Disruptive technology'?
Given his comparatively low overhead, Keenan figures he can earn back his investment by selling just 100 of his units. But what, exactly, are his customers supposed to do with it?
It depends on whom you ask.
Nathan Hartman, associate professor in Purdue University's Computer Graphics Technology Department and director of the Product Life Cycle Management Center of Excellence at Purdue, isn't necessarily sold on the 3D-printer-on-every-desk scenario, but he does believe the technology is destined to be much more widely used.
"If this turns out to be a disruptive technology in the next 10 to 20 years, I think it will be because it's almost become commoditized," Hartman said.
Hartman thinks that for the system to land on people's desks, three things must happen. The units themselves have to get cheaper, the materials they use must be reasonably priced (at one time, the resins needed for stereo lithography, a form of 3D model-making, cost around $600 per gallon), and it must become easier for users to either create the programs that translate schematics into physical objects, or there need to be online "libraries" full of ready-made plans.
"With these various evolutions, you've now got this environment where you and I or anybody else who's got only a small amount of disposable income can go off and start creating things," Hartman said.
Noblesville-based Metro Rapid Prototyping has been in the business for 25 years, using mostly stereo lithography and a battery of five industrial-grade machines to produce high-fidelity models and small batches of production parts for clients worldwide.
"We essentially turn their computer data into real parts," General Manager Darrell White said.
But not a lot of real parts. Metro Rapid's specialty is short, quick runs of high-value, near-custom items. Its client list includes Ultra Electronics USSI in Columbia City, for which it makes militarized plastic loudspeaker housings. Another is CPT Autopilot, a California firm that retrofits GPS systems onto sailboats. Metro makes customized wheels and gears that continuously correct the ship's heading.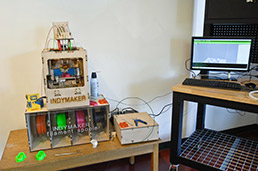 Keenan, who has a degree from Rose-Hulman Institute of Technology, is still refining his prototype printer, which heats big spools of plastic to make objects. (IBJ Photo/ Perry Reichanadter)
It's important work, but often one can count the number of orders for a hyper-specialized part on fingers and toes. Which is why White isn't entirely convinced that 3D printers are good desk accessories. Though he does have hope.
"The machines today are so expensive, the materials are so expensive, and the expertise needed to operate them is so intense," he said. "But then, only a very select few people could build a computer back in the 1970s."
Menagerie of doodads
One can sense the technology's potential just by perusing the doodads printed out by Keenan's test machines. They line a couple of shelves on the back wall of IndyMake's showroom.
The menagerie includes a model of the exterior of his home, sitting on a topographically accurate representation of his yard that he created using U.S. Geological Survey data. He also shows off small toys, a wall-mounted hairdryer holder he made for a neighbor, plus customized business card holders—an item that's become an excellent icebreaker for people unfamiliar with the technology.
"This is basically how I get into the door when I go to a banker to talk about borrowing money," he said of the holders. "I need to borrow enough to get a laser cutter, to make a machine that does this."
Making such little plastic doodads may become the 3D printer's "killer app." For instance, Keenan's gardening store, Magic Bulbs, stocks a mind-numbing assortment of tiny plastic parts essential for automated watering systems. But he'd love not to. In theory, he could keep a 3D printer at the shop and make those parts as needed. Or send the specs to the buyer's home printer.
It's possible that everyone from toy makers to car manufacturers could do the same thing. Suddenly (if you squint a little), 3D manufacturing looks a lot less pie in the sky and more like the next big thing.
Of course, it would take a while to realize that vision. In the meantime, Keenan keeps plugging away at his latest prototype, and selling spare parts (and advice) to others interested in the field. He wants IndyMake to become a sort of old-school Radio Shack for the arcane technology—a place where DIYers can come for supplies, advice and, perhaps, a pep talk.
"If nothing else, please stop by because I'd like to share your frustration," Keenan said.•
 
Please enable JavaScript to view this content.