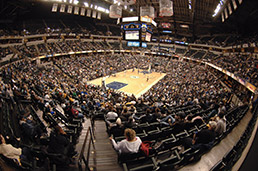 The Pacers are offering a ticket promotion for this year's home opener, but fans shouldn't expect future long-term ticket price decreases. (IBJ File Photo)
Sports business experts with knowledge of the new labor agreement expected to be ratified by NBA owners and players this week think it will push the Indiana Pacers toward breaking even but won't ensure the team's long-term profitability.

And though the deal—which reduces the players' take of basketball-related income from 57 percent to about 50 percent—is designed to restore competitive balance within the league, some insiders wonder if it truly will allow small-market teams like the Pacers to be anything more than a long shot to contend for an NBA title.

This much is certain: Within the next year, the Pacers' long-term financial picture is going to become much clearer, triggering talks between the team and the city's Capital Improvement Board, which owns Conseco Fieldhouse.

In 2010, CIB approved a three-year deal calling for $33.5 million in payments to the Pacers to help cover operating expenses and upgrades at the Fieldhouse.

At the time, several CIB members and Indianapolis Mayor Greg Ballard said they wanted to see how the new collective bargaining deal turned out before considering a longer-term deal.

CIB's last payment—$10 million—is due to the Pacers on Jan. 15, and members expect to have discussions with the team about its financial situation later next year.
Lathrop
"I'm sure the [collective bargaining agreement] is going to be a factor in our discussions, but there's going to be a multitude of factors," said CIB President Ann Lathrop. "I think all of us would like to see a mutually beneficial deal that creates a significant return for the long term."

Local attorney Doug Brown, the lone CIB member who voted against the Pacers subsidy in 2010, said he has always favored a longer deal.

"I don't have an artificial number, but I'd like to see a deal with the Pacers that is 10 years or longer," Brown said. "The longer, the better."

While no CIB member is ready to declare that the city will cover Fieldhouse operating and capital expenses on an ongoing basis, the realities of the new labor agreement make that scenario a strong possibility.

Pacers officials declined to comment on anything related to the collective bargaining agreement before the NBA deal is ratified. But if past financial performance is any indication, it will be a while before the franchise has any breathing room to cover arena operations.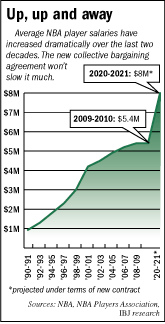 Forbes magazine estimated the Pacers lost $16.9 million during the 2009-2010 season. Pacers owner Herb Simon has said on several occasions that the losses are actually steeper than Forbes' estimates. Simon added that the Pacers have only made money one year since moving into Conseco Fieldhouse—one of the most acclaimed venues in the NBA—in 1999.

Small-market anger

While slightly more than half the NBA's 30 owners are happy with the new deal governing player salaries, some of them—mostly from smaller markets—were pushing for a pact more favorable to owners.

Owners for Indiana, Atlanta, Charlotte, Denver, Memphis, Milwaukee, Minnesota, Philadelphia, Portland and Sacramento said in a letter last month to NBA Commissioner David Stern that the proposed 50-50 revenue split represents a bad deal for owners.

Small-market owners pleaded for players to get about 47 percent of basketball-related income.

Each percentage point in this fight is worth $40 million annually. If the players accept the 50-50 split, it will represent a collective $280 million in annual savings for team owners—$2.8 billion over the life of the deal.

While the savings is significant, it may not be enough to boost small-market performance. League-wide attendance and television ratings surged last year, and projected growth in the largest NBA markets—eight of which rake in $20 million or more in annual profits—over the next decade is expected to push league revenue to record highs. That will increase the salary cap, which is tied to total revenue.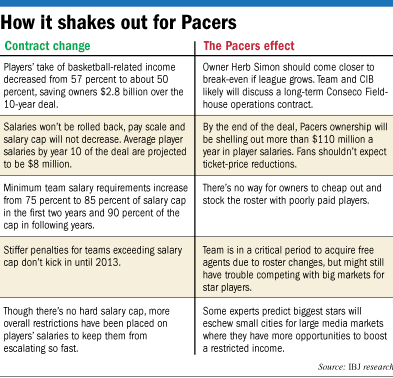 The deal also increases, from 75 percent of the salary cap to 90 percent, the minimum owners must spend on their total team payroll. The salary cap, calculated annually based on league revenue, is the maximum a team can pay its entire roster.

By 2020—the last year of the collective bargaining agreement—the average NBA player salary is expected to be $8 million, according to NBA Players Association documents.

That means in 2020 Simon would be faced with covering more than $110 million in annual player payroll costs.

"Though this deal is viewed as a win for owners, many of them didn't get what they wanted," said Marc Ganis, president of Chicago-based sports business consultancy SportsCorp Ltd., which counts several NBA teams as clients. "Teams like the Pacers may have barely got what they needed.

"This deal may help [the Pacers] be more competitive and financially sustainable, but only with excellent management. These owners wanted a 7 percent to 8 percent operating margin. With this new deal, the best-case scenario is break-even."

It's not all bad news for NBA owners like Simon.

"Every dollar the team gets closer to financial viability pushes the team's valuation higher," said University of Notre Dame sports economist Richard Sheehan. "From that standpoint, if you take the long view, this new deal could have a pretty nice impact on small-market owners' investment."

Forbes valued the Pacers at $269 million based on 2010 numbers. The valuation has declined every year since 2006 because of the team's mounting financial losses, but it could take off again if the Pacers can get anywhere near break-even, Sheehan said. Herb Simon and his brother, Mel, bought the team for $11 million in 1983.

Competitive balance?

The new agreement is designed to create a more level playing field among rich and poor teams, allowing teams like the Pacers to compete with big-market teams for marquee free agents.

"The theory is, if they have greater competitive balance, that gives more teams an opportunity to compete for a championship," said Milt Thompson, president of local sports marketing firm Grand Slam Cos. "And much like the NFL, it increases intrigue of competition league-wide. That should help all teams.

"I think this new deal does give small-market teams more opportunity to be more competitive if team management is prudent," Thompson added.

Fielding a team that can at least contend for a playoff spot on a regular basis should help teams like the Pacers improve ticket and sponsorship sales and brighten their financial fortunes, Ganis said.

But he's among those who doubt the agreement has gone far enough.

"If you're a team in a small market, the best you can hope for is to limit your financial losses and hope to catch lightning in a bottle—like Oklahoma City—and compete for a championship once in a great while," he said.

Ric Bucher, who covers the NBA for ESPN, said this deal gives small-market owners a lot to boo about.

"This ended up not being at all about competitive balance," Bucher said. "That was not addressed. If you talk to small-market teams, they're not happy about this. [Small-market teams] are looking at this and asking, 'What did we really gain out of this?'"

The deal allows too many exceptions for teams to exceed the salary cap, Bucher said, which means the wealthiest franchises could continue to stockpile the best players.

And, he added, if the salary offered by a team in Indianapolis compared to New York is equal, the vast majority of NBA players will choose the bigger media market where there are more opportunities for sponsorship and other money-making ventures off the court.

Pacers getting in gear

After the contract is ratified, owners still must decide how they'll share revenue with one another. NBA insiders wonder if substantial changes in revenue sharing will be possible before the free-agency signing period begins Dec. 9 or the season opens Dec. 25.

Even with the new deal, Ganis expects only about 50 percent of all NBA revenue to be shared. That's better than the less than 40 percent shared now, but it doesn't come close to the 80 percent shared by NFL team owners.

This is a key year in the rebuilding plan of Pacers President of Basketball Operations Larry Bird. For the first time in more than five years, the team finally has substantial space under the salary cap to acquire talented free agents.

Already, league sources said, Bird has his eye on New Orleans forward David West, among others.

Meanwhile, the Pacers' sales staff has gone into overdrive since the pending agreement was announced Nov. 26.

Pacers officials are offering steeply discounted tickets for the home season-opener, whenever it is. They're calling it the Mystery Matchup deal. The 66-game abbreviated schedule has not been announced.

But sports business experts warned that fans shouldn't expect any major long-term ticket-price reductions despite financial gains made by NBA owners through this agreement.

"Long-term ticket-price reductions are a fairy tale, but I think NBA owners realize they have to show fans some appreciation for bearing with them through the lockout," Notre Dame's Sheehan said. "I would expect to see a flurry of early-season promotions from the Pacers. It's the first step in their new survival plan."•