An oasis of growth for some Hoosier manufacturers, China's economy is headed for a slowdown.
That affects the likes of diesel-engine-maker Cummins Inc., the premier example of an Indiana company with a large, well-established presence in China, as well as small firms such as Hoosier Gasket, which set up its first plant there in 2007.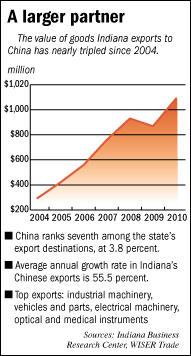 China also has become a noteworthy destination for Indiana exports. Hoosier exports to China quadrupled from 2000 to 2010 and now exceed $1 billion. (Total Indiana exports in 2010 were $28.7 billion.)
China's growth in gross domestic product slowed in the third quarter, to 9.1 percent from a 2010 average of 10.3 percent, and many economists predict it will slow further in 2012, to 8 percent. But the forecasts could go lower, said Todd Lee, China economist for IHS Global Insight in Boston.
"The more probable scenario is, China will have a soft-landing slowdown, although risks for a hard landing have risen," Lee said.
Lee's own forecast for China's GDP growth is 7.8 percent. Though that might seem enormous, anything around 6 percent would be a relative disaster for China, said Paul Ashworth, chief U.S. economist at Toronto-based Capital Economics.
China's answer to the 2008 U.S. financial crisis was to pump money into its own economy. The injection of credit also fueled a real estate bubble, which the government is trying to check.
The problem is that China also feels the pinch from the credit crisis in Europe, a key export market, Lee said.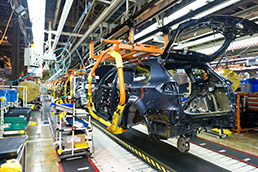 Subaru of Indiana Automotive exports some of its Tribeca SUVs to China. (Photo courtesy of Subaru of Indiana Automotive)
"That's why the government is even more worried now," he said. "This is the first time their economy may get squeezed externally and domestically, simultaneously."
Ben Jackson, co-owner of Indianapolis-based Hoosier Gasket, said he's not seeing a drop in business yet.
Hoosier Gasket added its 25-employee plant in Ningbo to supply parts to a U.S.-based customer with operations there. (Jackson would not name the customer, but Hoosier Gasket's website lists Columbus-based Cummins as a client.)
Jackson hopes revenue from Hoosier Gasket Ningbo will make his company less dependent on the American economy. Employment at the company's local plant is about 135, still down from its pre-recession level of 180.
It was partly because of surging economies in China, India and Brazil that Cummins climbed out of the recession in the fourth quarter of 2009 and went on to post record earnings in 2010.
Plummeting property values have slowed construction, a major driver of Cummins' generator sales in China. The company already has dialed back its China sales forecast for the year by $100 million, to $3.7 billion, which would be up 20 percent from 2010.
"Even though China is slowing down a little bit just now relative to where it's been, it's still a really good place for us to be [and invest] in," Chief Financial Officer Patrick Ward said at a November investors' conference.
John Layden, a Fishers-based manufacturing consultant, collects anecdotal signs that China's red-hot growth era is coming to an end.
In his last newsletter to clients, which include an Indianapolis-based supplier to Caterpillar Inc., he noted news reports about entire newly built cities that have no residents.
Layden, an efficiency expert, said he's not in the business of forecasts, but can't help thinking such massive overbuilding in infrastructure and real estate will have some impact on his clients.
"China is a bubble," he proclaimed.
The notion of ghost cities is alarming to Westerners, but such excess is not necessarily a sign of disaster in China, Ashworth, the Toronto-based economist, said.
"It would be a bigger deal in a full-on capitalist economy," he said. "When you're talking about state-run firms capitalized by state-run banks … it's all a bit different."
Ashworth and other economists think the Chinese government will contain the real estate bubble by propping up banks.
A growing middle class in China also has benefited U.S. manufacturers, and that's evident in Indiana's export figures. While machinery destined for Chinese factories made up the largest category, at $279 million in 2010, vehicles and parts accounted for $132.8 million.
This year, Subaru in Lafayette has shipped 386 of its seven-passenger Tribeca SUVs to China, Executive Vice President Tom Easterday said. That's a very small number from a plant that will produce 250,000 vehicles this year, but still a sign that trade with China is not entirely limited to Americans' consumption of cheap goods.•
Please enable JavaScript to view this content.