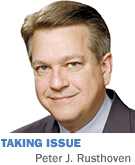 Last month, the Obama administration decided to delay decision on TransCanada's Keystone XL pipeline for at least a year, pushing it past November 2012. Indiana Sen. Richard Lugar is leading the fight to secure prompt approval.
The initial Keystone pipeline went online in 2010, and transports 435,000 barrels a day from Alberta to American refineries. Keystone XL, proposed in 2007, would increase the first pipeline's output by 165,000 barrels a day and move another 510,000 barrels a day to other U.S. refineries.
Hence, pipelines in a friendly, politically stable neighbor would supply 1.1 million barrels a day—9 percent of the current U.S. total. Imports from Saudi Arabia, whose ostensible friendship and stability are dubious, average 1.18 million barrels a day. Imports from decidedly hostile, unstable Venezuela average 893,000 barrels a day.
The 665,000-barrels-a-day Keystone XL increase would thus supply 75 percent of what we get from the nation led by Hugo Chavez, a far leftist who calls Obama a "clown" and regularly threatens cutoff of oil exports to the United States.
Looking down the road, The Wall St. Journal's John Bussey reports these International Energy Agency projections: Demand for energy will increase 33 percent over the next 25 years. By 2035, China will use 70 percent more energy than the United States. Using optimistic projections of alternative energy development, fossil fuels will still supply at least 75 percent of global needs. OPEC nations will then control over half the world's oil production.
My favorite expert, Mr. Obvious, says reliable energy is essential to the American economy. No serious person doubts that oil and other fossil fuels will remain critical sources for quite some time. Why, then, has Obama suddenly turned Keystone Cop, halting expanded supply from our neighbor to the north?
No great mystery here. Obama's environmentalist friends oppose Keystone XL, seeing it as feeding an "addiction" from which we must wean ourselves. They are unmoved by the fact that, absent the pipeline, the oil will still be extracted and used—only by China rather than us.
Obama's union friends are just as vigorously in favor, seeing some 20,000 new jobs from a project that will also benefit the economy long term.
Obama, facing an uphill re-election battle, chooses to stand with his friends—or at least not definitively alienate the latter group until after November 2012.
Lugar's response is typically incisive: "The State Department has examined the Keystone XL pipeline for more than three years. Decisions of national interest should not be treated like a multi-year doctoral dissertation. We fight wars over oil. American workers and American businesses are slammed by oil price volatility. Unemployment is unacceptably high."
Lugar adds: "Either the State Department lacks the competence to understand the national interest, or it has been rolled over by the White House. In either case, the result is the same: American workers and security take a backseat to the president's effort to save his own job."
Unlike many, Lugar's response is not simply words. He attracted over 40 co-sponsors to his bill requiring approval of Keystone XL within 60 days unless the president publicly certifies it is not in the national interest. The House put this in its measure extending the payroll tax holiday for a year. Lugar's proposal was also in the Senate version extending that holiday for two months.
The latter bill was approved 89-10, with support from 49 Democrats. Sometimes it pays to be a conservative who has earned respect from both sides of the aisle.
At this writing, the two chambers are at loggerheads on the payroll tax. However that's resolved, odds are high the Keystone XL proviso will remain. Hoosiers—and all Americans—can thank Dick Lugar.•
__________
Rusthoven, an Indianapolis attorney and graduate of Harvard College and Harvard Law School, was associate counsel to President Reagan.
 
Please enable JavaScript to view this content.