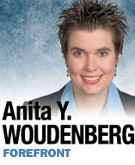 With yet another Illinois governor sentenced to serve time at the federal prison just south of my home in Terre Haute, I am reminded of the ever-growing problem we face, not only in Terre Haute, but across this state and even throughout the country, of overcrowding in our prisons. Indiana will have to spend $1.7 billion over the next seven years building new prisons.
We might be inclined to blame it on the economy. After all, "Idle hands are the devil's workshop"—if people don't have something constructive to do, they tend to find something destructive to do.
But interestingly, while we are ranked in the top third of states that have high crime rates, the data actually show crime has dropped in Indiana in the past two years.
I think there is a relationship between overcrowded prisons and the structure of our justice system. Underlying the overcrowding problem is a more fundamental one: What are we doing to prevent the commission of crimes in the first place?
The role of incarceration is twofold. First, justice demands retribution for crimes committed. Those who commit a crime against another person should be held accountable for that crime and be punished in proportion to that crime. There are—and should be—consequences for their actions.
Second, the threat of incarceration can deter would-be criminals from engaging in criminal conduct and, we hope, would deter a criminal from committing another crime.
But somehow our criminal justice system has also become about rehabilitation—helping the convicted criminal become a better citizen, whether through drug programs, mandatory vocational training, counseling or the like. And while I certainly support efforts to ensure a post-conviction felon can be an upstanding citizen, I wonder at our decision to make this role the government's responsibility.
The government, through its legislators, judges, and in some cases empanelled juries, determines the sentence that fits each crime committed against society. Any rehabilitation options included within sentencing guidelines seem to promote exercising those options simply as a means to shorten a sentence.
The Blagojevich matter seems to support this. A 14-year sentence was imposed on Blagojevich for 18 counts of corruption. However, he can shorten that sentence by a year if he participates in a drug treatment program.
Perhaps he genuinely would benefit from such a program. But the program seems rather tenuously related to the crimes he was convicted of (though I admit I can't blame him for looking for any avenue possible to be in jail for less time).
But more important, a system like this, as with any other governmental assistance program, allows us to distance ourselves from the needs of our neighbors, all the while allowing them to fall through the cracks as they are turned into a number and processed through a generic system that may or may not address their actual needs.
It may seem that my concern for government as a rehabilitator conflicts with the ultimate concern of prison overcrowding. After all, if convicts spend one less year in prison to attend a rehabilitation program, that frees up more beds. But the issue is larger than needing more beds.
If we are to spend our tax dollars resolving this issue, we are better served addressing prevention as well as the cure. I would rather not be assaulted than be assaulted but know that my assailant's final prison year was spent being rehabilitated. Instead of solely finding a way to build more cellblocks, the focus should be on how to not need more.
In the end, whatever role we determine the government should have in lowering crime, we must all realize that we personally play an important role in our daily interactions and inactions in the development of the criminal mind. We are creatures of community.
Those who cannot find a positive one will join up with whoever will take them.•
__________
Woudenberg practices constitutional law at The Bopp Law Firm in Terre Haute. Send comments on this column to ibjedit@ibj.com.
Please enable JavaScript to view this content.