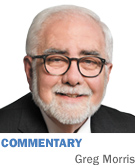 As I watched Gov. Daniels' final State of the State speech last week, I was reminded just how lucky we've been to have his leadership the past seven years. He still has a year to go, and you can take him at his word there won't be any loafing. He delivered his message with grace and class and he didn't succumb to the disrespect shown by many Democrats who didn't attend his speech and union protestors trying to shout him down outside the chamber.

When the speech was over, most Democrats who did attend were seen bolting out the door quickly. But, I'll give them credit for at least showing up. Those who stayed to give comments were predictably critical of the content and a few endorsed the disruptive behavior of the union protesters. Showing disrespect, obstructing the ability to conduct business, and general bad behavior are business as usual by many House Democrats.

With such behavior, obviously not everyone believes the governor has been a great leader, but the facts speak for themselves. Indiana is much better off today than in 2004, and this was accomplished against a backdrop of the worst economy in 80 years. Daniels delivered on his initial promise that things would be different. And in this case, different is better. Given the economy, his accomplishments are especially amazing. But, he's made a lot of enemies to get here, and my guess is he's OK with that. He tried the collaborative approach at first, but when you've been stonewalled over and over again, you have to take a different approach.

Indiana has a strong fiscal policy and financial stability today, unlike most states. We have an economic environment conducive to attracting new businesses and fostering the success of all businesses. We now have true education reform that mandates accountability from schools and teachers, along with policies in place designed to produce positive results for our kids. Education reform has been a nasty fight, but Daniels and State Superintendent of Public Instruction Dr. Tony Bennett were a formidable team in pressing for reform. State government is much leaner today, yet services are delivered more efficiently.

In the past, it's been well-known if you wanted to get re-elected in Indiana, you'd better not try to force too much change. Don't disturb the status quo. I hope those days are gone forever, but our newly elected governor, whoever that is, will need to pick up that ball and run with it out of the gate.

Speaking of picking up the ball, the analogy of taking your ball and going home with it comes to mind as we've watched the beginning of another year of antics by House Democrats. For goodness sake—make your case, show up for work, and vote your conscience with an up or down vote. Where did this idea come from that if things don't go your way as the minority, you obstruct business by not showing up to work? It's unprofessional. How can these folks expect to be taken seriously on anything after acting like that? Problems like this are easily taken care of in the real world. You get fired.

The flight to Illinois last year, combined with the no-shows this year, is nothing short of embarrassing. In fact, I find it indefensible and infuriating. I talked about disrespect earlier, so I'm going to temper my comments here. To the voters of District 6 in South Bend—please consider making a change next election. It's time to thank the Democratic leader of the Indiana House, Patrick Bauer, for his years of service and reward him with an appropriate retirement party.

At press time, it does appear there is now a deal to allow more time to prepare amendments to the right-to-work bill, which should lead to a vote soon. We should all be pleased the terms and conditions have been met to encourage folks to show up to work again and do their job. Makes me feel all warm and fuzzy.

Governor—I applaud your tireless fight against the status quo these past seven years. Indiana is a better place because of your service. And I look forward to more accomplishments in your final year.•

__________

Morris is publisher of IBJ. His column appears every other week. To comment on this column, send e-mail to gmorris@ibj.com.