Tilted Kilt Pub & Eatery (141 S. Meridian St, 600-3633), the Arizona-based chain that took over the space formerly occupied by the first level of Jillian's, yields little for a downtowner looking for something new in the lunch mix. It's got all the cleavage of Hooters, but in roomier environs with a plaid-instead-of-orange color design scheme. From the fawning hostesses to the sit-down-and-chat waitresses, the Tilted Kilt serves everything with a side of awkwardness.

And the food?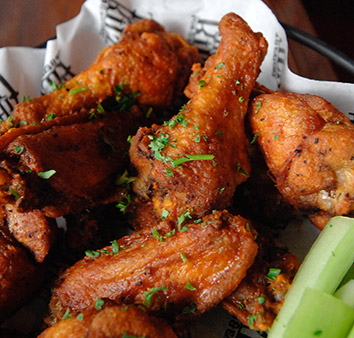 The signature sauce is sweet and spicy on Tilted Kilt's chicken wings. (IBJ Photo/ Perry Reichanadter)
The highlight of our meal was the Olde Dublin Irish Stew ($4.99) side dish we ordered as an appetizer, with chunks of potatoes, carrots, celery and onions blending with tender pot roast, but it was difficult to enjoy since our entrees came out right on its heels. Everything else was fairly forgettable—with only one of our three side items arriving at anywhere near an acceptable temperature. Made-from-scratch Fat Bastard's Meatloaf Sandwich ($9.99) should have scratched in a little flavor. Maggie Mae's Fish & Chips ($10.99) was as generic as its faux Irish name. The Scottish Cheesesteak Salad ($9.99) was a decent portion and the amount of meat was generous and mixed throughout the salad, not just on top. Good enough, but not to warrant a return visit. Then again, do you really go to Tilted Kilt for the salad … or any of the food?

You go, I'd guess, if you want to grab a beer, watch a game and have interactions with women who aren't remotely interested in you beyond your tip. Or if you are a lone businessperson who wants to go to a strip club but is concerned about how such an establishment would show up on his receipt.

Our waitress, I should add, was much lower-key then her fellows. I think she sensed our relief.•

—Lou Harry

__________

Last in a month-long series of reviews of newish downtown eateries.