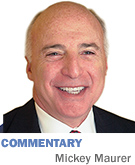 I recently received a form-letter solicitation from gubernatorial candidate Mike Pence. Somewhere in the middle of this six-page plea he said, "I told people that I was a Christian, a conservative and a Republican. In that order. (I still tell people that today!)"
What does that mean? Is Pence saying that his Christianity is the most important reason to support his election? I like Pence. I like what he says about efficient government, economic development and continuing the Daniels legacy, but I do not know why devout Christianity qualifies a candidate for my vote. The notable failure of the erstwhile southern "Christian" churches in the 1960s to support the campaign for Civil Rights—the greatest moral test of our times—should give us all pause.
Let's ask Pence: As governor, what kind of Christianity do you intend to practice—one of exclusivity or the religion of Thomas Paine, who said in "The Age of Reason" (1794-95) that religious duties consist of doing justice, loving mercy and endeavoring to make our fellow creatures happy?
Let's ask: Does your Christianity sanction prayer in the state Legislature that is exclusive to those duly elected representatives who are Christian? Does it compel you to attack essential not-for-profit institutions like Planned Parenthood that provide the poor and uninsured access to needed health care in order to avoid the tragic outcomes of cervical cancer and breast cancer and sexually transmitted disease?
Is it within your values as a righteous Christian to deny not only union but the other benefits of marriage to loving couples just because they do not meet classic gender expectations?
Do you believe that all other paths to God are invalid and illegitimate and that Mitt Romney's Mormon religion disqualifies him from the presidency? Are you aware that exclusivity is not a Christian value and intolerant behavior should be considered not just offensive to non-Christians, but also offensive to all of us as Americans and citizens of a diverse community?
It is instructive to listen to the words of John F. Kennedy when as Democratic candidate for president he addressed the greater Houston Ministerial Association, a group of Protestant ministers, on the issue of his religion.
He put the religious issue in perspective, choosing to deal with real issues of the time, including the spread of Communist influence, poverty and urban renewal. Kennedy believed in an America where the separation of church and state was absolute, where no religious authority, including a Catholic prelate, would tell the president how to act.
Kennedy believed that you should not vote for a candidate on the basis of religious beliefs. He believed in an America where there was no Catholic vote and where all religions would refrain from those attitudes of disdain and division and instead promote the American ideal of brotherhood.
Compare the Pence solicitation to Kennedy, who said, "I believe in a president whose religious views are his own private affair." Kennedy went on, "I am not the Catholic candidate for president. I am the Democratic Party's candidate for president who also happens to be a Catholic. I do not speak for my church on public matters and the church does not speak for me."
Pence, however, is keen for us to know that he is the Christian candidate for governor.
What kind of state do we want Indiana to be? In early Massachusetts, only Christians were allowed to hold public office. Later, Thomas Jefferson spent much of his career establishing a secular federal government. Jefferson, Kennedy and Paine would find the notion of voting for a candidate because he is a Christian abhorrent.
Pence writes that he is Christian first, above all else. Is that code to Indiana's evangelical right-wing Christians, who behind the guise of righteousness seek to subvert the rights of women, homosexuals and non-Christians? Or can we expect from Pence the best of what we know Christianity to be? We shall see.•
__________
Maurer is a shareholder in IBJ Corp., which owns Indianapolis Business Journal.  His column appears every other week. To comment on this column, send email to mmaurer@ibj.com.
 
Please enable JavaScript to view this content.