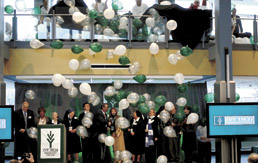 Ivy Tech staged a grand opening Jan. 20 of the renovated St. Vincent Hospital building, which provided much-needed space for the fast-growing college. (IBJ Photo/ Perry Reichanadter)
For the past four years, Ivy Tech Community College has served as a sponge in the Indiana economy.
The state-funded system soaked up 60,000 extra students displaced by the recession even though the funding for new staff and facilities has not kept pace.
But now Tom Snyder, a former auto executive who has led Ivy Tech since 2007, says the sponge is waterlogged.
Snyder
Before Ivy Tech can add significantly more students, it needs to upgrade its computer systems, improve its student support services, hire more teachers, and add more facilities, Snyder said. All that, of course, requires money at a time both state government and potential students are badly pinched.
While the school isn't turning applicants away yet, its enrollment flattened out this year at 175,000 as seats in classes and time with support staff filled up.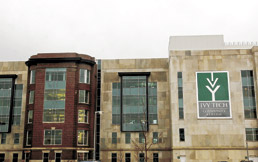 The renovated St. Vincent Hospital building. (IBJ Photo/ Perry Reichanadter)
"We're self-limiting our students because we're out of facilities," said Snyder, sitting at a small table in his office at Ivy Tech's Indianapolis headquarters at North Meridian Street and Fall Creek Parkway. "For us to grow, we're going to need more funding."
Ivy Tech is at the crux of a state and national problem. Pressures from lower-wage nations mean U.S. employers need more and more people with postsecondary training to produce higher-value goods and services. Yet just a third of working Hoosier adults have the postsecondary degrees required to meet this need.
In the past two decades, state governments have increased appropriations at less than the rate of inflation, forcing higher education institutions to raise tuition aggressively. As a result, Snyder estimates that a four-year residential college experience is now unaffordable for half the families in Indiana.
With both the public and the private sectors seemingly tapped out, colleges and universities are looking at new ways to operate that can educate more students at comparatively less cost.
Ivy Tech has devised new ways students can earn associate's degrees and professional certificates in shorter times or in more efficient ways.
For example, Ivy Tech started ASAP—short for Associate Accelerated Program—which functions like an executive MBA program to get students through an associate's program in one year.
It also started the Ivy Institute of Technology, which has students attend class five days a week from 7:30 a.m. to 2:30 p.m., in order to earn a professional credential in just eight months.
And Ivy Tech has aggressively promoted dual-credit courses, in which high school students take its courses for free in order to get a year or two of college out of the way before they graduate from high school.
It's that redesigning of the way higher education is delivered that holds the greatest potential to help Ivy Tech—and higher education in general—educate more students without breaking the bank, said Jamie Merisotis, president of the Indianapolis-based Lumina Foundation for Education.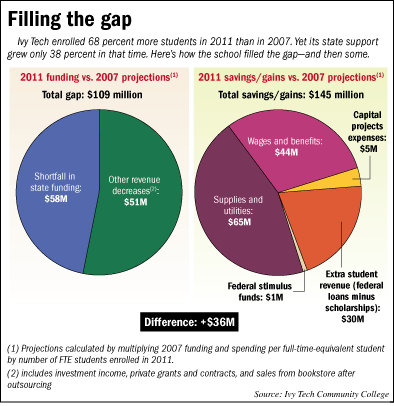 "We spend so much time dealing with affordability from the price side," said Merisotis, whose organization has set a goal of having 60 percent of Americans hold postsecondary degrees by 2025, up from about 40 percent now. "The real action to me is on this question of efficiency, on bringing down the unit cost."
Improving affordability
Indeed, colleges around Indiana and the nation have been rolling out plans to make higher education more affordable. For example, West Lafayette-based Purdue University rolled out a trimester program in January that will allow students to attend year-round and potentially finish a four-year degree faster.
The issue got even more attention this month when President Obama highlighted college affordability in his State of the Union speech, proposing to shift federal student aid toward colleges that keep tuition low and away from those that don't.
The chances of Obama's plan becoming law this year are slim. But colleges in Indiana already have gotten an earful in recent years from state legislators, most notably Luke Kenley, R-Noblesville, chairman of the Senate Appropriations Committee, as well as from the Indiana Commission for Higher Education.
"Several factors have coalesced to cause them to look at affordability much more than they ever have," said Teresa Lubbers, Indiana's commissioner of higher education. "I do believe that our universities are increasingly building strategic plans with affordability as a component."
She also noted that IU and Purdue are exploring whether they could save money by operating their satellite campuses more as one system rather than individual entities.
For Ivy Tech, which only became a centralized community college system in 2005, the approach has saved significant cash. It renegotiated contracts using its systemwide buying power. It centralized purchasing of advertising, marketing, computers and furniture. It outsourced its bookstore to Illinois-based Follett Higher Education Group.
Ivy Tech also saved money the past two years via a hiring freeze, some reductions in health benefits, and by continuing to use an inordinate number of part-time adjunct faculty.
Those steps have helped Ivy Tech keep its student costs low at just $3,300 per year, on average. The state kicks in an average of another $2,300 per year per student.
Low costs were key for Max Russell, 20, who is in his second year at Ivy Tech. Russell's father died without life insurance when Max was a junior in high school. Suddenly, he and his mom went from living in a nice neighborhood in Fishers to facing homelessness.
Russell qualified for a federal Pell grant, which covers most but not all of his costs. So for his first year, he worked as many as 35 hours a week waiting tables at Arni's to pay the rest of his college bills.
"I was working almost full time trying to support my mother and sister. I didn't have the resources to go to a regular [residential] school," Russell said. "Ivy Tech offered an opportunity to me when I didn't have another option."
Business mind-set
Snyder, an engineer by training, has brought business thinking to the challenges facing Ivy Tech. A meeting table in his office is always populated by at least one business book, such as Jeffrey Liker's "The Toyota Way" or Clayton Christensen's latest, "The Innovative University."
Snyder, 67, has rallied Ivy Tech's administrators and teachers to this effort by referring them repeatedly to a booklet written by business researcher Jim Collins called "Good to Great and the Social Sectors." He used it to form Ivy Tech's strategy, "Accelerating Greatness."
And Snyder has followed Collins' advice closely, establishing non-financial metrics to measure Ivy Tech's performance—such as retention rates, success at remediating students, and graduation rates—and asking state leaders to base more and more of Ivy Tech's funding on those metrics.
So far, state leaders are helping him do those things. The Legislature gradually has made more and more of colleges' funding hinge on such metrics, up to 5 percent currently. And the Commission for Higher Education has recommended pushing the proportion to 7 percent in two years.
Collins also advises leaders to "confront the brutal facts," which Snyder never shies from doing. He delivers slide shows to state leaders—in his rapid-fire speaking style in which he almost trips over his words—stuffed with details on the challenge Indiana faces to raise its rate of citizens with postsecondary degrees.
For Ivy Tech, those facts are brutal: Just 28 percent of its students either graduate or transfer to a four-year school after three years at the school.
"Community colleges are the least-well-funded sector and they often serve the students with the most needs," said Don Hossler, a professor of educational leadership and policy studies at Indiana University Bloomington, who emphasized that he was not speaking of Ivy Tech directly. "The statistics aren't positive. And I think it's in large part due to what I just said."
The path forward for Ivy Tech is to find new ways to provide education and the services students need to succeed.
In the fall, Ivy Tech will launch a 24/7 call center for students, which Snyder hopes will eliminate a recent rise in wait times for students who call for help with courses, bills, career services and other issues. Ivy Tech is also working to update its computer systems so it can provide students' advising and support services entirely online, if they prefer.
Ivy Tech also plans to keep ramping up the amount of online instruction it provides. Few students take all their classes online, but more than 80,000—nearly half of all Ivy Tech students—take at least one online course.
Online courses don't cost less to develop and deliver—at least not initially. But they do help Ivy Tech avoid constructing or leasing as many buildings on its 23 statewide campuses.
In spite of Ivy Tech's challenges to absorb more students, Snyder is determined to make it happen. Ivy Tech recently issued a projection that its enrollment will double again by 2030.
The needs of the state and the nation require it, he said.
"Higher education reminds me today of the auto industry of the '70s and '80s," Snyder said. "It's not sustainable."•
Please enable JavaScript to view this content.