After Dr. Lisa Harris, CEO of Wishard Health Services, described Wishard's efforts to keep senior patients out of the hospital during a national hospital conference in New Mexico, more than a few of her counterparts pulled her aside privately to ask, "Why?"
After all, seniors covered by the federal Medicare program are a sure source of revenue for cash-strapped safety-net hospitals like Wishard.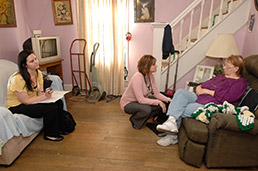 Wishard Health Services sends teams of workers to low-income seniors to help prevent hospitalizations. (IBJ Photo/ Perry Reichanadter)
But for years, necessity has forced Wishard to work outside the walls of its own facilities to keep patients healthy, so they need less health care.
The county-owned hospital has had more patient demand than beds to meet that demand, so it pays for Wishard to prevent illness. And since two of every five Wishard patients have no health insurance, launching programs that help all patients remain
healthy is a way to avoid big losses down the road.
That's why it has purchased apartment buildings to serve as transitional housing for homeless and mentally ill patients, so they make fewer visits to the Wishard ER. For the same reason, Wishard works with local lawyers to get landlords to clean up mold-infested housing units, to prevent asthma attacks and other maladies.
And Wishard has created a program mimicked nationally to bring nurses and social workers into homes of low-income seniors, which has reduced hospitalizations 44 percent. It was that program, dubbed GRACE, that Harris described at the New Mexico conference.
"It's a health model as opposed to a disease model," said Harris, an internist who has led the 339-bed hospital and its 12 community health clinics since 2004. "This is the right model for everyone."
Indeed, hospitals around Indianapolis and the nation are expanding programs to help people before they become patients. They are trying to teach cooking as well as treat cancer, to do social work as well as do surgery.
It's easier said than done, but they're trying.
Indiana University Health is bringing fresh produce to urban "food deserts." Community Health Network and St. Vincent Health are doing more education programs in schools.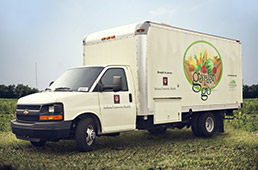 Indiana University Health trucks deliver healthy food to "food deserts," areas where high quality grocery stores are scarce. (Photo courtesy Indiana University Health)
It's not that hospitals never did such things before. But now more of them face the same fate as Wishard: less and less money to be had merely for treating illnesses.
Health insurance plans—both public and private—are responding to rising health care costs by pushing hospitals into programs in which their payments will hinge at least partly on how healthy their patients remain over time. For example, the federal Medicare program no longer will pay for hospital care given to patients readmitted for the same ailments they had in the previous month.
In addition, health plans want hospitals and doctors to form "accountable care organizations," which would take responsibility to manage the health of a specific group of patients, and see a small percentage of their payments rise or fall based on the quality and cost of the care.
Both changes would give hospitals incentive to keep patients out of the hospital, where the biggest health care bills are incurred.
Under the 2010 Patient Protection and Affordable Care Act, aka "health care reform," the federal Medicare program will reduce payments to hospitals and doctors steadily over the next decade—to the point where Medicare will pay less than the cash-strapped Medicaid program, which pays for health care for low-income Americans.
Hospitals nationally say Medicaid payments cover just 60 percent of their costs, on average.

Many expect Congress to continually block those cuts. Even so, no one predicts hospitals will get lots more money for what they do.
"Wishard, they're on the budget of the future," said Les Zwirn, executive director of Better Healthcare for Indiana, which advocates for partnerships among various players in a community—hospitals, employers, grocers, restaurants, politicians and even churches—to improve the community's overall health, and thereby lower health care spending. "It requires collaboration, it requires conversations that are only built on trust."
Conflicting incentives
The 2010 health reform law actually requires hospitals to conduct assessments of health needs of their surrounding communities every three years. But getting cooperation to address those needs will be the hard part, because the rules of the health care system give conflicting incentives to different actors.
Patients, since most don't directly pay for their care, have little incentive for healthy habits and every reason for getting as much health care as possible.
Doctors and hospitals have not been paid to work at keeping patients healthy, but instead to treat them heavily once they become sick, since every treatment creates another charge to be billed to private and public health insurance plans.
Businesses, governments and taxpayers foot the bill, but they've often favored policies that shift the burden onto someone else, not longer-term strategies to improve health.
"Right now, all this stuff we invest in at our own cost, because we have this perverse payment system," said Dr. Tim Hobbs, chief physician executive at Community Health Network, a six-hospital system in Indianapolis. "Right now, the only reason that there are any dollars to support this is, you actually take care of a sick person."
IU Health for years has taken steps to reduce trips to its Methodist Hospital ER, which, along with Wishard's, is the busiest in the state. IU Health has programs to pass out bicycle helmets, and to visit seniors at home to reduce risks of falling.
More recently, IU Health has focused on reducing diabetes and obesity in Indianapolis by distributing high-quality produce. IU Health worked with Keep Indianapolis Beautiful to build gardens at 10 of Indianapolis Public Schools' campuses, where students can learn to grow their own produce.
IU Health is in a partnership with Indy Parks, an east-side farm, and Gleaners Food Bank to grow organic produce and distribute it to low-income families. To date, the garden has churned out 2,000 pounds of produce.
IU Health also launched Garden on the Go with farmer network Green Bean Delivery, which brings fresh produce on a mobile delivery truck to 16 neighborhoods in Indianapolis, where high-quality grocery stores are scarce. In its first nine months, Garden on the Go recorded 10,000 sales.
The IU School of Medicine will now study 100 Garden on the Go shoppers for six months, to see how their blood sugar, blood pressure, body mass and weight change. IU Health also plans to stage free samplings of healthy meals and hand out the recipes for making them at home.
Ron Stiver, IU Health's senior vice president for engagement and public affairs, said the efforts flow out of IU Health's values, and receive regular attention from the hospital system's board. But the recent changes in health care financing provide yet another boost.
"Increasingly, these things are probably making good business sense, too, as you look to manage population health," Stiver said. "We've long advocated that we should move away from this fee-for-service reimbursement."
Beyond hospital walls
Hospitals are now reacting to changes they know are coming in hospital reimbursement, by ramping up programs to help patients even outside the walls of its hospitals and health clinics.
Community recently signed up more public schools for which its nurses provide educational programs on healthy eating and living.
Likewise, Indianapolis-based St. Vincent Health's Peyton Manning Children's Hospital has brought Project 18, a semester-long health and wellness course, to 532 schools around the state in the three years since launching the program.
But leaders at all hospitals know they need to do more. One common area of focus is on preventing hospital readmissions—since many health plans will no longer pay for them.
Community, for example, has formed a team of nurses to help patients heading home from a hospital stay. The nurses, when needed, connect patients with social workers, and make sure they have adequate housing and transportation to follow-up appointments. Community is still looking for partners to help patients get those services when they're lacking.
"This is something we always felt strongly we should do," said Community's Hobbs. "In the last three or four years, we've tried to make it more robust."
At Wishard, which is building a new hospital to replace its aging facilities, Harris said she's "delighted" that rules and reimbursement are finally changing to allow all hospitals to embrace the approach Wishard has taken for years.
"This holds the promise of what we need to do in health care more broadly," she said.•
Please enable JavaScript to view this content.