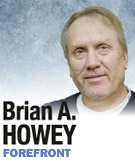 It was in May 2011 that Republican Mike Pence announced he would run for governor and Democrat John Gregg formed an exploratory committee.

But unlike the campaign of Doc Bowen in 1972, which from the get-go had a defining issue—promised tax reform—the policy side of this race for governor has taken a back seat to the $6.7 million the two candidates raised last year.

There have been no major policy white papers, which had been a staple in John Mutz's 1988 campaign. No major policy speeches. No press conferences offering policy details.

The Indiana University Public Policy Institute, in its "Policy Choices for Indiana's Future," told a conference headed by Chief Justice Randall T. Shepard on Feb. 17 that the state faces daunting challenges. The state ranks 41st in per-capita income, last in the Midwest; has a 16-percent poverty rate, in the bottom third nationally; and is "at or near the bottom among Midwest states" for educational attainment.

The jobless rate is a persistent 9 percent, and 40 percent of births are out of wedlock. The state faces an array of infrastructure needs despite Gov. Daniels' Major Moves program and billions of dollars of Obama stimulus money.

Websites for the candidates have no "policy" sections. Gregg has an "issues" button, but once clicked, it becomes a request for information.

The two campaigns are essentially gearing up for policy. Gregg has retained former Indianapolis Deputy Mayor Steve Campbell to head up his policy work. Campbell was deputy mayor for neighborhoods under Mayor Bart Peterson, communications director for Gov. Frank O'Bannon, and deputy press secretary to Gov. Evan Bayh.

Pence's key policy guy is Chris Atkins, a former general counsel and policy director in the Office of Management and Budget in the Daniels administration and a director of tax and fiscal policy for the American Legislative Exchange Council.

The Pence campaign told me it has more than 300 policy volunteers assigned to 14 working groups that Pence calls the "idea factory."

Pence has also worked in numerous policy discussions with business roundtables around the state.

He does not have a website policy section, either, but the campaign pointed to several news stories going back to last summer in which he talks without much detail on the issues.

So, what do we know about the skeletal framework of emerging Gregg and Pence policy?

Gregg in his campaign kickoff speech talked about "basic challenges and the practical responses required."

He has said "our competitors have changed" and that we "spend too much time looking over our shoulder at Illinois, when we should be looking out for India." Gregg believes "our kids aren't learning the skills they need" and says "too many workers are stuck on jobs and technology that have moved on without them."

The former Democratic speaker said he will spend "every waking moment reversing these trends."

But how?

Gregg says we must "ensure that our business climate is modern, competitive and affordable" and that economic development takes place from a "regional perspective." That is somewhat of a breakthrough from Gregg as speaker, who once said the three things Hoosiers tend to be against are "communism, regional government and daylight saving time."

Pence's policy stances have gradually come out since summer. He wants to cut state income, sales, individual and corporate tax rates. But we don't know how revenue will be recovered.

He favors education reform that would expand school choice. Pence told the Fort Wayne Journal Gazette in August, "I think competition between schools—between traditional public schools and public charter schools and between public schools and private schools—will just make all our schools better." But thus far, there is little detail on how he would seek to achieve those goals.

Pence will also prioritize completion of the Interstate 69 extension to Evansville.

With Pence and Gregg unopposed in the primary, the policy will develop and an earnest discussion—with details and fiscal impact—will be demanded by a state needing answers.•

__________

Howey is a third-generation Hoosier journalist who publishes Howey Politics Indiana. Send comments on this column to ibjedit@ibj.com.