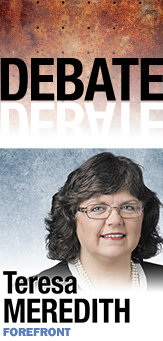 QUESTION: Have the sweeping education reforms passed in Indiana contributed to, or detracted from, teaching as a profession?

ANSWER: Long ago as a young parent, I hoped that one day one of my children might want to be a teacher, just like me. I was sure nothing would thrill me more. Then, when that day happened, when my second son told me he wanted to be a teacher, I had a sinking feeling in the pit of my stomach. I had to bite my lip to refrain from saying, "Oh, please, don't do it."

My son believes, as do I, that teaching is the profession from which all other professions are made possible. And yet, here I was, caught between my joy of seeing my son want to experience that, and the pain of wanting to prepare him for the realities he will face—not in the classroom or on the playground, but given the recent devastating education reform efforts, the uncertainties that come from the principal's office and the Statehouse.

I did not want to tell him that today's teachers feel devalued, degraded and demoralized. It used to be about educating the whole child: caring about their social development, training in good citizenship, developing critical thinking skills, creating a mind-set of living healthy through physical activity. All of this used to be done in a way that was developmentally appropriate, where students learned and were supported.

It was not perfect, but it worked. And every step of the way, teachers had been willing to talk about ways to improve the education system.

Today, however, none of that matters. I am reluctant to tell my son that now teachers are painted as incompetent or that they shun change and improvement. In truth, teachers have been ignored in the process of reform. Their opinions have not been included, their skills have not been appreciated, and their knowledge is rarely acknowledged.

The teacher of the whole child who could take teachable moments and make sure lessons reached all students in all modalities has been replaced with one who has a scripted set of lessons, everything timed precisely with no room for flexibility, one who must fill out forms, collect more data on each student than seems possible, one who has no support from administrators while being pushed to outperform a neighboring teacher to look better in the eyes of an evaluator.

What was once a well-respected and revered profession has become one of blame, distrust and sadness. Today, the Indiana Department of Education appears to have an attitude that teaching is just a stopover on the way to something better. The reform efforts have brought finger-pointing, and it seems that all of what ails public education falls on educators. Teachers should teach better, try harder, be smarter, and all with a vow of poverty. Measuring a teacher's worth solely around the growth of a student or a small group of students is not and never will be a true measure.
I struggle to find answers for my son or for myself when I ask if the recent reform efforts improve the quality of education for students. Do they improve training for incoming teachers? Do they strengthen professional development for those already in the profession?

My experience tells me the answer to all these questions is an emphatic no. The reformers never intended to contribute to the profession. Education reform can be done successfully only with educators, not to educators. As for true education reform, my colleagues and I across the state are still waiting.

I will not discourage my son from seeking a career in education because I know that, at some point, educators and policymakers must work together to make the necessary investment for true education reform. Let's start with those who know best how to educate.•

__________

Meredith is vice president of the Indiana State Teachers Association and has taught for more than 18 years in Indiana schools. Send comments on this column to ibjedit@ibj.com.