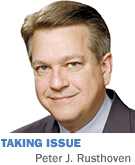 The distorted attacks on Sen. Dick Lugar typify what most Americans now despise about today's politics. On May 8, Hoosier primary voters can send a message rejecting such poisoning of our political discourse.

The silliest attack charges that lifelong Hoosier Lugar is not a resident. Indiana's constitution, a state statute, opinions by attorneys general and a unanimous, bipartisan Indiana Election Commission vote reject what The Indianapolis Star rightly calls "nonsense."

Yet Marion County's Election Board, on a 2-1 party-line vote, has resurrected this childishness. Some supporters of Lugar's primary opponent applaud. While rank-and-file Hoosier Democrats respect Lugar, partisan Democratic activists jump on this phony issue, knowing they cannot win this fall unless Lugar falls in the primary.

As the Star notes: "Lugar's political opponents on the left and right have succeeded in their true goal—which is to embarrass an Indiana icon and one of the nation's last true statesmen to the point that it distracts voters from the truly substantive questions facing this nation."

The Wall Street Journal agrees, saying attacks from the right on Lugar's residency "resort to the sort of Mickey-Mouse campaign tactics one expects from activists at the other end of the political spectrum." The Journal concludes: "If the new conservative opposition makes a habit of routinely using low-rent political tactics to prevail against members of their own party, it will become difficult to argue that it is the enemy of business-as-usual." Indeed.

Other examples of low-rent politics are outside groups pouring money into Indiana, seeking Lugar's defeat to enhance their power to intimidate anyone insufficiently pure. Thus, the Club for Growth is spending $250,000 on an ad that asks, "What's Lugar Done?," says "he voted for higher gas taxes and Social Security taxes," and blames Lugar for the $15 trillion national debt!

Astounding. The last major gas-tax increase was 20 years ago; Lugar opposed it. What he voted for was a 1982 Reagan highway maintenance improvement plan, and a 1990 increase to reduce the deficit during military buildup for the first Gulf War. The last big change in Social Security taxes was in the 1983 Reagan plan saving the system (supported by Lugar). Payroll taxes are unchanged since 1990, save for the recent "holiday" (supported by Lugar).

As for "What's Lugar Done?"—where to start? Partial list: No. 1 voting record in support of Reagan. Seventeen-time co-sponsor of Balanced Budget Amendment. Opposed Obamacare on all votes. Spurred Indiana's involvement in the current Supreme Court challenge. Supporter of Bush tax cuts. Leader of Keystone XL pipeline effort. Respected worldwide for foreign policy leadership. The man responsible (with Sam Nunn) for destroying over 7,000 Russian nuclear warheads that terrorists will never use.

The Club for Growth attack is astonishing for a group whose focus is eliminating tax and other barriers to growth, on which Lugar's record is stellar. It is more astonishing because its president is former Indiana Rep. Chris Chocola, whom Lugar supported—and who knows better about Lugar's record. Chocola should be ashamed.

As a matter of GOP tactics, attacks on Lugar are unwise. Republicans would have won Senate control in 2010 absent primaries yielding supposedly "pure" but unquestionably unelectable Nevada and Delaware nominees (e.g., "Ms. I Am Not A Witch"). The only way Republicans can lose Lugar's seat in 2012 is by not nominating Lugar.

But the problems go far deeper than tactics. Lugar is indeed one of the nation's few remaining statesmen. He deserves better. More important, the Hoosiers he represents so well deserve better. Let's hope they send the right message on May 8.•

__________

Rusthoven, an Indianapolis attorney and graduate of Harvard College and Harvard Law School, was associate counsel to President Reagan. Send comments on this column to ibjedit@ibj.com.