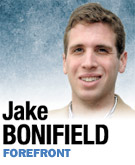 It could have been the start of a new era for Greencastle. A local banker, real estate developer and I had, in just a few months, put together a business plan, courted private investors, and launched a soft opening of Greencastle's Project Ignition, a full-service business incubator. GPI, as it was known, would leverage the resources of DePauw University in providing office space and a host of consulting services to local entrepreneurs. We hoped our humble project would not only create jobs, but also solicit a common commitment from groups on both sides of the town-gown fault.

A shell of its former self, like so many small towns across the Rust Belt, Greencastle is being outmoded by a changing world. Shuttered storefronts surround the courthouse, previously bustling factories are now haunting reminders of jobs long since lost to foreign workers, and the largest employer, Walmart, manages to at once provide new jobs, depress wages across the board, crowd out small business, and pay a paltry sum in taxes.

From the beginning, it was clear there would be obstacles. Change comes slowly in places like this, so I spoke before DePauw's Board of Visitors and the local Rotary Club; lunched with the mayor; and gave a presentation before influential faculty, community leaders and the university president. In each setting, nearly everyone was enthusiastic.

It was not until the city was asked to act that latent objections emerged. In a meeting before the Citizens Action Coalition for Industrial Development, a board of community members appointed largely by the mayor, we sought modest seed capital to help finance a server, some computers for clients, and several other small amenities. We presented our case, now familiar to all but a handful in the room, along with our projected financials and business plan.

I had presented the latter to a slew of professionals outside the Greencastle bubble, including a senior executive at Lilly Endowment and the executive director of the Indiana Association of Community Economic Development, himself a Greencastle native. Each seemed impressed by the merits of our project, yet CACFID resisted.

A local florist, the mayor's preferred adviser on economic matters, was particularly adamant that Greencastle did not need what we were offering. At the start of our presentation, the Carnegie of Carnations offered flatly, "This just doesn't make sense."

I pressed for details: What can we do to make the model more viable, more appealing? Instead of an explanation, I got another adjective, "It just doesn't make business sense."

Two years removed from this melodrama, my motives and perspective have matured somewhat. Instead of focusing on what Greencastle lost, I find myself wondering how many other worthwhile projects have suffered similar fates, and how many jobs have been forfeited as a result. Napoleon once wrote, "Ascribe not to malice, that which can be explained by incompetence."

This wording may be a bit harsh, and I certainly don't think that opposing any economic development proposal, or even this one in particular, signifies incompetence. But many small towns are harmed by a simple dearth of experience in evaluating economic development initiatives.

We need to support entrepreneurs, and the best way to do that is to offer trusted, thoughtful advice.

When a local court or government official encounters a unique situation and is unsure of the legal implications, they seek an opinion from a higher authority. This opinion, whether issued by a court or the attorney general, lends over to on-the-ground decision makers.

The state should consider investing in a small team of experts whose job it is to give unbiased, fact-based advisory opinions to local governments when they are presented with investment and economic development opportunities. This mechanism would help protect cities and towns from being swindled by providing a thorough audit of a startup or outside group while also lending additional credence to meritorious proposals and ideas.

Such a collection of experts would be relatively inexpensive and a win-win for local governments, entrepreneurs and companies looking to relocate all over Indiana.•

• Bonifield is a political science major at DePauw University and president of Hoosier Youth Advocacy, an organization focused on increasing youth participation in the Indiana General Assembly. Send comments on this column to ibjedit@ibj.com.