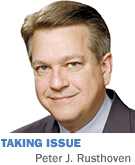 To understand why Gov. Mitch Daniels and Superintendent of Public Instruction Tony Bennett fight so hard for education reform, look no further than Indianapolis Public Schools—and those who defend it.
Amid a raft of statistics telling the same tale, consider these. ISTEP+ pass rates: state, 71 percent; IPS, 45 percent. End of Course Assessment pass rates: state, 68 percent; IPS, 32 percent. High school graduation rate trend: state, 86 percent; IPS, 65 percent. Increase over last three years in graduation "waivers" for IPS seniors failing basic exams: 34 percent.
Now look at IPS Superintendent Eugene White's defense. The Indianapolis Star's Matt Tully captured White's dismissive response this month to reforms proposed by The Mind Trust, a not-for-profit chaired by former Mayor Bart Peterson.
As Tully reports, White sees IPS problems as matters "of perception and not reality," attributable "to the 'politics and rhetoric of the media' and parents and others who simply don't understand the monumental success that is IPS." White points to "heavy burdens facing children of poverty"—but does so "as an excuse, joking that he is not capable of magic."
White also criticizes charter schools and vouchers—but misses "the disconnect between his unbridled praise of IPS and the thousands of families who feel the need to leave the district for such schools and programs." In Tully's apt summary, "White now gives only excuses when he talks about the academic failure that mars the district."
Would that White were atypical. Many in today's public education establishment seem (to quote George C. Scott's character in "The Hustler") less interested in winning than in having an "excuse for losing." And no establishment has fought more ferociously against fundamental change.
A prime witness is Joel Klein, former New York City school chancellor. Klein is neither Republican nor conservative; he was President Clinton's deputy counsel, and (as head of the Justice Department's antitrust division) went after Microsoft. His education work in New York made him a relentless crusader for reform.
"From the day I became chancellor," Klein says, "the thing that shocked me most was that the entire system eschewed distinctions based on merit. The unions, in particular, well understood that once we began to differentiate based on merit, the public would be forced to deal with these clearly spelled out differences and would demand that consequences result."
Klein adds: "In America, what makes us so successful is the innovation, the competition, the focus on merit. All of those things have been absent from the K-12 system."
Just so. In most ventures, competition is so vital it's illegal to restrict it; merit-based pay motivates performance; and poor results dry up revenue and put one out of business. Among much of the public education establishment, competition (charter schools, vouchers) and teacher merit pay are anathema; and poor results are cited as proving the need for more revenue.
As Klein recently said in Indianapolis, any enterprise where there's no reward for innovation, and reward doesn't matter, will fail. This is as true of education as anything else. The key difference is that consequences of failure of our education system are calamitous.
That's why Daniels and Bennett pushed for expanded charter schools and the nation's most sweeping voucher program. That's why they worked to tie teacher pay to classroom effectiveness, and limit the role of seniority and academic degrees (formerly the prime compensation drivers). That's why they halted using collective bargaining to undercut teacher evaluation.
None of these is a magic bullet. But each improves a long-broken system that's fiercely resistant to reform. No one needs that reform more than the poor and disadvantaged. To fail them would be unforgivable.•
__________
Rusthoven, an Indianapolis attorney and graduate of Harvard College and Harvard Law School, was associate counsel to President Reagan. Send comments on this column to ibjedit@ibj.com.
Please enable JavaScript to view this content.