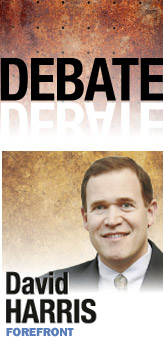 Question: The number of tests administered to Hoosier schoolchildren has multiplied in recent years, prompting criticism that excessive testing saps valuable time for instruction. Do schools spend too much time on standardized testing?
Answer: Standardized tests tell us critically important information about student learning, and therefore need to be a priority. But it is essential that, as schools dedicate time to testing, they maintain strong missions that transcend the need for students to perform well on tests.
Testing shouldn't be prioritized over all else at the expense of other important skills.
Assessments fulfill two critical purposes in education—providing feedback on what's working in the classroom and what's not, and producing a measure of how much students are learning. While educators use a variety of tools and assessments to meet the first goal, standardized tests are a necessary tool for meeting the second. Standardized tests help us identify schools' strengths and weaknesses and determine whether schools are helping students to learn.
That is not to say standardized tests are a perfect measure of student learning. There is plenty of room for improvement. The tests we use today, for example, do not focus enough on critical thinking and problem solving, and they measure too narrow a range of academic content. They provide just one way for students to demonstrate what they know, even when another might allow a child to shine.
Despite these shortcomings, standardized tests are a vital instrument for determining whether schools are carrying out their central mission of preparing students for success later in life. Numerous studies have shown that strong outcomes on standardized tests are correlated with things we typically associate with success, including going to college and earning a higher salary. And the standardized tests children take when they're in elementary and middle school prepare them for other high-stakes testing situations they will encounter later in life, such as the SAT and GRE.
That's why dedicating time to making sure kids are prepared to excel on standardized tests and administering those tests is a worthwhile investment. But preparing kids for success on standardized tests should not detract from classroom instruction. Quite the opposite is true; testing should enrich instruction by providing a way of measuring whether instruction is effective. If schools are teaching students well according to state standards, students at those schools also will be prepared to excel on the state's standardized tests.
If schools spend too much time focused almost exclusively on standardized tests—and do so at the expense of teaching that enriches the whole student—it is not a fault of the test. Rather, it is the schools' fault for making the tests such a central focus. Schools across the country are showing that overall enrichment and standardized testing are not mutually exclusive.
Columnist David Brooks noted some examples of these schools in a New York Times piece last year: "The schools that best represent the reform movement, like the KIPP academies or the Harlem Success schools, put tremendous emphasis on testing. But these schools are also the places where students are most likely to participate in chess and dance. They are the places where they are most likely to read Shakespeare and argue about philosophy and physics."
These schools maintain a balance because, as Brooks pointed out, they have a strong mission: They want students to excel in life. Testing is just a means of getting there by measuring students' progress along the way. That is why other areas, such as character education, remain a cornerstone at KIPP, Harlem Success and other schools like them.
While they need improvement, standardized tests remain important mechanisms to measure how well schools are doing at advancing their core mission—preparing students for the future. When standardized tests are viewed as just one element in an overall culture of excellence, they can help ensure that all kids succeed.•
• Harris is CEO of The Mind Trust, a not-for-profit focused on K-12 education reform in Indianapolis. Send comments on this column to ibjedit@ibj.com.
Please enable JavaScript to view this content.