I've been taking my kids and their pals to Conner Prairie for 15 years. But the most recent visit was the first time they wanted to spend the whole time in Prairietown.

Kids I've taken on the Conner Prairie time trip have almost always enjoyed the settlement and its blacksmith shop, general store, and stilt-walking/wheel-rolling games. But after two hours, they were ready to move to another area.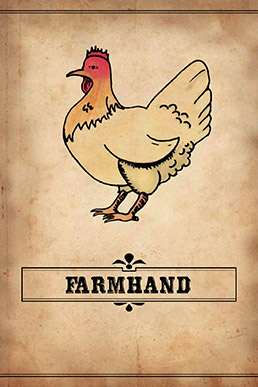 Character cards give visitors specific tasks to complete at Prairietown. (Photos Courtesy Conner Prairie)
But times have changed—even at Conner Prairie, where time stands still. The brains behind Prairietown have introduced new ways to explore, enjoy and interact.

Before I get to the specifics, let's look at this from the perspective of an 8-, 9- or 10-year-old. Some kids in that age range are bursting with curiosity and ready to fire off a question to the Prairietown schoolteacher or innkeeper without hesitation. Most kids, though, are a bit more reserved in this situation. And as children get more hesitant, parents tend to get more impatient, wondering why their progeny suddenly seems so shy.

In the newfangled version of Conner Prairie, you can still do things the old-fashioned, free-associative way. But kids can also spin a wheel and take on the role of a cook, a craftsman, a gardener or other character—from a sophisticate to a criminal. The character card associated with each of these is printed with a series of missions the character must complete. A hunter, for instance, had to make a deal for a rifle. A criminal had to try to find someone who would agree to go fishing on Sunday.

Completed tasks earn a stamp that upgrades the child to another level. Kids can now collect coins for performing different tasks around the town. On our visit, my son and a friend used those coins—plus additional acquired paper money (I didn't ask)—to participate in a land auction. Soon they were pooling resources with a group of young girls to buy a parcel of prime real estate. Once the land was acquired, a healthy debate ensued over whose name should be on the deed. Voila: full engagement.

Participating in this way did not preclude more casual involvement. Shortly after completing the last tasks on their cards, the boys spotted a sort-of-baseball and a sort-of-bat sitting in a field near a makeshift home plate. It took only a few pitches and swings before a group of costumed townspeople joined them for a game of Rounders (First rule of Rounders: You run clockwise around the bases). Soon, other kids were lining up to play—even those who weren't landowners like my hunter son and his criminal pal.

I'm sorry. Did I say they wanted to spend the whole time in Prairietown? Well, not exactly; they couldn't resist the lure of the hatchet-throwing competition in the Native American village. And who can blame them?
__________

"Next Fall," the dramatic romance being staged at the Phoenix Theatre through July 8, gets strong lead performances from Scot Greenwell and John Goodson as a couple whose age difference doesn't cause nearly as many problems as their religious

differences—which become more serious after one is involved in a car crash. It has the guts to create a range of characters with strong beliefs and explore the seemingly contradictory nature of gay fundamentalist Christians. And it has a big heart and an open mind.

It also has a script that contains little or no surprise, a few too many forced situations (including a sitcom-like scene where a father visits the apartment of his closeted son unannounced), a clunky set that drains some of the drama, and between-scenes music that seems to come from a Saturday Night Live soap-opera parody.

Those elements—and a resistance to pushing its subject matter into too-uncomfortable territory—don't make it a bad play, just a not particularly enlightening one.
__________

Using the material of one of the 20th-century's greatest songwriters (one who happens to be a native Hoosier) as fodder for an evening of dance may seem like a no-brainer for a modern dance company.

But there are hidden challenges in the material, the largest of which is that many of these numbers are branded by other forms of dance. Try to picture anything but crazed tap dancing accompanying "Anything Goes," for instance.

In "Cole!," its season-closing production at the Indiana Repertory Theatre, Dance Kaleidoscope wisely didn't bother competing with its iconic stage and screen predecessors. Instead, it made its own amiable way through the Cole Porter catalog, briskly offering 16 numbers sans showstoppers but also free of duds.

The first act respectfully used early versions of Porter recordings. The thin sounds seemed to have had an effect on the dancers, who didn't pop as well as they did in the second half, which featured a more modern sound (the likes of David Byrne and The Thompson Twins are mixed with Sinatra, Armstrong and Fitzgerald).

There was a disconnect between the lyrics and the choreography for "Miss Otis Regrets," but the number stood out as a crowd-pleaser. As did the Act 1 closer to a choral "Wunderbar."

In the midst of the playful spirit of the show, Liberty Harris danced a moving solo to Annie Lennox's version of "Ev'ry Time We Say Goodbye," made more powerful by the combo of lighting and choreography that boldly left her face largely hidden. And Brandon Comer and Timothy June's "It's All Right With Me" was an appropriate pairing for Pride Week.

Much of the spotlight in the show seemed to be on Comer, a second-year DK dancer poised to fill the space left by last season's departures, Kenoth Shane Patton and George Salinas. In a Q&A during intermission (a plus during DK's Thursday evening shows), Artistic Director David Hochoy responded to a question about Patton, pointing out that the life of a dance company comes from retiring dancers' making room for new ones (I'm paraphrasing). He noted that more than 60 dancers have come through the company since he took over 21 years ago.

That's a remarkable legacy. One of the pleasures of a resident company—of which DK is a rare breed in this town—is seeing it evolve, constantly morphing.

One of the reasons we love sports so much is that we care about the players. A resident arts company can invoke the same loyalty while, in essence, creating its own long-form dance piece.

Within that, some games are forgettable. Some are spectacular. Others are just entertaining.•

__________

This column appears weekly. Send information on upcoming arts and entertainment events to lharry@ibj.com.