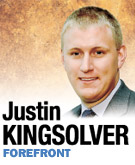 As pundits across the state began reporting that Gov. Mitch Daniels was the leading candidate to assume the presidency of Purdue University, petitions sprang up questioning his academic and professional credentials to lead such an enterprise. Opponents of his candidacy questioned his personal characteristics—from his lack of a Ph.D. to his purported lack of experience in higher education issues.
These arguments lack context. In the history of our state, our governors have played an integral part in establishing and maintaining our state institutions of higher education. Governors appoint a majority of the boards of trustees of our public universities, so these leaders must possess a principled, considered educational vision in order to determine their appointees.
Also, it is not uncommon for political leaders (including governors) to be considered as candidates for these positions. Many recall the speculation that then-Sen. Evan Bayh might seek the presidency of Indiana University before current President Michael McRobbie's appointment. Few but the most devout IU historians recall that, before legendary IU President Herman B. Wells tossed his hat in the ring for the position, the leading candidate was then-Gov. Paul McNutt.
Before assuming the IU presidency, noted President Elvis J. Stahr served as U.S. President Kennedy's secretary of the army. Political leaders, while not always fitting the traditional academia- and research-focused mold, often possess the natural communication and leadership attributes to inspire confidence in, and respect for, a university community.
As last year's IU student body president, I worked with university administrators, including IU's president. In my experience, the most effective administrators empathize with the demands placed upon students, grasp the university's position and importance to the local community and to the state, and possess a lucid inclination for reform.
Daniels not only possesses these innate characteristics, but he exemplifies them.
He has demonstrated over the past eight years that he does not accept second place. While he led our beloved state, he ensured that—among peer states—Indiana had the lowest property taxes, the smallest number of government workers per capita, and the shortest wait times at our BMV offices.
Mitch is a dreamer—and he inspires the previously unimaginable from those he leads. While at Purdue, he will strengthen their already first-rate programs in engineering and agriculture and seek creative avenues in which Purdue can compete where it previously has not. A Princeton- and Georgetown-educated attorney by trade, is it possible that we may see the creation of the Purdue University School of Law?
Daniels has redefined the Hoosier state's definition of a political leader. While governor, he spurned political machines by refusing to partake in typical political cronyism or patronage. Knowing right-to-work would be a tough political sell but also understanding its inherent value to our state, he created advertisements connecting himself with the bill, jumping on a political grenade and sacrificing his own political capital to make our state the most economically viable and business-friendly in the nation
Whenever speaking to national press or at national conferences, he touts the accomplishments of the Hoosier state—not the accomplishments of Daniels. He is a servant leader without parallel, always putting the organization or entity he serves above his own interests.
For this reason alone, Daniels is an inspired pick to lead Indiana's third-largest university system. Assuming he's not tapped to lead an even larger organization (say, the U.S. Department of the Treasury), he will continue making major moves at Purdue.
As a Wells-loving, Crean-following, Ballantine-attending Indiana Hoosier, it pains me to say this; but to the trustees of Purdue University, you have made quite a good decision.•
__________
Kingsolver will attend the University of Michigan Law School. He is a former IU student body president and state chairman of the Indiana Federation of College Republicans. Send comments on this column to ibjedit@ibj.com.
Please enable JavaScript to view this content.