Campaigning door-to-door last fall, City-County Councilor Vop Osili found many adults at home during the day, and it wasn't because they worked the night shift.

They were among the 5,000 or so people who return to Marion County from Indiana prisons each year, and as a result, they weren't working at all.

"In my district, we've got a lot of people impacted by their criminal past," said Osili, who represents the 15th District, which includes neighborhoods north and west of downtown to 30th Street.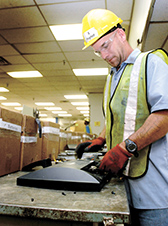 Scott Hughett works for RecycleForce, which employs felons. (IBJ photo/Perry Reichanadter)
The freshman Democrat thinks the city could level the playing field for ex-offenders by eliminating the question of past convictions on job applications.

"All that stands in the way is that little check box," Osili said. "How long do you have to live like that?"

Other cities, including Detroit and Philadelphia, have adopted so-called "ban the box" ordinances. Detroit's applies to the city's own hiring, plus contractors and vendors doing business with the municipality. Philadelphia went so far as to apply the ban to all employers. Both communities adopted the measures last year.

Democratic council President Maggie Lewis said she likes the idea, though she's not sure the council should try to pass something that applies to all employers.

"I think we should look into it," she said. "If there was an opportunity for us to really expand this and make it work in our city, I would be in favor of it."

Human-resource professionals are aware of the ban-the-box movement, said Jeff Hallam, a partner at the Indianapolis online application software provider ExactHire.

It's true that many employers screen too broadly and end up throwing out people whose crimes are irrelevant to the job opening, Hallam said, but he doesn't think a ban is the answer.

"A blanket policy of, 'Take that off the application,' I don't think that works," he said.

Osili hasn't proposed a ban-the-box ordinance. Instead, he's trying to put together a 10-member study commission that would look at an array of re-entry policies and recidivism.

More than half those roughly 5,000 people who come to Marion County from prison go back within three years.

That's a much higher recidivism rate than for Indiana as a whole, which releases 14,000 to 16,000 inmates a year and sees fewer than 40 percent of them back in prison within three years, said Roger Jarjoura, a criminologist and associate professor at IUPUI.

Recidivism is costly. In a study for the Annie E. Casey Foundation, Jarjoura estimated that lowering the rate in Marion County 1 percent would save taxpayers $1.55 million.

The estimate was based on 4,776 people who came to Marion County from prison in 2007. More than half of them, 52 percent, went back within three years, either for new crimes or parole violation.

Moving the needle

The recidivism rates have changed little over the past decade, but public- and private-sector leaders are taking a keener interest in moving the needle. The Greater Indianapolis Chamber of Commerce is preparing a survey for members on their ex-offender hiring practices.

"It's an important economic issue," said Angela Smith Jones, the chamber's public policy director.

Jeff Cardwell, a City-County Council Republican representing the 23rd District on the south side, has hired ex-offenders as seasonal help at his Do It Best hardware store for 25 years.

"If we don't provide opportunities, where do they end up?" Cardwell said.

Cardwell agreed to serve on the commission Osili proposed but said he has no preconceived notions about what policy the city should pursue.

"This is going to be a learning experience for everyone," he said.

The study commission, which is under consideration by the council's Public Safety Committee, would not be the city's first crack at the issue. Mayor Greg Ballard created an office of re-entry during his first term, and the city has made a point of hiring ex-offenders in the Department of Public Works.

It's unclear how much a city can do about such a complex issue. Recidivism rates are highly influenced by sentencing and parole policies set by states, and most states haven't put a dent in the numbers over the past decade, the Pew Center for the States found in a study released in 2011.

None of Ballard's first three re-entry directors established a lasting program or advocated for specific policies. The fourth director, who was hired in February, is Willie Jenkins, a former Indiana field director for Prison Fellowship, a Washington, D.C.-based ministry. Jenkins said his goal is to make the office a clearinghouse of information, so private-sector services for ex-offenders are easy to find and navigate.

'A little alarming'

People who work closely with ex-offenders welcome the attention from political leaders.

"We need more eyes looking at what are we doing with those 5,000 people," said Rhiannon Edwards, a former re-entry director under Ballard and executive director of PACE, a not-for-profit that serves former inmates.

"That number doesn't go down," Edwards said. "That in and of itself is a little alarming."

Edwards thinks the city could set an example for the private sector with a ban-the-box policy.

"If they do that, that will set the stage," she said.

Almost all job applications ask about criminal history, though it's sometimes limited to the past seven years, Edwards said.

"It's always on the front page of the application," she said.

Eliminating the application question doesn't take away the right to do a background check later, Edwards said, but it would give ex-offenders a foot in the door.

Gregg Keesling, president of the not-for-profit RecycleForce, which employs felons in recycling, thinks ban-the-box policies have limited impact, since employers still have access to criminal records.

"Fear of liability is the number one thing that keeps people from hiring," he said.

Decades of tough-on-crime policies and strict sentencing laws have driven up the prison population and put more people in contact with the justice system, Jarjoura said.

Nationwide, about 13 percent of adults have a felony record, he noted. One recent study found that 31 percent of all 23-year-olds have been arrested, either for a misdemeanor or felony, at some point.

Jones thinks that's why there's such an interest by the chamber's work force council in lowering barriers to employment.

"More and more people are being touched by having a felon in their family," Jones said.

There's no research to show that ban-the-box policies lower recidivism, Jarjoura said. He believes eliminating blanket policies against hiring gives people a better shot at becoming law-abiding citizens.

"The most important thing is, they make a personal commitment. They're not going to be a criminal anymore," Jarjoura said. "When people have already taken that step, they still need somebody or something to help make that transformation."•