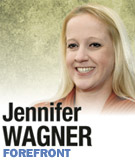 Anybody out there remember "You Can't Do That On Television"?
I won't hold it against you if you don't recall the 1980s youth sketch comedy show that introduced green slime as a running prank on Nickelodeon's airwaves.
The show was fairly forgettable, but the title has always stuck with me. I think there ought to be a new series, updated to reflect modern technology, called, "You Can't Say Or Do Or Write That Anywhere."
The show would feature skits starring folks in the public eye who've overlooked the "Ocean's Eleven" rule: There's always someone watching.
Ex-congressman Anthony Weiner found out about the rule when he forgot how to use Twitter's direct message feature.
Former presidential candidate John Edwards found out about it when his personal life hit the tabloids.
Most recently, U.S. representative and Indiana gubernatorial candidate Mike Pence found out about it when he told fellow congressional Republicans behind closed doors that the U.S. Supreme Court ruling on President Obama's health reform law was comparable to the 9/11 terrorist attacks on our country. He apologized almost as quickly as the story broke.
The week before, U.S. Senate candidate Richard Mourdock's still-fledgling campaign posted four videos to his campaign YouTube account—one for each possible outcome of the health care case. A national "Choose Your Own Adventure" meme was instantaneously born.
Believe it or not, I'm less interested in the politics of these situations than the communications reality they present.
Simply put, the world used to be a simpler place. Phones were phones, not digital devices to record videos, take photos and publicly post that content with a few clicks.
You never had to worry that someone was going to steal your password and publish all your text messages on a blog.
There were no campaign trackers heckling and hoping for a "Macaca" moment.
I know I sound like an old lady lamenting the olden days, but things have changed really quickly, and we owe it all to rapidly evolving technology.
That accessibility has been good and bad for democracy. I believe we keep our elected officials more honest than ever before, but the persistent intrusiveness prevents quality people who'd be good public servants from running in the first place.
I also believe it's contributed to the lack of decorum in politics today.
When I was a kid, my mom would write letters to government officials who'd either disappointed or impressed her. These were real letters, mind you, and stuck in a mailbox with a stamp.
Now we live in a world where you can send form e-mails in 10 seconds or write a tweet that might actually catch the attention of the official you're trying to contact. No one mails anything unless they have to.
People feel entitled not just to show up at their elected representatives' public appearances, but also to disrupt the events by shouting out comments at inappropriate moments.
With everyone angling for that "gotcha" moment, those in the public eye face more scrutiny than ever before.
Which makes you wonder why they continue to do, say and write such dumb stuff.
As a general rule, I tell my clients—political and non-political—to expand the time-tested Washington Post rule (don't do something you wouldn't want to see on the front page of the paper) to every other medium.
Most important, remember that, not only is there always someone watching, but there's always someone ready to run with the footage.•
• Wagner is principal of Mass Ave Public Relations. Send comments on this column to ibjedit@ibj.com.
Please enable JavaScript to view this content.