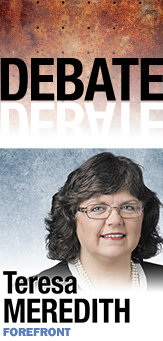 QUESTION: When compensating teachers based on test scores and other performance measures, how should teachers in fine arts be reviewed?

ANSWER: If teacher evaluations are built around test scores that have an impact on compensation, how should my fine arts teaching colleagues be reviewed? It seems that policymakers have created just enough direction to create stress over how to weave test scores into the evaluations of arts teachers.

As a kindergarten teacher, I see the smiles and hear the cheers that go up when I announce to a class that we are headed to art or music. Research shows that different parts of a child's brain are stimulated through fine arts experiences. Some students need this stimulation in order to balance the language details of letters, sounds and words. Other students learn to understand math functions and fractions through music and rhythms.

As a mom, I see proof of the value of fine arts in my children in other ways, as well. My children have learned an appreciation of the arts and one of my sons even became more focused in all his subjects. He looked forward to his advanced art courses where his instructor provided an opportunity for him to channel his energy into something he truly loved.

I know that arts teachers inspire children to think differently and more creatively and this inspiration spills over into more than art or music or drama. Arts programs give our students a release—a way to channel energy into a unique work of art or sound, something that is creatively theirs.

But how should fine arts teachers be evaluated? We know that fine arts teachers have an impact on students in ways that cannot be measured by standardized tests. How does that show up on an evaluation? How does an administrator measure intangible data?

There is no simple answer, but it would make sense to survey fine arts teachers and find out how best to measure improvement in their students. To evaluate these instructors based on standardized tests would not be a true reflection of their work.

However, samples of student work or performances might be powerful tools to see student improvement. The recommendations of these teachers, the experts in their fields, should be strongly considered.

I know the arts had an immeasurable influence on my early years. Mr. Gray was an amazing music teacher and choral director who directed high school show choir. I was mesmerized by the energy and enthusiasm for music and dance. I hoped to one day be worthy of a spot. Imagine my devastation when, after years of lessons and countless hours of practice, I did not make it my freshman year.
Mr. Gray, however, saw potential in me. He offered some simple advice on how to try out the following year. He encouraged me to reach for my lofty goal. Hard work paid off—I did join the show choir my sophomore year, but Mr. Gray's guidance did not end there. His simple advice carried far beyond my high school years. It helped me through difficult classes and kept me focused on my dream of college. It moves me forward even today when faced with challenges personally and professionally.

Fine arts teachers have specific content to teach and many students blossom in these specialty courses by exploring their creativity in the subjects they love. They excel. They come alive.

Sometimes we get so caught up in policies and procedures we miss the purpose behind the real work of teachers—to motivate and inspire students to do more than they ever thought they possibly could. We must remember the true impact of fine arts instruction and the reach it has beyond the coursework.•

• Meredith is vice president of the Indiana State Teachers Association and has taught for more than 18 years in Indiana schools. Send comments on this column to ibjedit@ibj.com.