For-profit school operator ITT Educational Services Inc. told investors late last month that it had worked out a tentative deal with an outside party that would provide $100 million in loans to its students.
Since the private student-loan market collapsed during the financial crisis, the Carmel company had been struggling to provide financing to fill the gap between federal student loans and tuition costs. A similar program that started with $350 million in early 2010 was tapped out a year ago.
So the new agreement was great news, right?
Not necessarily, in part because analysts anticipate the second deal, like the first, will use a controversial accounting treatment that may obscure ITT's significant exposure under the loans.
Then there's the fact that students already saddled with significant debt will be taking on even more—with annual interest rates on the new loans perhaps topping 12 percent.
The take from Citigroup Global Markets: "We remain skeptics of this off-balance-sheet lending program, particularly if it attracts more scrutiny from the Education Department and regulators."
Indeed, "scrutiny" is the operative word for ITT these days. The stock is off 40 percent since mid-July—and 75 percent since February 2009—as enrollment falls and questions grow about its hefty tuition charges and high dropout rates, a combination that leaves some students with devastating monthly payments.
ITT's for-profit competitors are facing the same issues. But they are especially acute for the Carmel firm because its tuition is among the highest in the industry. A student earning an associate's degree might pay a total of $40,000 to $45,000, triple what a community college might charge. Meanwhile, the average salary for 2011 graduates who landed employment was $32,061.

Modany
CEO Kevin Modany was not available for comment. But during a Credit Suisse investment conference in March, he defended the cost-benefit tradeoff. "People have a misperception with regard to the value proposition that exists for our students … the kind of income lift that they see, the type of return that they see," he said.
To be sure, a new $100 million program would clearly fill a need. About 65 percent of ITT students historically have needed gap financing to pay tuition. The company has been trying to fill the void by issuing loans itself, but that's reduced its liquidity and upped its debt.
Yet making loans to already heavily indebted borrowers doesn't draw cheers from all quarters. Bradley Safalow, a longtime industry critic who serves as CEO of New York-based PAA Research, said that in the decade after ITT students graduate, they face the prospect of devoting more than 20 percent of their income to loan payments. He said a $40,000 debt load for someone earning $31,000 is "completely unsustainable."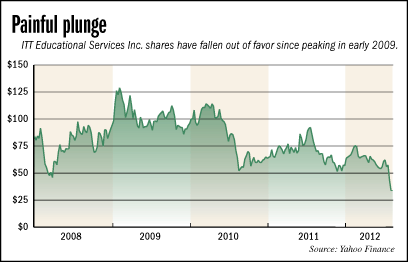 Federal inquiry
Even before the company on July 26 reported that it was arranging the $100 million program, regulators were asking questions. ITT disclosed in a late May Securities and Exchange Commission filing that the new federal Consumer Financial Protection Bureau had demanded documents and other information as part of an investigation into whether for-profit postsecondary companies or other parties were engaged "in unlawful acts or practices relating to the advertising, marketing or origination of private student loans."
The same month, California based Corinthian Colleges Inc., a competitor that also arranged third-party financing, disclosed that it, too, was being investigated. Both firms said in SEC filings that they denied wrongdoing.
Safalow said ITT management has a long history of successfully navigating the regulatory minefield. He noted, for instance, that the third-party financing helps ITT stay in compliance with the 90/10 rule, which prohibits colleges from generating more than 90 percent of their revenue from federal sources, like aid and loans.
Loans ITT makes off its own balance sheet count toward that 90 percent, while the loans issued under the $350 million third-party program did not—even though ITT serves as guarantor on those loans and therefore is on the hook for higher-than-expected defaults.
Safalow said he thinks ITT's business model no longer works in an era when scrutiny of high college tuition is at unprecedented levels and student demand has fallen following a stretch of explosive growth.
He said things could get far worse, with a cash crunch potentially hitting ITT if the company has to pay up big on the $350 million program or under risk-sharing agreements it negotiated on student loans issued in 2007-2009.
"They have not addressed the fundamental problem—outcomes are not nearly good enough for the tuition they charge," Safalow said.•
Please enable JavaScript to view this content.