Search-engine optimization remains part of Slingshot SEO's name. But one of the region's fastest-growing tech companies is abruptly shifting strategy—in part because changes by Google have undercut its core business.
"SEO, by itself, is no longer the optimum mix," said Don Kane, CEO of Slingshot.
So look for Slingshot to make more use of social media, such as Facebook, and digital marketing methods like blogging, to help its clients drive up sales.

Former Aprimo Inc. executive Don Kane joined Slingshot as CEO last spring.
In the past, these were used more as a means to the end: getting a client's website to show up on the first page of a Web search.
The change in strategy isn't coming without pain. The company confirmed Aug. 6 that it has cut 15 percent of its work force, which had been around 100 people.
Slingshot aims to bring aboard those with expertise in other forms of digital media, including a new marketing executive to be announced in coming days.
The job cuts were a stunner for one of the fastest-growing private employers in the area. Revenue grew sevenfold over the last three years, to just shy of $11 million in 2011.
Slingshot mastered the technique of reworking a client's website architecture so that it's optimal for search engine "spiders," including target keywords in tags and content, and building external links that search engines are likely to pick up on.
SEO has generated controversy to the extent it can be used to help undeserving companies rank highest on Web search results pages.
Slingshot long has argued that it works only with companies that have substantially relevant content worthy of showing up toward the top of search results. Over the years, it has turned away a number of prospective clients bent on gaming Google big-time through SEO.
Google recently cracked down on SEO players, however.
In recent months, it's introduced a number of major changes to its algorithms used to rank Web results based on relevancy.
"Google is changing its algorithm every 17 hours," Kane said.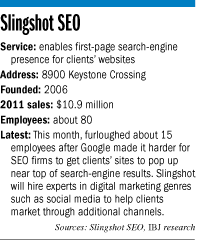 It's unclear exactly to what degree those changes have frustrated Slingshot's SEO results and affected its clients, which range from IU Health and ExactTarget to a Fortune 50 client.
"Search is still the core of Slingshot," said Kevin Bailey, who co-founded the company in 2006 and is vice president of strategy.
Bailey is quick to point to a recent ranking of top websites by audience, with search engine Google No. 1, followed by Microsoft and Yahoo.
"We fundamentally believe search is one of the most powerful technologies ever invented. It still drives most traffic on the Internet."
But coming up, at No. 4 on this list, is the social media behemoth Facebook.
A recent survey of nearly 1,000 corporate leaders by software firm Hubspot.com found that 62 percent of respondents believed social media had become a more important source of leads in the last six months. That was followed by SEO, which 52 percent said had become more important.
Slingshot aims to look more carefully at which particular digital marketing channel or combination thereof will best benefit clients and put them in the space.
"The most cost-effective places to connect brands with their audiences are on search and social. Targeting the right audience for a given brand that is interested in their products and services improves conversion dramatically," Bailey said. "The right audience can be determined with the research and data."
A byproduct of this is that clients who make more use of social media may wind up ranking higher on Google's results page. Google's new algorithms, which seek to quash artificially manipulated rankings, are more keen to pick up social media "shares."
Some industry insiders say Google's algorithm changes could mean some SEO companies could be toast in a few years.
Not so, says Vanessa Fox, who owns Seattle-based SEO software and services company Nine by Blue.
As Web search becomes more ubiquitous and potential customers use search as the primary way they navigate the Web, "SEO is more important than ever," said the former Google employee and author of "Marketing in the Age of Google."

Bailey
While short-term tactics that are based on exploiting loopholes in the algorithms don't continue to work as the algorithms change, "firms that employ long-term strategies based on using search data to understand what potential audiences are looking for and solving their problems and raising awareness through marketing, social media, etc. … see their efforts rewarded long term," Fox added.
Slingshot plans to reveal its strategy in more detail in the coming weeks.
Kane said the recent layoffs and the coming changes had nothing to do with revenue or expenses and that he expects strong revenue for 2012.
He said those recently let go were given "very nice" severance packages.
"I expect us to continue to aggressively hire this year," Kane said.
It's not the first earthquake to shake Slingshot this year. In April, CEO Jay Love resigned after just nine months, without public explanation. Love was a founder of Indianapolis tech company eTapestry, which was acquired in 2007.
Other local tech firms also have had to alter their strategies this year. Compendium, best known for its blogging software that helped companies get noticed on Web searches, created a "content hub" product clients can use to create and repurpose content and send it out through various digital channels.•
Please enable JavaScript to view this content.