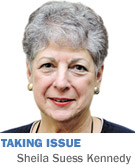 Bowing to the demands of the GOP base, Mitt Romney has chosen his running mate. Paul Ryan is the final confirmation of Romney's capitulation to the True Believers.
During the Goldwater campaign, Phyllis Schlafly wrote a book titled "A Choice, Not an Echo," arguing (a la Richard Mourdock) that the two parties agree too often, and that what Americans really want is a choice between starkly different platforms and philosophies.
Paul Ryan means we'll have that choice this November.
Ryan is mostly known for his budget and tax plan—a plan Roll Call says would slash Mitt Romney's effective tax rate from 13 percent to 1 percent. The New Republic says Ryan's budget would produce a government "so starved for resources that, by 2050, it wouldn't have enough money for core functions like food inspections and highway maintenance."
The Catholic bishops and nuns haven't agreed on much lately, but both call Ryan's budget "immoral and un-Christian."
There is more to Ryan than his budget, however. His overall voting record is substantially identical to Michelle Bachmann's.
• Ryan opposed the DREAM Act—legislation that would have allowed undocumented immigrants brought to the United States as young children to remain in the country, and provided them with a path to citizenship. (He did vote to spend millions on a widely ridiculed border fence between the United States and Mexico.)
• He supported privatizing Social Security, and is best known for proposing to end Medicare.
• He would give Medicaid back to the states—likely ending the payments that keep millions of seniors in nursing homes after they have gone through all their assets and savings.
• Ryan would gut programs supporting neighborhood health clinics, eliminate most student loans, and slash funds for elementary and secondary education.
• Ryan supported measures de-funding Planned Parenthood, criminalizing abortion, and granting "personhood" to fertilized eggs (a measure that would also outlaw the pill and other popular forms of birth control). Most egregiously, he supported a bill that would have allowed hospitals to refuse to perform abortions even if necessary to save a woman's life.
• He voted against the Lilly Ledbetter Act (enforcing equal pay for women).
• Ryan and Romney agree that we don't need to fund Amtrak or PBS (Bye-bye, Big Bird). Meanwhile, they both adamantly oppose even modest cuts to the defense budget and proposals to allow Bush's tax cuts for the wealthiest Americans to expire.
• Ryan is a climate-change denier, pooh-poohing the science and opposing measures to support renewable energy. (As noted environmentalist Bill McKibben tweeted, "Meet Paul Ryan—it snowed in my district, so let's not do anything about climate change.") He tried to block EPA regulations limiting greenhouse pollution, to eliminate White House climate advisers, and to prevent the U.S. Department of Agriculture from preparing for climate disasters. (His widely touted cost-cutting enthusiasms haven't extended to the massive subsidies we currently provide to Big Oil—he voted to protect those.)
This is as mean-spirited and radical a set of proposals as I have seen—not to mention thoroughly unworkable and unrealistic. (When Paul Krugman and David Stockman both tell us that Ryan's package of proposals is a "fantasy" that wouldn't begin to balance the budget even if enacted, that's a pretty good sign that the numbers don't add up.)
Ryan is Romney's version of John McCain's "game changer." He's there to excite and reassure the increasingly rabid base.
He should scare the bejeezus out of the rest of us.•
__________
Kennedy is a professor of law and public policy at the School of Public and Environmental Affairs at IUPUI. She blogs regularly at www.sheilakennedy.net. She can be reached at skennedy@ibj.com. Send comments on this column to ibjedit@ibj.com.
Please enable JavaScript to view this content.