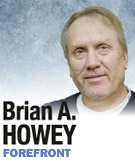 With every public survey since the May primary repeatedly showing Republican U.S. Senate nominee Richard Mourdock in a dead heat with Democrat Joe Donnelly, the Indiana treasurer has taken on a remake of his battered image.

In a new TV ad featuring popular Lt. Gov. Becky Skillman, the Mourdock campaign now insists that, as Skillman says, "Richard is a great teammate. He'll work with both Republicans and Democrats."

And Mourdock wrote an op-ed for IBJ explaining, "Most Hoosiers honestly struggle with the question of whether we need to get tough on Washington and firmly stand our ground against business as usual, or 'compromise' and strike the middle ground. … I will work with any member of any party who wants to move our nation forward just as we have here in Indiana."

The problem is that, up until now, the key premise of the Mourdock campaign is that he is an ardent foe of bipartisanship.

On the morning after his stunning landslide upset of U.S. Sen. Dick Lugar, Mourdock appeared with Gov. Mitch Daniels and Skillman at Republican headquarters. I asked Mourdock about bipartisanship. Is there a time when he believes he can reach across the aisle to Democrats?

"Sure," Mourdock responded. "There is always a time for compromise on issues, but not on principle. … The leadership of the Republican Party and the leadership of the Democratic Party are not going to be able to reach compromise on big issues because they are so far apart in principle. If there's going to be bipartisanship, it's going to be Democrats coming our way, instead of them trying to pull Republicans their way."

An hour later, Donnelly told Howey Politics Indiana, "He said he's for bipartisanship as long as Republicans get what they want. That's like the kid who comes to the park with the ball and bat and says, 'We have to play by my rules or I'm going home.'"

In a new Web ad by the Democratic Super PAC American Bridges running on behalf of Donnelly, four video examples of Mourdock's opposition to "bipartisanship" are displayed.

"I get criticized for it, but I often say it's bipartisanship that's taken us to the brink of bankruptcy and we don't need bipartisanship," Mourdock says in the first clip.

Just hours after he scored his upset landslide, Mourdock told Chuck Todd on MSNBC's "Morning Rundown," "I'll be happy to keep bipartisanship when the Democrats come and join us."

And in the final clip, WTHR-TV anchor John Stehr asked Mourdock how he would operate in the Senate. "Well, it's clear over the last few years there's very little room for compromise between Republicans that are there now and the Democrats."

Why is Mourdock changing his tune?

Beginning with the March 26-27 Howey/DePauw Indiana Battleground Poll, the first general head-to-head emerged with Lugar leading Donnelly 50-29 percent while Mourdock and Donnelly were tied at 35 percent. Since the primary, an array of polls have all shown the Senate race in a dead heat.

In an April 30-May 1 Howey/DePauw Poll sampling of GOP primary voters and some independents, pollsters Fred Yang and Christine Matthews asked: "Which statement better describes your view?" with 60 percent responding to, "I want a U.S. Senator to focus first on trying to solve our country's many problems, even if that means working with elected officials across the aisle to do it." And 33 percent responded to, "I want a U.S. senator to focus first on standing up for conservative principles even if that means not working with elected officials across the aisle to solve problems."

Independents and Lugar Republicans will decide this election, and Mourdock has suddenly realized his assault on bipartisanship is a big problem.•

• Howey is a third-generation Hoosier journalist who publishes Howey Politics Indiana. Send comments on this column to ibjedit@ibj.com.