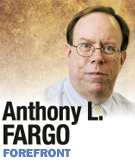 With the general election approaching in less than two months, many organizations, including at least one I'm involved with, are putting together questions for the candidates on various issues.
The Indiana Coalition for Open Government was putting together such a list for the gubernatorial candidates as I wrote this column. While I played a small role in that effort, I would also like to ask a few questions of Mike Pence and John Gregg that are not on the list:
1. True or false: No one political party has a monopoly on wisdom when it comes to improving life in Indiana.
2. Would you be willing to appoint people from the opposition party to leadership posts in your administration to ensure you are getting a variety of viewpoints on important decisions?
3. What concrete steps do you plan to take to tone down the animosity between the two parties in the Statehouse?
4. Will you pledge to stop using public employees, particularly teachers, as pawns in your political chess matches?
5. You would undoubtedly differ on the appropriate areas for state and local government regulation of our economic and moral actions, but how exactly do you plan to balance our freedoms with the need to protect us from our own worst instincts?
6. Candidates often promise to have transparent administrations and to be responsive to questions from the press and the public, only to clam up after the election. What concrete things will you pledge to do to keep the lines of communication to your office open if you are elected?
7. If a political action committee or organization supportive of your campaign takes out a negative ad about your opponent that misrepresents his record, will you condemn the ad and correct the record?
8. Mr. Pence's advertising has said he believes parents are the best judges of what is best for their children's education. But many parents are too busy or too distracted to take an active part in their children's learning, much less wade through the increasing number of schooling options. Assuming the choices will remain largely the same after November, what would each of you do to help get parents more involved in their children's education and to help them make informed decisions?
9. Mr. Gregg's advertising has said he wants to keep Indiana a place where people take care of one another. Assuming both of you would agree with that statement in general, where do you think the state is falling short in this regard, and what would you do to improve the well-being of at-risk Hoosiers?
10. Presidential candidates often like to ask voters to consider whether they are better off now than four years ago. How will Hoosiers say they are better off four years from now if you are elected?
To their credit, Gregg and Pence have run generally positive campaigns so far. Too many candidates—and you know who they are—are spending too much time trying to score political points against each other based on out-of-context comments by their opponents instead of telling us what they plan to do in office.
But the approach taken by Pence and Gregg also has its drawbacks. Each candidate has attempted to exude a certain folksy charm, with touches of patriotism and small-town neighborliness. But for those voters—and you know who you are—who get most of their campaign information from television ads, the picture is a little fuzzy.
We have a sense from the ads of who these men are, but not much about what they would do. That should improve as we get closer to the election, of course.
In the meantime, feel free to borrow any or all of the questions above should you run into the candidates whittlin' on a front porch somewhere.•
• Fargo is an Indiana University journalism professor and member of the Indiana Coalition for Open Government. Send comments on this column to ibjedit@ibj.com.
Please enable JavaScript to view this content.