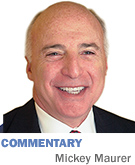 It's September and school is in session, so let's start with a quiz. Who was Marjorie Jackson?
(a) Michael Jackson's aunt
(b) President Jackson's mother
(c) One of Jesse Jackson's girlfriends
(d) I have no idea
If you checked any of the boxes above, you can learn some Indianapolis lore and be entertained by Dick Cady's book, "Scavengers: A True Story of Money, Madness & Murder."
Marjorie Jackson was an eccentric millionaire who didn't trust banks. She had good reason. Herbert Dale Biddle Jr., her trust officer at Indiana National Bank, had fiddled with her account, shorting her almost $700,000. That malfeasance cost Biddle 2½ years in the pen and was a proximate cause of Jackson's downward spiral.
The yarn is ably sketched by Cady, a Pulitzer Prize winning journalist whose thrice-weekly column in the Indianapolis Star was incisive and entertaining, caustic and occasionally even offensive. But that was Cady. There was no denying his talent. He was always a good read. After exiting the Star newsroom with an extended middle finger—and a lingering grudge—he retired to his golf game and independent pursuits, which include the Sonny Ritter mystery series, "The Executioner's Mask" and "Hangman's Moon" and two other efforts, "Champions" and "Deadline: Indianapolis."
Much of the action in "Scavengers" takes place at the Jackson residence on the corner of 65th Street and Spring Mill Road, an attractive estate tucked between Meridian Hills Country Club and Holliday Park—a neighborhood that boasts the Jewish Community Center and Orchard School.
Marjorie was no doubt the wealthiest resident of Spring Mill Road until May 1, 1977, when she was found dead on her kitchen floor. Many of us wondered how that crime could occur in the midst of such tranquility. Cady provides answers with a spare style reminiscent of the best detective writers, but other questions remain unanswered. For example, although the bumbling burglars got away with millions, why did they leave behind more than $5 million that even a 2-year-old could have discovered?
Marjorie Jackson was reminiscent of reclusive dames Miss Haversham and Norma Desmond, ladies gone bonkers—driven and doomed by their insanity. Poor Marjorie used a cap gun to shoo away deputies who had come to investigate an earlier burglary and then was done in by a crew of buffoons. Cady describes one of the perps, Manuel Lee Robinson, by saying he "didn't have enough brain power to singe a cotton ball."
With a little tweak here and there, the story could be a comedy like the 1969 Jimmy Breslin effort, "The Gang That Couldn't Shoot Straight," but it's not. Somebody did in fact shoot Marjorie. But who? That's part of the mystery.
Defendant Howard "Billy Joe" Willard was represented by Jimmy Voyles, who Cady describes as, "a smooth, fluid, olive-skinned man in his 30s, possessing a waistline expanding only a little slower than his law practice." I am still laughing. In a separate trial, Robinson was represented by my law school classmate Arnie Baratz, who turned in brilliant work on the case.
You will enjoy Cady's description of some of the local personalities. About Harold Young he said, "At fifty-one Young looked like a country sheriff. The Humpty Dumpty shape, the amply chinned face, the sensible spectacles, even the deliberate mouth encasing the stub of his cigar borrowed from or contributed to a hundred stereotypes of a country cop."
And what old-timer can forget Marion County Sheriff Don Gilman, who bragged, "I might go down in history as a legend, the biggest high roller ever to be a respected cop." Diamond Don wore gaudy diamonds, drove big cars and flashed a lot of money. As Cady said, "When the Jackson case seemed like a circus, Diamond Don didn't mind the spotlight."
Indeed, this is a crackling circus of a tale—a story well told by a gifted author, Dick Cady.•
__________
Maurer is a shareholder in IBJ Corp., which owns Indianapolis Business Journal.  His column appears every other week. To comment on this column, send e-mail to mmaurer@ibj.com.
 
Please enable JavaScript to view this content.