Nobility—and lack thereof—demonstrated at Eiteljorg and by NoExit Performance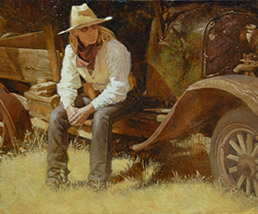 Craig Tennant's "Don't Keep Her Waitin'" is an unexpected view of Western life included in the Eiteljorg's "Quest for the West" show. (Images courtesy of Eiteljorg Museum of American Indians and Western Art)
Interpretation?That's really not an issue at "Quest for the West," the annual show and sale at the Eiteljorg Museum of American Indians and Western Art (running through Oct 7). Every year, 50 artists, almost all returnees from the previous year, are invited to bring their work. Meanwhile, collectors from around the world come to town to meet and buy. Those works that get purchased have a sticker affixed to their nameplate, indicating they are unavailable to those straggling shoppers who come later in the run.
So what you get at "Quest" (which isn't a bad thing), is artwork that you grasp as soon as you see it. Realistic—and sometimes hyper-realistic—images abound: horses at the water; cowboys at rest; creature-less vistas; and Native Americans tracking, playing pipes, and, in the case of a piece by Andy Thomas, posing for a painting.

There's sculpture, too, and a bit of pottery, but the dramatic paintings tend to dominate.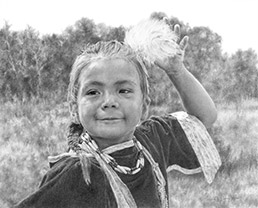 Brenda Murphy's "A Princess in Training."
You can, as I did, marvel again at Brenda Murphy's pencil drawings, nearly impossible to distinguish from black and white photographs. Or Craig Tennant's juxtaposition of tough cowgirl and rusted car in "Don't Keep Her Waitin'." Scott Tallman Powers proves a master of the weathered face in "Naranjas en Venta." And Terry Isaac not only captures the texture of the Buffalo fur in "Survivors," but also gets the frosty air around their nostrils on a freezing day.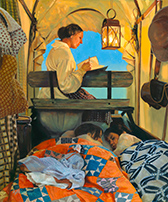 At the Eiteljorg show, Heide Presse's "Quiet Hours" reveals a different side of Western life.
It's a comforting show that could cause even the most cocooned couch potatoes to want to venture out west—or, at least, look out at the sky over Eagle Creek.
__________

There's much less nobility in "Closer," Patrick Marber's play focused tightly on four characters and their enmeshed relationships. I'd need a flow chart to tell you how and when writer Dan, photographer Anna, doctor Larry, and stripper Alice (which may or not be her real name) combine, break up, and recombine. As seen in NoExit's production (which closes Sept. 29), Marber seems less interested in making us care about the specifics of these lives and more in forcing us to see how relationships are often based on tenuous stuff.

Romance? Not in Marber's world. Here, whom we meet and whom we stay with are as much a function of opportunism and chance as they are with either unselfishness or truth. His characters profess love—and believe themselves to be truthful—but we know quickly enough how loosely these ties bind.

There's plenty to think about here—and a surprising amount of humor (a showpiece scene involves deceptive sexual cyber-chat). For good and ill, while these characters present as sophisticated, they often are written more as anthropologic studies. That feeling is accentuated by the staging, which puts the audience on two sides of a cage-like square.

What the NoExit crew gets that many other theaters don't is the importance of sexual energy between characters. We need to feel the pull among these four—the moments they are turned on and when they are turned off. This attractive quartet does that well.

What's missing, though, is the sadness. These are people with deeper wounds than the gash in the stripper's legs, and that doesn't come through effectively. The show's languid pace (and bad wigs) don't help. For maximum effectiveness, the audience has to feel for what's missing in these lives. After nearly three hours (including intermission), they overstay their welcome—even though I'm glad to have spent time with them.•

__________

This column appears weekly. Send information on upcoming arts and entertainment events to lharry@ibj.com.