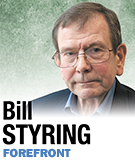 A $2.8 billion coal-to-natural-gas plant in Rockport has been in the works for several years, but the economics of the project seem dodgier by the day.
Here's the outline: A private company, Leucadia National Corp., would build the plant with a loan guarantee from the U.S. Department of Energy. (Same folks who brought us the Solyndra loan guarantee.) The Indiana Finance Authority, a state instrumentality, would buy the gas for 30 years at $6.60 per million British thermal units, and try to sell its gas in the wholesale market.
Any "profit" (gas above $6.60) would be split between Leucadia and natural gas ratepayers. Any loss (gas below $6.60) would be added to the bills of most ratepayers statewide.
On the surface, this seems like an awfully sweet deal. Leucadia has its capital cost underwritten by U.S. taxpayers. It gets a profitable government-guaranteed market for its product for 30 years. Above or below gas at $6.60 per mBTU, it's heads, you lose; tails, I get half.
This deal was hatched when natural gas was trading at $8 to $10 per mBTU. Back then, you might have made a case that $6.60 gas was a good deal for Indiana natural gas consumers.
But along came hydraulic fracturing, better known as fracking. Fracking is a technique that pumps a mixture of high water pressure, sand and chemicals into shale rock. This blasts open the rock to allow natural gas to be pumped out.
Fracking has been around since the 1940s. It became economical when combined with a more recent technology, horizontal drilling. Instead of punching one hole vertically, hydraulic fracking drills down, does a right angle and then bores horizontally.
Since shale beds tend to be relatively thin but long, this allows access to worthwhile amounts of rock because you're going lengthwise. Think of a tray of closely packed brownies one layer deep. If you drive a straw straight down, you didn't hit much brownie. If you drive a straw sideways, you hit lots of brownie.
Fracking has carpet-bombed the price of natural gas. Gas traded under $2 per mBTU late last year and has settled around $3. We're drowning in the stuff.
But Rockport doesn't work for the consumer with gas under $6.60.
So what are the chances gas will top $6.60? Thirty-year forecasts are dicey, but we can say the economics of fracking are such that natural gas will stay cheap for a long time.
The United States isn't the Saudi Arabia of hydrocarbon-rich shales; we're the whole bloody Middle East. Much of New York, Pennsylvania, eastern Ohio, North Dakota, Colorado west and south Texas, Kansas and Oklahoma have tens of millions of acres of promising shale beds. We don't yet know how much gas we have, but it is stupendous.
Also, a fracked gas well costs $5 million to $12 million depending on how deep you have to go and the difficulty of the soil (clay is bad). The average is about $7 million. The average new gas well produces $40,000 a day at "just" $4 per mBTU. Long before hitting anywhere near $6.60, there's a huge supply overhang.
To be sure, there are factors working the other way. Coal-fired generating plants are switching to cheap natural gas. Or some loopy EPA bureaucrat could decide fracking is a health hazard and try to regulate it away. (One component of fracking fluid is guar oil. Guar is used in dynamite production. "Oh, no! They're pumping dynamite into our water supply!" Except guar is a harmless legume also used in baking bagels.)
Maybe it's not too late to rethink Indiana government's role in the Rockport project. The next 30 years of Indiana gas customers might thank us.•
• Styring is an economist, a former Indiana Chamber of Commerce lobbyist, and a former senior fellow at the Hudson Institute. Send comments on this column to ibjedit@ibj.com.
Please enable JavaScript to view this content.