Airline mergers and service reductions have made it harder than ever for non-hub airports such as Indianapolis International to expand air service. Some industry analysts cynically insist that local air service "task forces" and other initiatives are futile in this environment.
But there are lots of opportunities for the airport, including attracting development to grow non-airline revenue, said Michael Huber, the former deputy mayor who was recently named the Indianapolis Airport Authority's senior director for commercial enterprise.

Huber
Huber said airports need to be more aggressive, and partner with city and state government, to provide incentives for airport-related economic development. With nearly 8,000 acres of land at Indianapolis International, Huber is under the gun to find new tenants for prominent sites, such as the former passenger terminal complex, vacant since 2008.
Passenger boardings in 2011 were down almost 1 percent and cargo volume fell more than 4 percent. Things aren't much better so far this year, meaning Mayor Greg Ballard's former economic development chief could hardly have picked a more challenging time to accept the airport post.
What follows is a conversation Huber had with IBJ in late September.
IBJ: Why did you want this job?
HUBER: It was just too exciting to pass up. Despite the economic challenges facing airports and cities everywhere, Indianapolis has a still-new, and beautiful, airport that is well-positioned to help grow the economy of the state, region and city.
It would be hard for me to find another job anywhere that had this kind of variety and combination of economic development, transactions, operations and marketing. Although I have some experience in the areas I just mentioned, it's in a different context, and I'm enjoying Aviation 101. The first week on the job has been a lot of fun, but it's been a whirlwind as I try to get up the learning curve.
IBJ: How might your perspective in broader economic development be helpful to the airport world? 
HUBER: The links between the airport, the city, the region and the state have never been more important because, as you mentioned, the airport is such an important economic asset. Our ability to compete and win new business, new company headquarters and new conventions is directly tied to the quality of the air service that is provided at the airport.
I hope that my previous experience at the city and state levels will enhance the tools the IAA already has at its disposal. Although I still am learning the ins and outs of the airline industry, I know that it's dynamic and has gone through significant changes with the recent airline mergers.
The reality is that communities now have to be much more aggressive and creative to maintain air service and attract new service. This means that the state, region, city and airport must work together to provide incentives, control costs and ultimately bring both private and public resources to the table so we're well-coordinated in its economic development efforts.
IBJ: Do any aspects of the airport strike you as most promising for growth, such as in aviation-related businesses development at IND or at its reliever airports? 
HUBER: First, the airport deserves a lot of credit for where it has over-achieved relative to its peers. The success of the FedEx hub, for example, put Indianapolis in the top tier of airports in the U.S. for cargo, and it also creates a significant number of jobs.
While FedEx is looking at a changing market as well, they continue to be hugely important partners with Indianapolis, and there may be new opportunities there that we pursue. The airline industry is not in growth mode right now, and our airport, like many other airports, is experiencing stagnant growth and higher fares.
In addition to continuing to work closely with the airlines to control our costs and encourage new service, the airport also needs to continue to expand non-airline revenue opportunities. The first step of that process has been completed with the comprehensive land-use study. Now we need to identify and compete for the types of businesses that the region and the airport can support.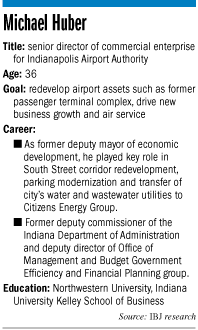 We see exciting near-term opportunities in areas such as pharmaceutical transport, aircraft maintenance and aviation-based education programs.
IBJ: But there's only so much an airport can do to grow air service at a time when major carriers are merging and consolidating routes. Is this likely to be the hardest task facing your team? 
HUBER: It's certainly one of the hardest challenges we face. Maintaining existing air service and attracting new service is going to be a challenge in this economic environment, especially with persistently high oil prices.
The impact of quality air service on a community cannot be overestimated. Air service is also something that is difficult to measure quantitatively under the current structure that most economic development programs use.
Unlike measuring the jobs and output of a new factory, where you can count the workers, the goods being produced, and the resulting tax revenues, measuring the impacts of new air service is more difficult. We are working on new ways to tell this story so that potential incentives and tax credits, for example, can be aligned with the value that new service brings.
In today's environment of mergers and high fuel costs, the airport cannot pursue air service alone. 
The IAA, the city, the community business leaders and the state have been working together closely over the past 18 months to coordinate efforts and resources as part of the IAA's program to maintain existing service as well as attract new service. While it's a challenge in the current economic environment, the IAA, the city and the state are positioned as well as any community to make the case for additional service.
IBJ:  Indianapolis has some vast, un-used or underused facilities such as the former terminal site and the U.S. Postal Service's air hub. Are you optimistic about finding new tenants anytime soon? Why?
HUBER: We're all aware of the impact the economy has had on commercial real estate in general, and that is somewhat reflected in the situation you mention at the airport.
The IAA has continued to work hard at identifying potential opportunities and raising awareness. The airport has about 7,700 acres, so land availability is not going to be an issue anytime soon. It's important to maximize our current revenue opportunities and continue to work on reducing costs while we pursue other new development opportunities as the individual business case warrants.
Sometimes people put too much emphasis on measuring the airport "inside the fence" as it relates to development, and I hope my perspective is a little broader, so that we're measuring the airport's success not only on-airport but also how it contributes to the economic success of the city, the region and the state.
IBJ: What are a couple of your key goals at this point?
HUBER: The board and Executive Director Bob Duncan expect me to help the IAA bring more and better direct flights to Indianapolis, redevelop key airport assets, including the land and old terminal, to attract more jobs, and ultimately help the airport continue to grow the economy of our city, region and state.•
Please enable JavaScript to view this content.