Universities are the hubs of the world's knowledge economy, but they typically aren't the smartest business operators in the world.

Brad Wheeler, chief information officer at Indiana University in Bloomington, is working to change that.

Wheeler, 48, began his professional life as a business professor, teaching information systems for years at the IU Kelley School of Business in Bloomington.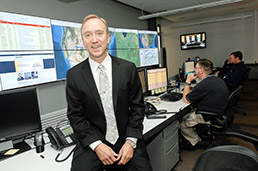 Brad Wheeler oversees the computing needs of all eight Indiana University campuses. (IBJ photo/Perry Reichanadter)
But since he took the helm of IU's information technology nearly seven years ago, he has been using his business insights to both save money and harness more powerful computing tools for IU's eight campuses around the state.

"We've just continued to take the leverage of the university into the commercial marketplace," said Wheeler, whose navy pinstriped suit and narrow purple tie make you forget he used to be a college professor.

Rather than having each academic department and each administrative office making its own IT purchases, IU centralized many of those decisions way back in 1998. That move has given IU much greater buying power, which it has used to, in Wheeler's words, "cut a deal" over and over again with major IT companies.

Wheeler said those deals have saved IU students, faculty and administrators at least $300 million since 1998. And the greater computing power has helped IU punch above its weight on many fronts.

And Wheeler isn't done. Through such strategies as virtualization, open-source development and now multi-university-buying partnerships, he's aiming to cut costs even more.

The frenzy of activity puts IU ahead of many universities around the country that are only beginning to centralize their IT functions now that the economy has battered the budgets of state governments and private donors.

"If you've never aggregated demand, then you can't go to them and do aggregated buying," Wheeler added while stopping for lunch in a restaurant on the IUPUI campus. He oversees a team of nearly 900 employees with an annual budget of $140 million.

IT dealmaking

Wheeler is quick to point out that the vision for what IU is doing with IT started with his predecessor, Michael McRobbie, who is now president of IU.

In 1998 alone, McRobbie drafted a strategy for IT, centralized much of the IT functions, and struck a deal with Washington-based Microsoft Corp. to buy licenses for its Office software products for every IU student, staff member and faculty member—at an enormous discount to retail prices.

In 2002, McRobbie struck a similar agreement with California-based Symantec Corp. to gain access to its security software.

When McRobbie was promoted to IU provost in 2006 and to the presidency in 2007, Wheeler picked up where he left off.

In November 2008, after seven years of negotiations, Wheeler's team finally landed a deal with California-based Adobe Systems International to make its Creative Suite programs available to all IU faculty, staff and students. The key, Wheeler said, was finally being able to pitch the deal to Adobe's chief financial officer.

"It was like anything, just getting in front of the right person," he said.

While the financial details of IU's deals with the software companies are not public, Wheeler's pitch was more sophisticated than merely bulk buying. He also offered to let IU handle all the support, licensing and training tasks that came from IU's users—and to shave out those costs from Adobe's prices.

Wheeler said the price for even the discounted educational versions of Adobe's products would be 10 to 20 times higher than what IU has paid.

He emphasized to Adobe that the company would sell lots more licenses—and expose their products to lots more users—instead of selling a few copies of software, and having everyone else borrow, steal or simply forgo use of it.

He was proved right. Demand at IU for the Adobe products on the first day they were available for free crashed the servers at IU's technology services department, and they had to temporarily use IU's Big Red supercomputer to handle the demand.

Nearly 400,000 Creative Suite packages have been downloaded since the deal with Adobe, which renewed its three-year agreement with IU after only 18 months.

The Adobe products immediately made a difference for IU staff and students.

History professors Bill Newman and Wally Hooper said they started using the features in Adobe Photoshop to render illegible microfilm images of unpublished documents from Isaac Newton's writings into readable images.

They also used Adobe Illustrator to clear up some of Newton's hand drawings and make them available as part of their online project titled "The Chymistry of Isaac Newton."

"I couldn't afford, on my own, to go out and buy the entire Adobe Creative Suite. My god, it must cost, what, $700?" Newman said.

The only way Newman and Hooper obtained critical software before IU's deals was to include its cost in grant applications to funding agencies, such as the National Science Foundation, which is funding his Newton project. The professors said their grant proposals now are somewhat more competitive because they don't have to ask for software funding.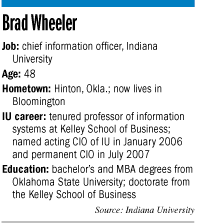 In the past, Hooper said, "If we were funded, we would buy those software packages. If we weren't funded, then we would just continue to dream."

Tyler Pace, a doctoral student in IU's School of Informatics, found the free personal access to Microsoft, Adobe and other software to be helpful during his undergraduate and graduate courses.

"I've used quite a bit of the software that they've made available through those deals," said Pace, 28. "As a student having access to Microsoft Office products or the Adobe Creative Suite, I was able to do coursework but not be bound to computer labs."

One of Wheeler's latest initiatives, called IUanyWare, makes Microsoft, Symantec, Adobe and even more specialized programs available virtually through any Web browser wherever an IU student or professor logs in.

Since fewer than half of IU's students and staff use any program at one time, this "virtualization" concept could allow IU to buy half as many licenses and still make the software available whenever it's needed.

Wheeler plans to study the use of IUanyWare over the next year or two and then decide whether he'd like to renew IU's agreements with Microsoft and Adobe on those different terms.

Meanwhile, Wheeler keeps spotting more areas where universities are spending more than they should for IT-related services.

He worked with Indianapolis-based software firm Courseload Inc. to develop software to allow easy reading of digital textbooks from various publishing companies.

Then he got major publishers—including McGraw-Hill and Pearson—to agree to chop their rates by nearly two-thirds—in exchange for including textbook fees as part of the upfront fees students pay each year.

Use of digital textbooks remains limited at IU, but is growing. The deal guarantees that in courses using them, 100 percent of IU students would buy the digital materials, eliminating the use of used books.

Now, 26 other universities, working through a consortium called Internet2, have used Courseload to strike similar deals. Wheeler said a new university every week is asking to get in on the deal.

Open-source answers

On another front, Wheeler said he was aghast when the regents of the University of Minnesota recently spent $83.6 million to upgrade their PeopleSoft software that runs their back-office financial functions.

IU rejected a $23 million switch to PeopleSoft back in 2004 and instead spearheaded an open-source initiative called Kuali, which created financial software for just $6 million.

Wheeler also helped found another open-source group called Sakai, which developed IU's virtual classroom system, called OnCourse.

Wheeler figures universities are wasting as much as $1 billion per year paying ever-rising fees for access to academic journals. So he has called for universities to band together and develop their own journal publishing offering to compete with the giants, Elsevier and Wiley, that now dominate the market.

The advantage of all these efforts, Wheeler said, is to free up money for other things, such as the Big Red supercomputer, the use of which has helped IU researchers secure $253 million since 2006. IU just purchased a larger and faster supercomputer, called Big Red II, this fall.

The goal all along, since McRobbie got the ball rolling, has been to use IT smartly in order to close the gap between IU and better-funded institutions.

"We know we don't have as much money as Stanford," Wheeler said, "but we want to be better than them."•