Indiana college endowments have surged back since the recession, but three-quarters closed the 2011 fiscal year below where they were when the market crashed.
The long climb back has come at a difficult time for universities, which are facing unprecedented pressure to hold down tuition increases and provide financial aid to students.
For public universities, the swoon coincided with state budget cuts that pinched the availability of funding for faculty positions, capital projects and other major expenditures.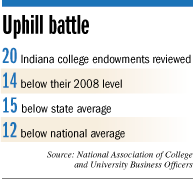 The state's two largest public universities, Indiana University and Purdue University, saw their endowments rise above pre-recession levels by June 30, 2011, according to data from the National Association of College and University Business Officers. Purdue's climbed 15 percent, to $2 billion, while IU's inched up 2 percent, to $1.6 billion.
The performance of Indiana colleges surveyed by NACUBO varied widely. Indiana Wesleyan University's endowment was 29 percent higher than it was in 2008, while Ball State University's was 26 percent lower.
"You see a lot of universities going all over the map," said Ken Redd, the association's director of research and policy analysis.
The Washington, D.C.-based association charts endowments' market values every year. Strong growth at a handful of endowments—a combination of strong investment returns, plus gifts—helped push the total value of Indiana's 20 largest college endowments to $12.5 billion as of June 30, 2011, up 0.9 percent from the 2008 fiscal year.
Figures will be released early next year for the fiscal year ending June 30, 2012. Those results likely will show more gains since the stock market, as measured by the S&P 500, advanced more than 3 percent in that span.
Fiscal 2011 was far better, with the S&P surging nearly 30 percent.
Despite that rally, 14 out of 20 Indiana schools the IBJ examined were still below where they were three years earlier, and 15 grew more slowly than the state's average.
Nationally, endowments have struggled even more. At the close of fiscal 2011, the overall value of U.S. college endowments was down 4.7 percent from 2008 levels.
Each college and university has its own policies on how it can use the endowments.
Universities' investment officers and foundation directors collect donations, invest the money, then use the returns to provide grants and scholarships.
Many donations—nearly all of them at some schools—have restrictions on how they can be spent, such as supporting scholarships or professorships.
Public universities tend to use their endowments for student aid and academic programs. Private schools, on the other hand, often use endowments to help with operational costs, such as payrolls.
Growth through fundraising
Boosting donations helped many universities pick themselves up, Redd said.
"For smaller institutions, [the fundraising] may not have been a formal capital campaign," he said. "But I know a lot of institutions really ramped up their fundraising efforts."
Fundraising helped Indiana Wesleyan grow its endowment 29 percent over the three years, to $69 million.
The private, Marion-based school launched a campaign in July 2010 that included a university match of donations, said Keith Newman, Indiana Wesleyan's executive vice president.
The effort has since helped pay for a new seminary and several scholarships.
"Some of this is because the cost of education has just risen so dramatically we feel like the endowment is the key to our future," Newman said. "I think it's fair to say we have a wide range of socio-economic backgrounds at our school, but the heart of our school is really middle class."
Purdue University's $2 billion endowment was 15 percent higher than it was in 2008, in part because the institution raises an average of $30 million to $35 million a year in donations.
But Scott Seidle, chief investment officer at Purdue, said his university's investment strategy—which combined traditional investments like stocks with alternatives such as private equity—played a far larger role.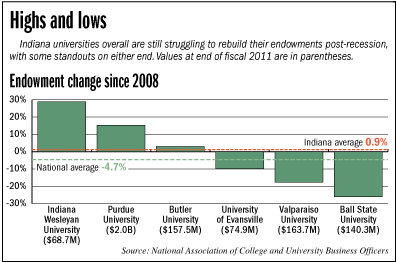 Endowment managers also kept 15 percent of the endowment in cash and cash equivalents in order to prevent the need to sell investments at depressed levels to fund distributions.
Indiana University also benefited from alternative investments, as well as from holding onto securities even as the market tumbled, said Gary Stratten, IU's chief investment officer.
IU's endowment closed fiscal 2011 at $1.6 billion, 2 percent above where it was three years earlier.
"Everybody was just very sober-minded going through that. It would have been easy to hit the panic button and say, 'We've reached our limit. We don't like the way the market looks. Let's sit this out for a while,'" Stratten said.
"Had we panicked out, it would have been something we would have been digging ourselves out of for decades."
Drawing down endowments
Both Purdue and IU cap spending at 5 percent of their endowments' average values over three years. Many universities have similar limits, which are aimed at reducing the risk that withdrawals will eat into principal during down markets.
Even so, universities can find themselves in a tough spot if the market tumbles after they've already earmarked large sums for major projects, scholarships and other programs.
That's what happened at Ball State, whose endowment closed fiscal 2011 at $140 million—26 percent, or $50 million—below where it was three years earlier, according to NACUBO.
Endowment spending dropped only 4 percent in fiscal 2009, even as its value plummeted 29 percent.
That was because the Ball State University Foundation had committed $10 million to cover one-quarter of the cost of the university's new recreational and wellness center, said David Bahlmann, CEO of the Ball State University Foundation.
"The reality is, in this particular business, endowments are for spending," he said. "And I will say that—prudently."
After paying the foundation's share of the recreational center in 2009, endowment spending decreased to $12.3 million in fiscal 2010 and $10.9 million in 2011, according to Internal Revenue Service records.
The value of the endowment swelled in the mid-2000s during the private phase of a fundraising campaign that went public in September 2008 with more than half its $200 million goal already in the bank.
Ball State's endowment in 2011 resembled where it stood in 2005, before most of the campaign's donations came in.
Students remain the endowment's biggest focus, with 42 percent of distributions going to them. Bahlmann said the foundation has to keep that money flowing.
"Many of [the foundation's] products bring students here," he said. "If you don't offer the scholarship, you don't say, 'You have to go home until the market comes back.'"•
Please enable JavaScript to view this content.